Paving the way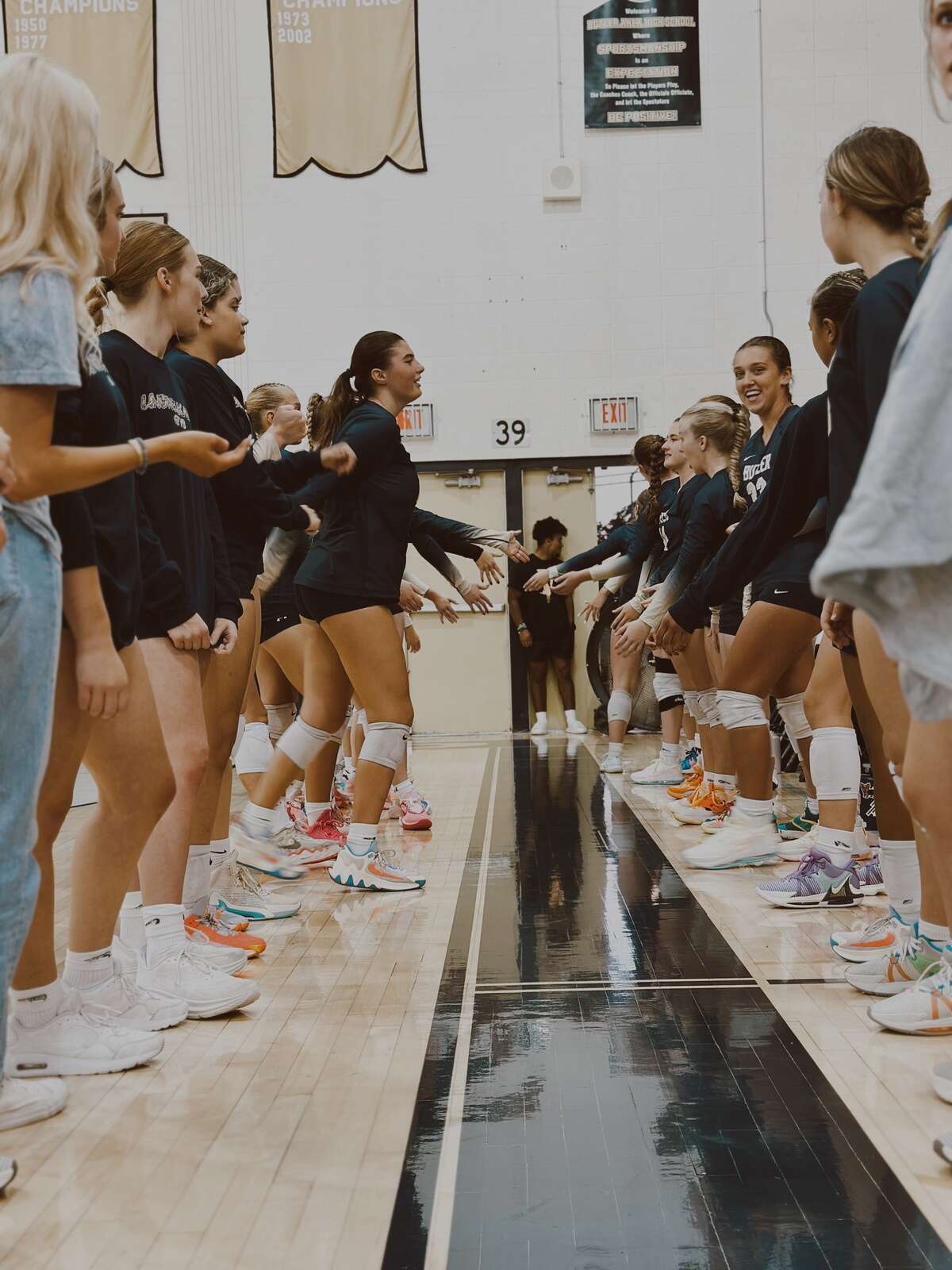 1st Butler girls volleyball team returns for 50th anniversary recognition
BUTLER TWP — There were volleyball teams in Butler before a girls volleyball team existed at Butler Area High School.
Playground volleyball teams.
"Every playground in Butler seemed to have its own team," Patty Tiberi said. "The South Side, the Island, Institute Hill, West End ... We all played against each other during the summer.
"When the high school put a team together, we were suddenly teammates with some of the girls we played against. But we never thought about it being Butler's first team. It was our team. We all got along and we all had fun."
Title IX, a bill instituting equal rights for women in athletics, was signed into law on June 23, 1972. Butler put its first girls volleyball team on the court in 1973. Tiberi was on that team.
This season marks the 50th anniversary of that squad. Jane Slamecka, the Golden Tornado's first volleyball coach, Tiberi, Janice Crouch Pontious, Lynn Gianneski Machen, Linda Gold Smith, Kathy Rivers Holben and Edith Menchyk came back to the gym on Monday night as Butler volleyball honored its original team prior to the Tornado's home match against North Hills.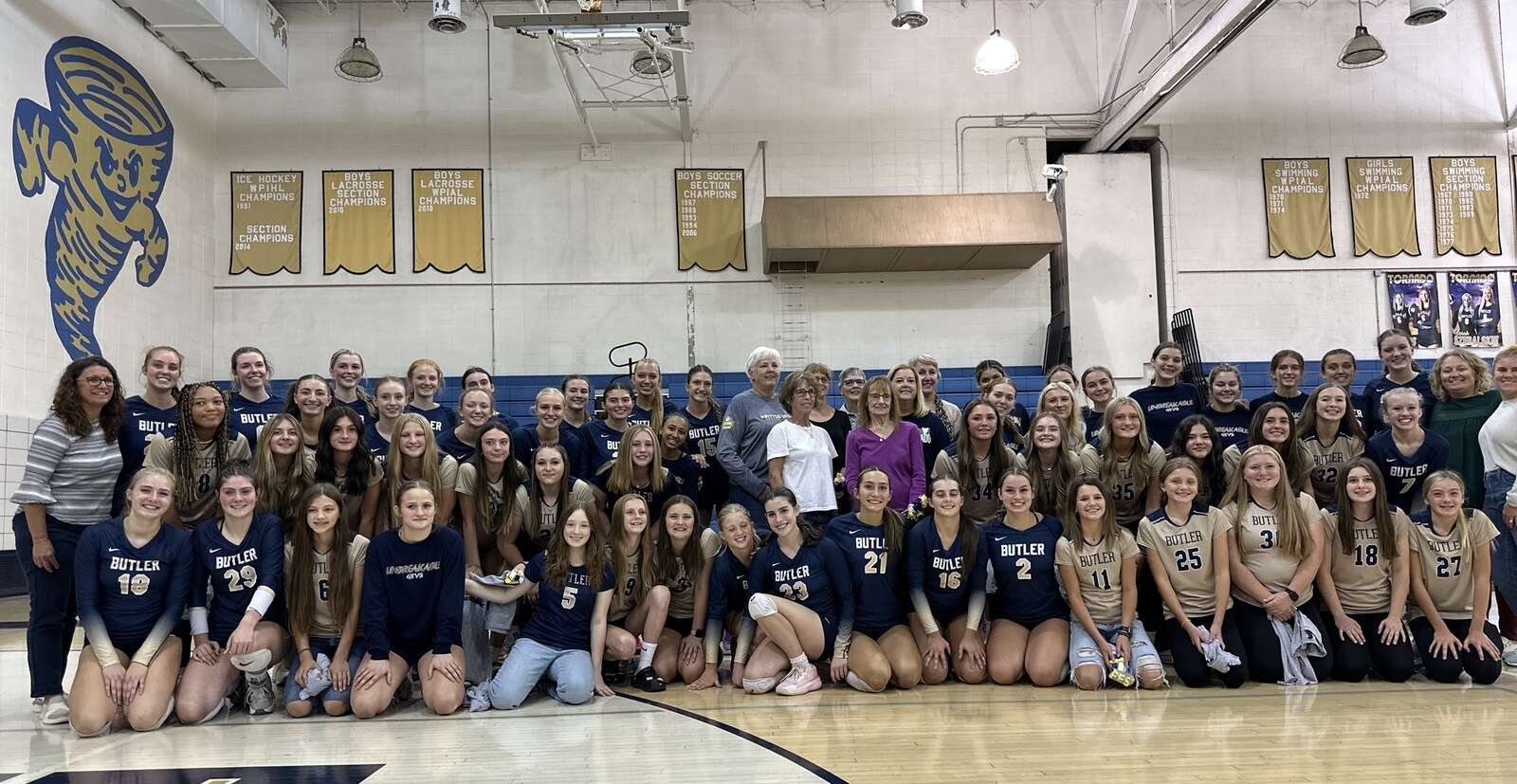 "We had about 20 players that first year," Slamecka recalled. "Enough girls came out that we had tryouts. We only had grades 10-12 in the high school at the time.
"The game is so much faster now, but our girls competed. You know girls ... They can fight, get jealous, whatever, but we all got along. It was an adventure for us."
Volleyball, swimming and track and field were the only sports available to girls at the high school during that first year. Slamecka coached the track team as well.
"We didn't want to start a basketball team that year because we didn't want to compete for gym time with the boys team," Slamecka called. "Volleyball had the gym to itself in the fall.
"It was tricky at first. We learned as we went. One match, we were supposed to play at Riverside and the bus took us to Riverview. We had to forfeit."
While the team received little support in the stands during that season — parents and grandparents comprised most of the crowd on match nights — the players do take pride in their place in history.
"We kinda got all this started," Machen said. "The blocks, serves and spikes weren't like they are now. But I feel very blessed to be part of that first team."
Smith still plays volleyball with the Senior Olympics of Western Pa. organization at the Butler Cubs hall.
"The rules were a little different in 1973," Smith said. "You could only score points when you were serving, for example. That's all changed now."
"I remember how excited everybody was when they announced Butler was starting a team," Holben said. "We all wanted to be part of it. We all took pride in it. The fact there was no team before us helped us jell as a team. There were no previous issues, nothing to compare to. Just get on the court and help the team any way you can."
Slamecka agreed.
"We had no issues or problems stemming from any parents. They were just happy we had a team," the coach said.
Current Butler girls volleyball coach Meghan Lucas said it was important for volleyball players in the school district to learn about the school's first team.
"A lot of this is taken for granted today," Lucas said of female opportunities in sports. "This is a good history lesson. It's cool to see this interaction and recognize these women, the pioneers of the program."
Menchyk recognizes the impact Butler's original volleyball team has had on the female sporting community.
"You see all the sports that are out there today," Menchyk said. "Athletics enable girls to stay physically fit, learn how to become a good teammate, learn discipline — and they open up a whole new world of college scholarship opportunities.
"We were fortunate to be there when it all started."
Now they enjoy watching it flourish.
"Freedom in America is a beautiful thing — for everybody," Machen said.

More in Sports