SRU snatches momentum with a vengeance
Rock scores game's final 5 touchdowns in 42-21 win over Millersville
SLIPPERY ROCK — Down 14 points late in the first half, the 13th-ranked Slippery Rock University football team turned things up a notch.
Two or three notches, actually.
The Rock (3-0) scored two touchdowns in the final 4:30 of the first half to knot the game at 21, then dominated the second half en route to a 42-21 victory over Millersville on Saturday night at Mihalik-Thompson Stadium.
"We faced some big adversity tonight and I loved the way we responded to it," SRU coach Shawn Lutz said.
Hakim Melvin returned the opening kickoff 99 yards for a touchdown for the Marauders (2-1). After The Rock answered with a 75-yard touchdown drive, Millersville capped a 59-yard scoring drive with a 4-yard Jaquan Howard touchdown burst on the first play of the second quarter.
SRU's Kylon Wilson fumbled away the ensuing kickoff. Seven plays later, Brady Russell caught a 7-yard scoring pass and the visitors had a 21-7 lead with 10:46 left in the first half.
"Absolutely, it got to the point where we couldn't give up any more," Rock linebacker Kyle Kudla said. "But from that point, all three phases of our team — offense, defense, special teams — came together.
"When that happens, you can do special things."
SRU closed the first half with touchdown drives of 75 and 86 yards. Kyle Sheets caught a 42-yard pass to key the first march, which ended on a Brayden Long 1-yard plunge.
Tony Grimes caught a 13-yard pass on 4th-and-4 to extend the second drive, which ended with Long's 14-yard touchdown pass to Sheets with 31 seconds left in the half, tying the game at 21.
"We didn't come down here to give it the good old college try," Millersville coach J.C. Morgan said. "We came down here to win a football game. We're disappointed we didn't do that."
Sheets continued his big night by pulling in a 32-yard touchdown pass to complete the first possession of the second half and give The Rock its first lead. After Millersville had a 27-yard field goal attempt blocked by Donnell Henriquez, the Matrauders got the ball back and faced 4th-and-5 at The Rock's 47.
Instead of punting, Millersville threw an incomplete pass. Two plays later, Sheets caught a 49-yard scoring pass from Long and The Rock had control of the game.
"We had to change momentum at that point," Morgan said of the 4th-and-5 gamble. "We needed someone to make a play there."
Long wound up throwing for 390 yards and five touchdowns, the last being a 7-yard toss to tight end Kam Kruzeylak in the fourth quarter. He hit Logan Ramper for a score in the first period.
Millersville played single-coverage on Sheets and SRU's wideouts throughout the night. Sheets wound up with 12 catches for 210 yards and three touchdowns.
"I was shocked by that," Lutz said of the single-coverage on Sheets. "You gotta double that guy at some point,. They changed corners on him, but never doubled him. That surprised me."
"I loved it," Long said of the single coverage. "All I had to do was throw the ball up there and those guys were gonna make plays for me."
Morgan said his team's style of defense includes single-coverage on the outside receivers.
"We're not gonna change who we are," he said. "We're gonna go down swinging with how we play."
Sheets shrugged off the most productive night of his collegiate career.
"You can always improve," he said. "I can get better. Brayden puts the ball where it needs to be. It's up to us to catch it."
Notes: SRU goes on the road for the first time this Saturday, traveling to Seton Hill for a 3 p.m. kickoff. ... Kudla led The Rock with eight tackles. ... After recording only one quarterback sack in its first two games, SRU had four sacks Saturday night. ...LB Garrett Cox had a game-high 14 tackles for Millersville. ... The Marauders had limited eight of its previous nine opponents to 21 points or fewer before Saturday's loss. ... SRU has won 31 consecutive night games and is 19-1 in early PSAC East crossover games since 2013. ... SRU is 21-4-1 all-time vs. Millersville with 11 straight wins over the Marauders.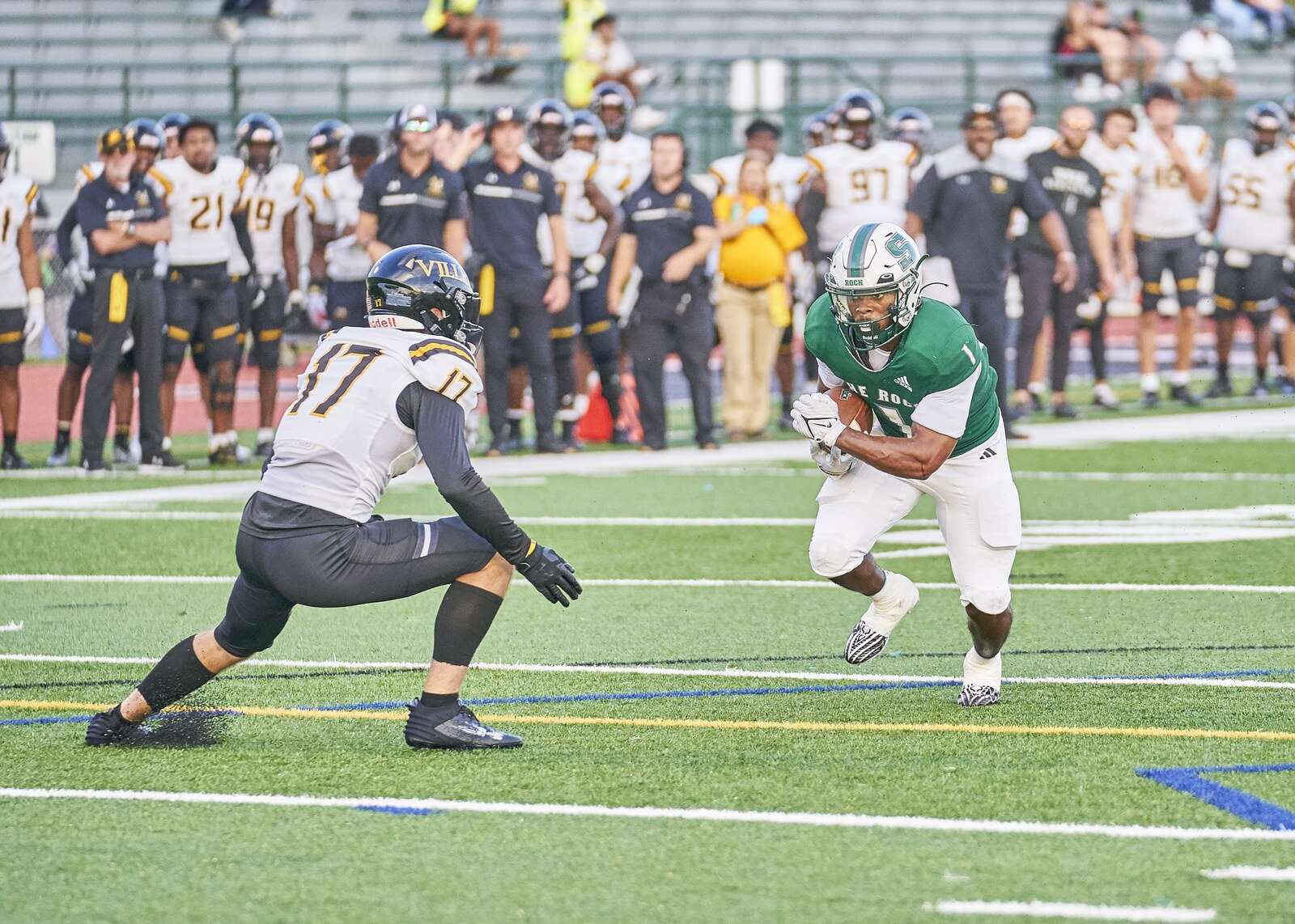 Millersville 7 14 0 0 — 21
Slippery Rock 7 14 14 7 — 42
First Quarter
M — Hakim Melvin 99 kick return (Trent McDowell kick), 14:46
SRU — Logan Ramper 14 pass from Brayden Long (Kevin Roberts kick), 11:18
Second Quarter
M — Jaquan Howard 4 run (McDowell kick), 14:56
M — Brady Russell 7 pass from Rob Footman Jr. (McDowell kick), 10:46
SRU — Long 1 run (Roberts kick), 4:29
SRU — Kyle Sheets15 pass from Long (Roberts kick), :31
Third Quarter
SRU — Sheets 32 pass from Long (Roberts kick), 11:21
SRU — Sheets 49 pass from Long (Roberts kick), 1:54
Fourth Quarter
SRU — Kam Kruzelyak 7 pass from Long (Roberts kick), 9:25
INDIVIDUAL STATISTICS
Rushing: Millersville, Jaquan Howard 13-65, Rob Footman Jr. 13-34, Mekhi Alexander 1-14, Jaiden Abrams 3-9, Jaheim Morris 5-9, Hakim Melvin 1-2. SRU, Khalid Dorsey 10-38, Isaiah Edwards 7-30, Chris D'or 7-13, Luke McCoy 2-12, Brayden Long 5-(-2), TEAM 1-(-15), Mason Yohn 1-4.
Passing: Millersville, Rob Footman Jr. 10-23-83-0. SRU, Brayden Long 31-43-390-0.
Receiving: Millersville, Mekhi Alexander 3-41, Cliff Harris 2-19, Jaquan Howard 2-12, Jaheim Morris 2-4, Brady Russell 1-7. SRU, Kyle Sheets 12-210, Cohen Russell 6-57, Logan Ramper 4-60, Tony Grimes 4-33, Isaiah Edwards 1-15, Kam Kruzeylak 1-7, Gavyn Barnes 1-5, Chris D'Or 1-5, Kylon Wilson 1-(-2).
More in Sports