In 'Big Fat Greek Wedding 3,' the wedding's in Greece and the formula feels ancient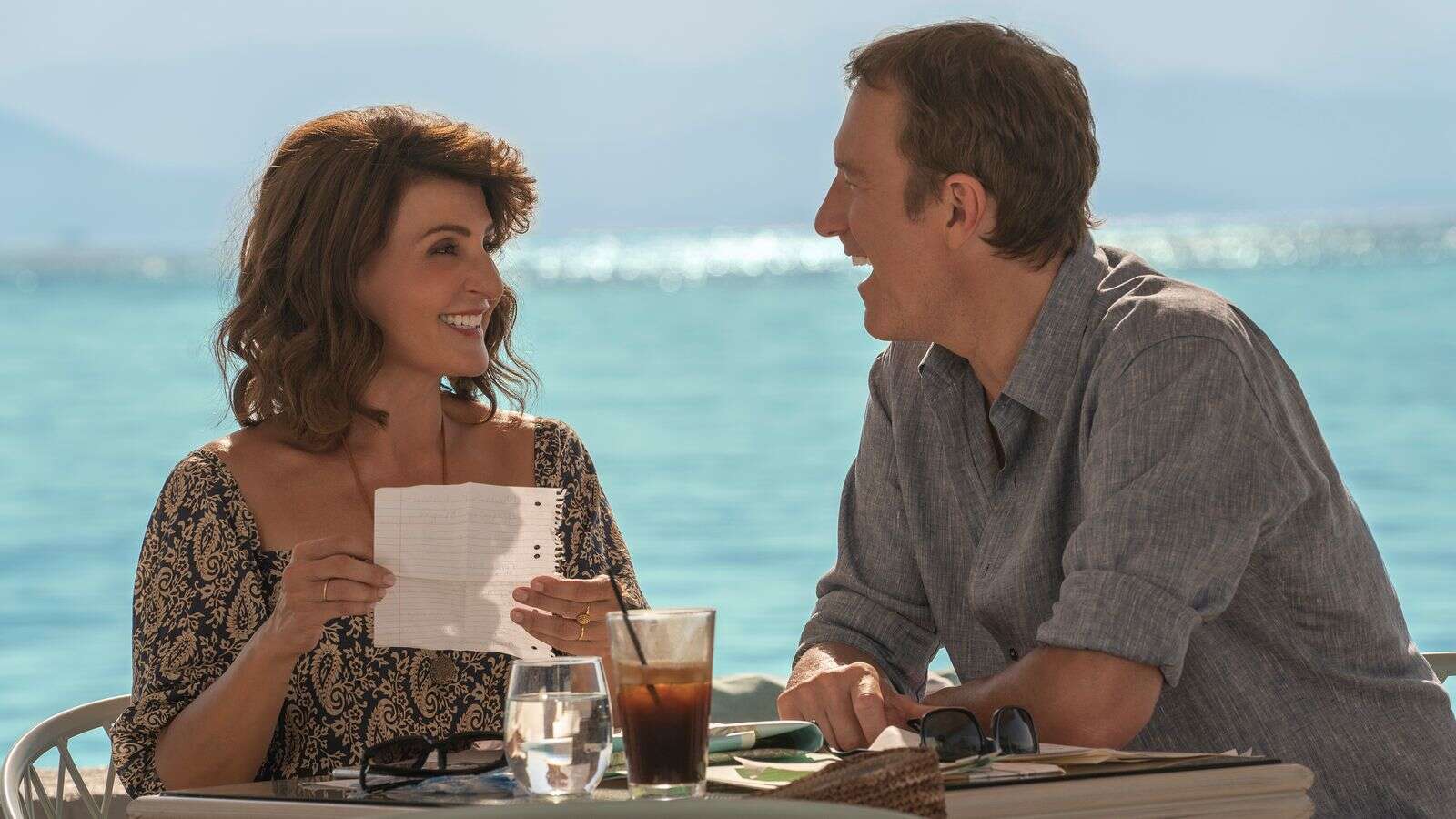 "We're getting married!" This rather inevitable line crops up early in "My Big Fat Greek Wedding 3," and if you're like me, it will inspire mixed reactions.
First: Wait, so soon? We didn't know anyone was even engaged! And second: Phew, it's about time! Because, just like there can be no sunrise over the glittering Ionian sea without a sun, there can be no "big fat Greek wedding" movie without … you know.
Yet the mere fact that a wedding is so crucial to the DNA of this trilogy — which surely will morph into a quadrilogy and then a quintology — raises its own issues. Which Greek philosopher was it who said there's no problem that can't be solved with a wedding? Right, that would be Nia Vardalos, the franchise star, writer and now director, too. But is she also saying a wedding is the only possible happy ending?
That would be out of sync with certain obvious efforts in this script — some more swallowable than others — to modernize a formula that worked so well in the beloved, hugely successful 2002 original. It's a formula that lost luster with that first, deflating sequel in 2016, a whole 14 years later. And if "My Big Fat Greek Wedding 2" felt like a pale imitation of the buoyant original, "My Big Fat Greek Wedding 3" feels sorta like a pale imitation of that pale imitation. Or, to analogize with a favored franchise food item: like a thrice-warmed piece of baklava.
Then again, even thrice-warmed baklava can be worth the calories. So too this sequel will prove worthwhile for those most eager to reconnect with characters they loved, and willing to overlook clunky pacing and dialogue and sometimes absurd plot machinations. On the plus side: Vardalos and crew are really, really good at staging weddings.
For those who need a refresher: The last film left us at an NYU dorm room, dropping off Paris, teen daughter of Toula (Vardalos, empathetic and appealing as usual) and her wholesomely hunky husband Aidan, oops, Ian (John Corbett, wink wink). Paris' choice to leave her hometown of Chicago for college provided much of the half-boiled suspense in the first sequel. She got her way, but perhaps also her punishment when the whole extended family — aunts, uncles, cousins — came to drop her off. Ugh!
Because it's hard to let go of things that worked so well in the original — did we mention it was a ginormous hit? — Vardalos hasn't, really. The Portokalos family is still loving, boisterous and invasive. We've sadly lost patriarch Gus (Michael Constantine, who died in 2021). But wife Maria is still there (Lainie Kazan has only a cameo here) and Toula is still married to hunky Ian. Everyone still uses Windex to clean objects and cure diseases.
And the clan is on the move, led by spunky, oversharing Aunt Voula (Andrea Martin, still by far the funniest on-screen presence), this time to … Greece! Yes! The ostensible reason: a family reunion in their lovely ancestral mountain village (shooting was done in Corfu). The plan is to find Gus' childhood friends and fulfill his wish of giving them a precious journal he kept.
Why that journal shouldn't stay with Gus' adoring children is not truly explained — but neither is much else. Subplots are introduced and then largely ignored. A handful of new characters arrive with little back story — like Victory (Melina Kotselou), the young, nonbinary mayor of the village — and even less character development.
The same lack of detail plagues the story arcs of returning characters. Toula's brother Nick (Louis Mandylor) — poor Nick — has been saddled with an ugly habit, namely trimming nose hairs and toenails at the family table. Why? Who knows? As for Ian, he's still a nice, patient husband, with little else to distinguish him. Toula's still the glue holding everyone together.
As for their marriage, it's fine. That's perhaps a problem. In most rom-com relationships, you don't get through three movies without some meaty conflict — we need the breakup to have the makeup! Vardalos doesn't want to go there.
Or maybe she's just in a rush to get to the altar. That, we can understand. Here in Greece, all roads lead to … the wedding. The party's in the quaint village square. The candlelit table is gorgeous, the food sumptuous. And the dancing is a joyous mix of Greek and Syrian tradition — one of the spouses-to-be is a migrant from Syria, a nod to contemporary Greek politics. Other efforts to contemporize include the briefest of nods to Victory's nonbinary lifestyle — one line from Aunt Voula — just as the first sequel introduced a gay couple, equally briefly.
But how contemporary are we getting if nothing brings resolution but a wedding? And more importantly, who will be married in the inevitable "Greek Wedding 4?"
Will Paris (Elena Kampouris), whose own turbulent existence is quickly hinted at, marry the cute young Aristotle? (Yes, that's his name). Will there be a big fat Greek alternative wedding? Who knows, but if there's a movie, there will be a wedding. "My Big Fat Just-Cohabiting-For-Now" doesn't quite cut it.
"My Big Fat Greek Wedding 3," a Focus Films release, has been rated PG-13 by the Motion Picture Association of America "for suggestive material and some nudity. " Running time: 91 minutes. Two stars out of four.
More in Reviews