Metallica postpones Arizona concert after James Hetfield tests positive for COVID-19
People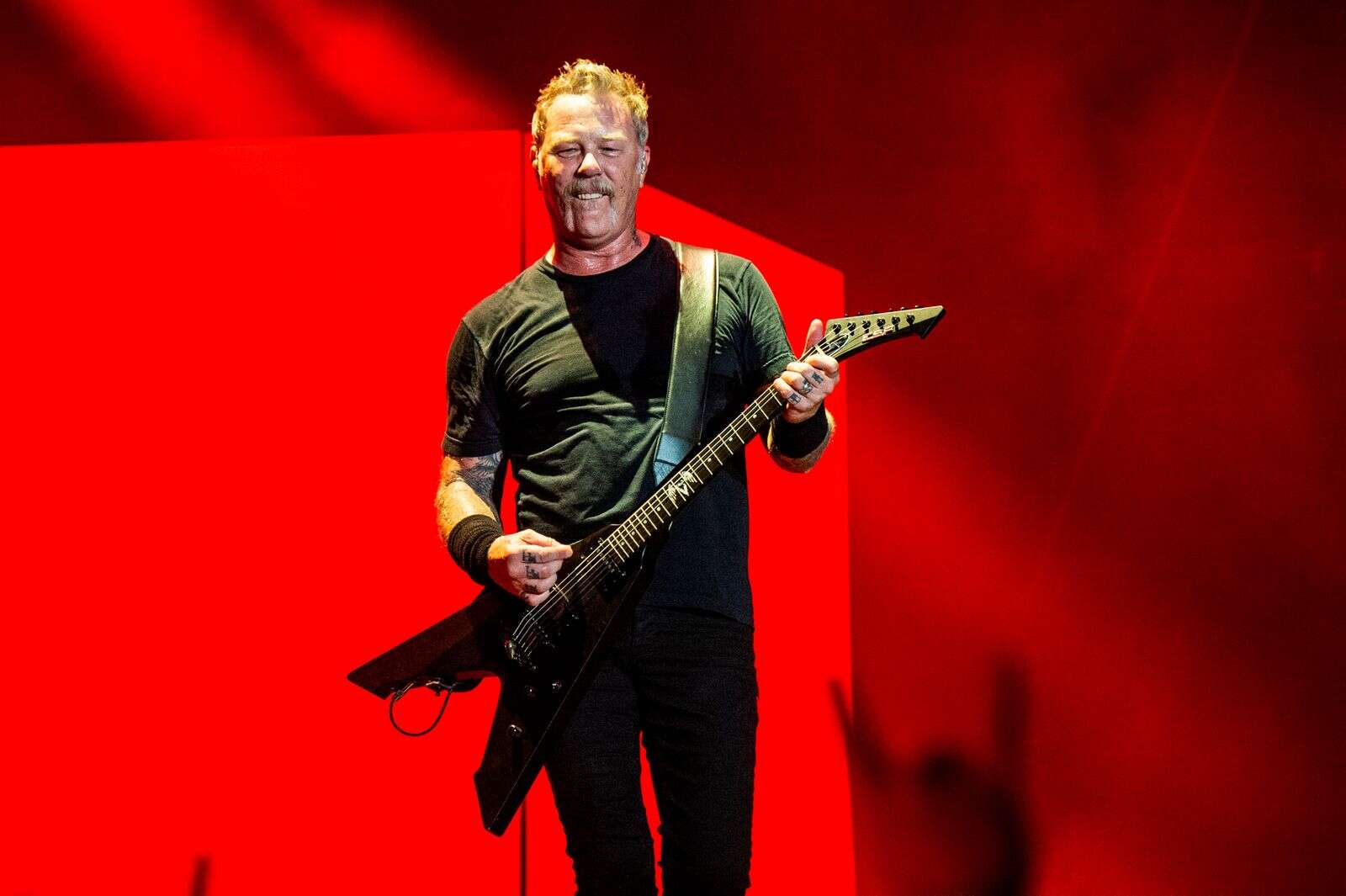 GLENDALE, Ariz. — Metallica postponed Sunday's concert in Arizona after the band said lead singer James Hetfield tested positive for COVID-19.
The band has rescheduled the second night of its tour stop at Glendale's State Farm Stadium for Sept. 9.
"We're extremely disappointed and regret any inconvenience this has caused you. We look forward to returning to complete the M72 No Repeat Weekend in Glendale next Saturday," the band said in a statement, noting that "Covid has caught up with James Hetfield."
Metallica is currently on its M72 tour in the U.S. and plays two concerts in every city.
The Arizona Republic reported that Metallica has been playing 16 songs every opening night since this tour hit the U.S., following "Seek & Destroy" with a set-closing "Master of Puppets."
The newspaper said fans at Friday night's show in Glendale got a 14-song set with no "Master of Puppets" and then announced Hetfield's illness on Saturday.
———
PHILADELPHIA — He's most often associated with Boston, the hometown of his legendary rock band, but Aerosmith singer Steven Tyler has a soft spot in his heart for the Hawaiian island of Maui.
The singer, who has a home on the island, wants vacationers to return to Maui to help the island's economy — devastated by wildfires last month — recover.
Near the end of the opening night of the band's farewell tour in Philadelphia Saturday, Tyler urged audience members not to be afraid to travel to the island again.
"When you think about Lahaina, think about south Maui," Tyler told the audience at the Wells Fargo Center shortly before performing the band's biggest hit, "Dream On."
"Paia and Hana: it's still there," he said, of two other Maui resort towns unscathed by the fires. "It's a place to go and do, you know, the love thing. It's still open, it's still happening.
"Everything's beautiful, except we gotta come there and make it more beautiful, OK?" he said.
Immediately after the fires obliterated the seaside tourist town of Lahaina, officials including Gov. Josh Green told tourists to stay away during the island's recovery.
But they soon reversed that advice, realizing how essential tourism is to the island's economy — and to the prospects of its residents returning to a normal life anytime soon. Tyler's daughter, Mia, was among those initially discouraging tourists from coming to Maui shortly after the fires.
The number of people listed as missing from the fires stood at 385 on Friday, Hawaii officials said.
The flames turned Lahaina into rubble in a few short hours on Aug. 8. Wind gusts topping 60 mph ripped through the town, causing the flames to spread exceptionally quickly.
Half the town's 12,000 residents are now living in hotels and short-term vacation rentals. Reconstruction is expected to take years and cost billions.
———
LAS VEGAS — Backstreet Boys singer Nick Carter has won a favorable ruling in one of two civil lawsuits filed against him in Nevada, one by a woman who alleges he raped her on his tour bus in Washington state in 2001 and another by a woman who alleges he sexually assaulted her on his boat off Florida in 2003.
A state court judge on Wednesday declined to dismiss a countersuit that Carter and his attorneys brought alleging defamation by three people in the first case, which was filed last December by a Nevada woman, now 40, who alleges that Carter attacked her on his tour bus after a concert in Tacoma, Washington, when she was 17 years old.
"He told plaintiff she would go to jail if she told anyone what happened between them," the woman's lawsuit said. "He said that he was Nick Carter and that he had the power to do that."
The other case involving the Florida allegations was filed Monday in Clark County District Court.
Carter, now 43, lives in Las Vegas. He has denied the allegations of sexual battery and infliction of emotional distress the two women make against him. Each woman seeks unspecified monetary damages greater than $30,000.
Carter appeared with his attorney in court Wednesday when Clark County District Court Judge Nancy Allf declined to dismiss his counterclaim accusing three people — including a third woman who alleged he raped her in 2003 — of defamation, conspiracy and abuse of process.
The judge's decision means that woman, Melissa Schuman, and her father, Jerome Schuman, will have to answer Carter's allegations that they have waged a campaign to profit from his fame. Carter is seeking more than $2.3 million in damages.
"For years, Melissa and Jerome Schuman have been conspiring with anyone they could manipulate to drum up false claims against Nick Carter in a brazen attempt to get rich off of him," Carter's attorney, Liane Wakayama said in a statement Thursday to The Associated Press.
Schuman lost her bid in California in 2018 to have prosecutors bring a criminal complaint against Carter based on her allegation that he forced her into sex in his Los Angeles-area apartment.
Carter has denied Schulman's accusations that he raped her. He did not speak during Wednesday's court hearing.
Attorney Alan Greenberg, representing the Schumans, maintained in court that Carter was a public figure, that the allegations against him have merit and that Melissa Schuman reported to two friends and a therapist in 2003 that she had been sexually assaulted.
The Associated Press generally does not name people who say they were sexually assaulted, but Schuman has spoken publicly about her experience and approved of the use of her name.
Carter's attorneys maintain that the Schumans did not make their allegations public until late 2017, after a broad social movement galvanized by the hashtag #MeToo began exposing previously untold cases of sexual violence.
They also allege the Schumans "recruited" the woman who accused Carter of sexual assault in Florida.
That plaintiff, who lives in York County, Pennsylvania, asks in court documents to be identified only by her initials. She alleges that Carter raped her on his yacht in 2003 when she was 15 years old and they met in Marathon, Florida.
"This case illustrates how much time, courage, and perseverance it takes for victims and survivors to come forward about child sexual abuse and seek justice," Margaret Mabie, the woman's New York-based attorney, said in a statement.
"Despite numerous complaints about Carter's past conduct towards young women, his victims continue to struggle to hold (him) publicly accountable for his harms against them," Mabie said.
From combined wire services
More in People