PEOPLE
Louis C.K., in the years following his sexual misconduct scandal, has been trying to reenter the entertainment scene. He's released comedy specials, a self-directed film and launched a tour.
However, it seems the disgraced comic won't be getting any shine from Showtime — not even as the subject of a documentary about his downfall.
The premium network decided to drop the documentary a year after ex-Paramount boss David Nevins announced the project in August 2022, the L.A. Times confirmed Tuesday.
C.K. could not be reached for comment.
Variety reported in 2022 that the documentary was set to examine "the Louis C.K. story and the conversation around #MeToo five years on." At the height of the #MeToo movement in 2017, the "Louie" star was accused of sexual misconduct by five women.
Top networks and streaming platforms including "Louie" home FX, HBO and Netflix severed ties with the comic following the allegations. In November 2017, he said the allegations were true.
"I have spent my long and lucky career talking and saying anything I want," he said then in a statement. "I will now step back and take a long time to listen."
"Blackpink : Light Up the Sky" filmmaker Caroline Suh was set to direct the since-dropped Showtime documentary. The project was also supposed to feature the New York Times reporters who broke the news of C.K.'s misconduct.
While announcing the project at the 2022 Edinburgh TV Festival, Nevins said C.K. was "a great, great comedian who has come back in his own way."
"I don't think the social change that #MeToo has brought about is resolved at all," Nevins said. "There's a bit of backlash against #MeToo, who has to go away and who's allowed to come back."
C.K. began touring again in 2019 . In the following years he released several comedy specials, including 2020's "Sincerely Louis C.K." At the 2022 Grammy Awards, C.K. won for the "Sincerely" album.
———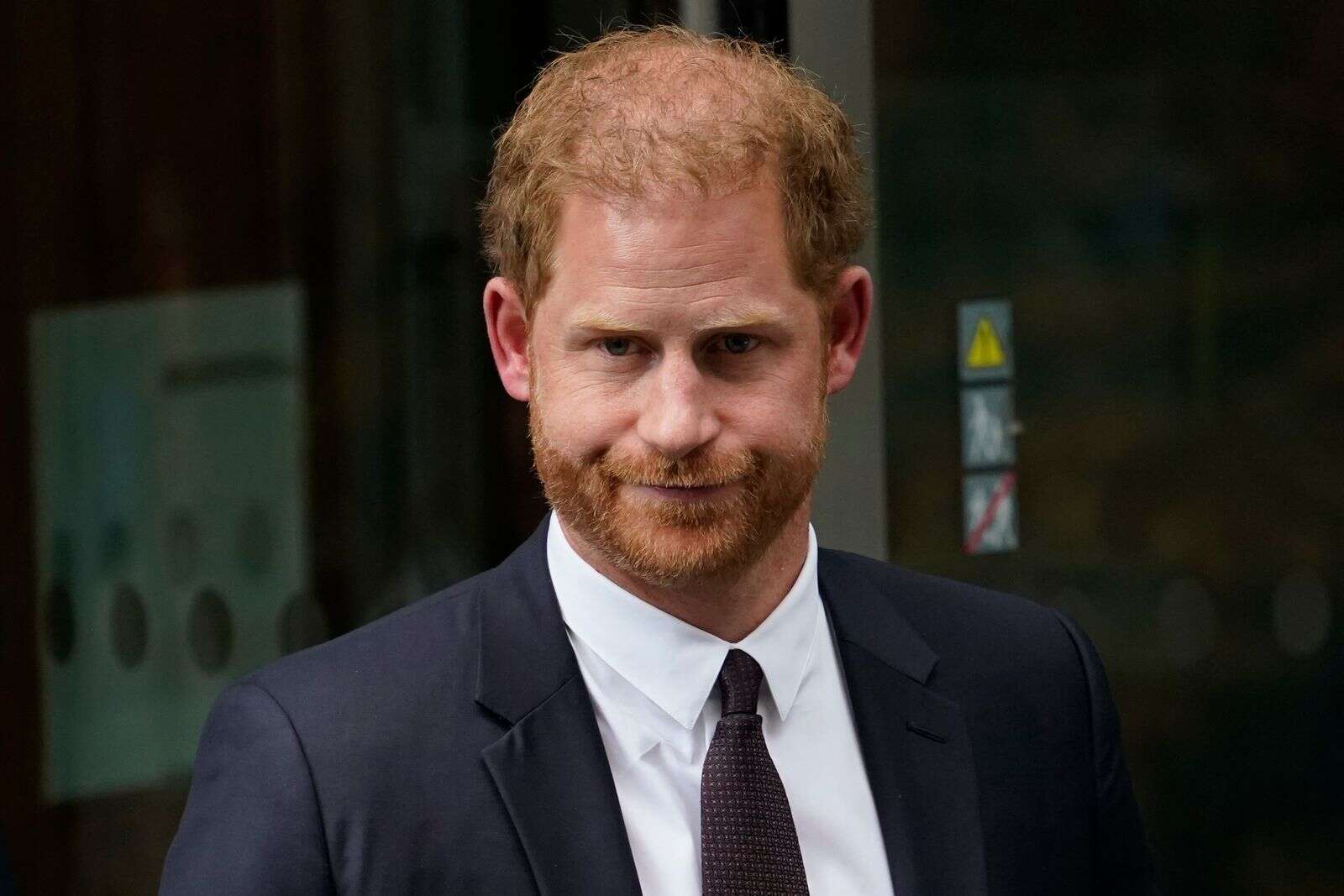 LONDON — Prince Harry's historic showdown Tuesday with the publisher of a British tabloid exposed his deep suspicions of the press but offered little concrete evidence to support accusations of phone hacking that he said caused so much anguish in his life.
The Duke of Sussex became the first senior member of the royal family to testify in more than a century as he held a Bible in his right hand and, in a soft voice, swore to tell the "whole truth and nothing but the truth" in the High Court in London.
Harry accuses the publisher of the Daily Mirror of using unlawful techniques on an "industrial scale" to score front-page scoops on his life.
Dressed in a dark suit and tie as he sat in the witness box , Harry told Mirror Group Newspapers attorney Andrew Green that he had "experienced hostility from the press since I was born." The prince accused the tabloids of playing "a destructive role in my growing-up."
Green apologized for the one instance Mirror Group has admitted to hiring a private investigator to dig up dirt on Harry, which was not among the claims he has brought. Mirror Group denies or doesn't admit his other allegations.
Green acknowledged that the duke had "lived a life of tabloid life intrusion," and then in a sympathetic tone set about dismantling his case.
Taken back in time to his 12th birthday and onward through early adulthood, he was confronted with articles that he has complained about and asked to identify the source of wrongdoing by Mirror Groups's journalists.
Harry was forced almost immediately to acknowledge that he wasn't certain he read the 33 specific articles about him when they were published.
"Is it realistic, when you have been the subject of so much press intrusion by so many press, both domestic and international, to attribute specific distress to a particular article from 20 years ago, which you may not have seen at the time?" Green asked.
"It isn't a specific article; it is all of the articles," Harry said. "Every single article has caused me distress."
He suggested the articles were the result of phone hacking or some other unlawful information gathering method that "desperate journalists" relied on for any news nugget about his life.
The 38-year-old son of King Charles III is the first senior British royal since the 19th century to face questioning in a court. An ancestor, the future King Edward VII, appeared as a witness in a trial over a gambling scandal in 1891.
———
Susan Boyle, the Scottish singer who became an overnight sensation while competing on "Britain's Got Talent," revealed Sunday that she had a stroke last year.
The 62-year-old mezzo-soprano shared the health update on live TV when she returned for the Season 16 finale of the talent show that launched her career in 2009. Boyle joined Lucie Jones of the West End Cast of "Les Misérables" to perform "I Dreamed a Dream," her original audition song from 14 years ago that plucked the the modest church volunteer from obscurity and made her a YouTube superstar.
Boyle, who lost her season in a heartbreaking upset to dance troupe Diversity, said it felt great to be back on the show this week.
"It's extra special for me, actually, because last April there, I suffered a minor stroke," she told the hosts onstage. "I fought like crazy to get back on stage and I have done it."
"Britain's Got Talent" judge and creator Simon Cowell welcomed Boyle back for the live finale and praised the singer, who has since mounted a successful recording career despite her loss on the show. (Boyle has sold more than 20 million albums and has been nominated for two Grammy Awards. She has also performed for the late Queen Elizabeth II, President Obama and Pope Benedict XVI.)
"Susan, we owe you so much and I knew you weren't well, but if anyone was going to come back you were going to come back because it wouldn't be the same without you," Cowell said.
Boyle further opened up about her health scare in a Facebook post following the performance.
"Tonight I had the privilege of returning to 'Britain's Got Talent' and performing with the wonderful cast of 'Les Miserables,'" she wrote. "This evening was even more special for me as in April of 2022 I had a stroke.
"For the past year I have worked so hard to get my speech and singing back, with the sole aim of being able to sing on stage again & tonight my hard work & perseverance paid off, singing the song that started it all, 'I Dreamed A Dream,'" she wrote.
In 2009, when Boyle came in a surprise second during the show's final round, the "emotionally drained and exhausted" performer apparently collapsed from nerves and exhaustion and was admitted to the Priory Hospital, a psychiatric clinic in London .
Boyle shared in 2013 that she had been diagnosed with what was then called Asperger's syndrome , a developmental disorder on the autism spectrum that affects social interaction and communication skills. As a child, Boyle said, she suffered from learning disabilities she was told resulted from oxygen deprivation at birth. In 2012, she sought the advice of a specialist who determined she had an above-average IQ.
"I was told I had brain damage. It was the wrong diagnosis when I was a kid," she told the Observer in 2013. "I always knew it was an unfair label. Now I have a clearer understanding of what's wrong and I feel relieved and a bit more relaxed about myself."
By 2019, the recording artist said that she had amassed a multimillion-pound fortune but tried not to flaunt it because she remembered how "miserable" it was to be poor. That same year, she performed on "BGT's" U.S. counterpart, "America's Got Talent: The Champions." The all-star performed "Wild Horses" by the Rolling Stones and earned the high honor of the golden buzzer from judge and former Spice Girl Mel B.
From combined wire services
More in People