New pedestrian signal is pushing the right buttons with local residents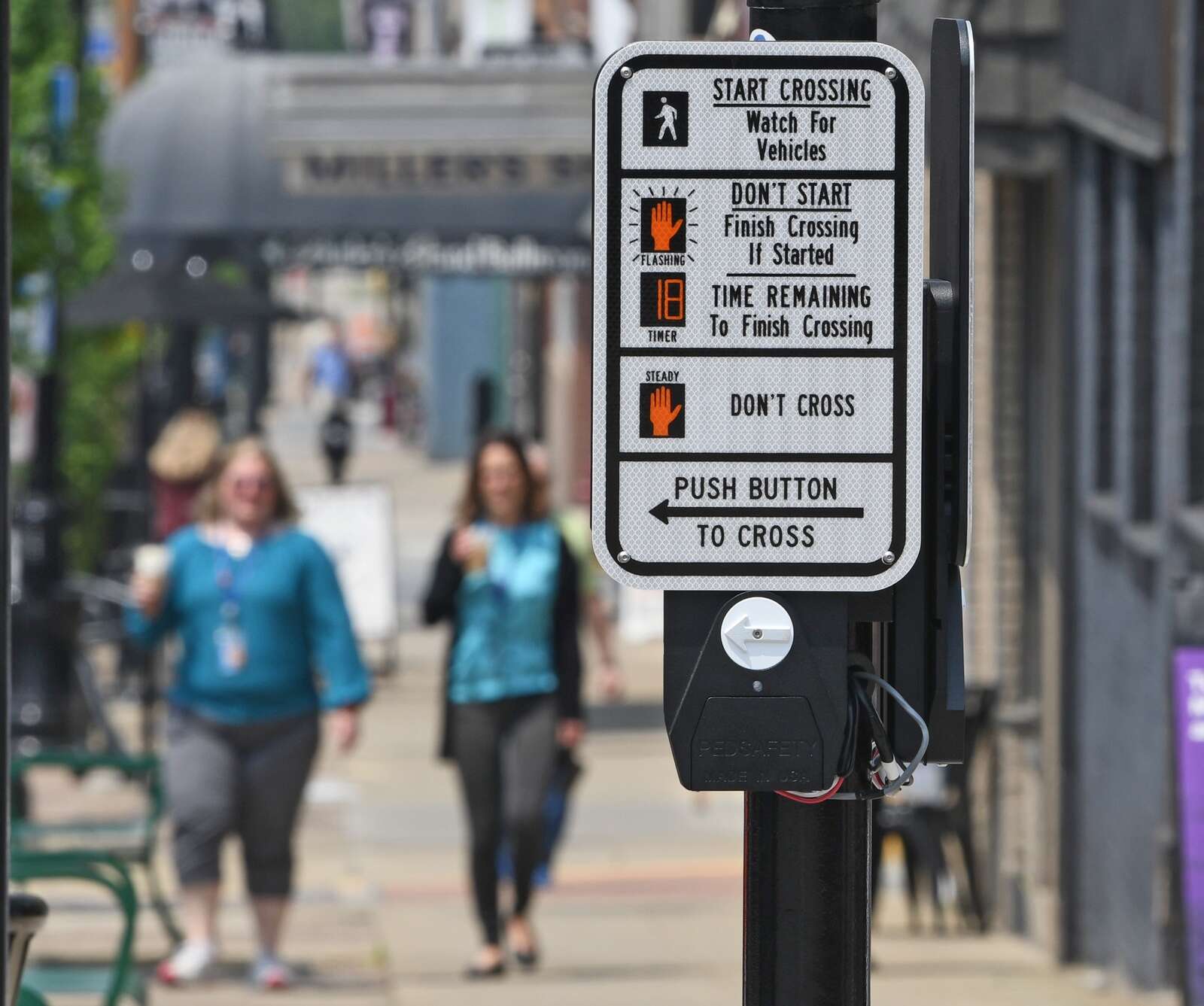 The streets of downtown Butler just got a little more aesthetically pleasing, as well as a tad noisier.
On Wednesday, June 7, the Pennsylvania Department of Transportation (PennDOT) implemented a change to the pedestrian crossing activation process at intersections along Main Street, between Penn Street and Wayne Street. Pedestrians will be required to push the call buttons at intersections to signal for traffic to stop so they can cross.
Butler resident Miranda Boring believes the upgraded crosswalk technology is a good thing for downtown.
"I think it's purposeful," Boring said. "I think somebody put some thought to it. I think they're trying to make it accessible and that improves downtown."
According to PennDOT, the new system includes multiple Americans with Disabilities Act-compliant features, such as a constant audible beeping tone that alerts pedestrians with visual impairments to the location of the call button.
"I like the idea of it helping people who need access," Boring said "I feel it's a good thing."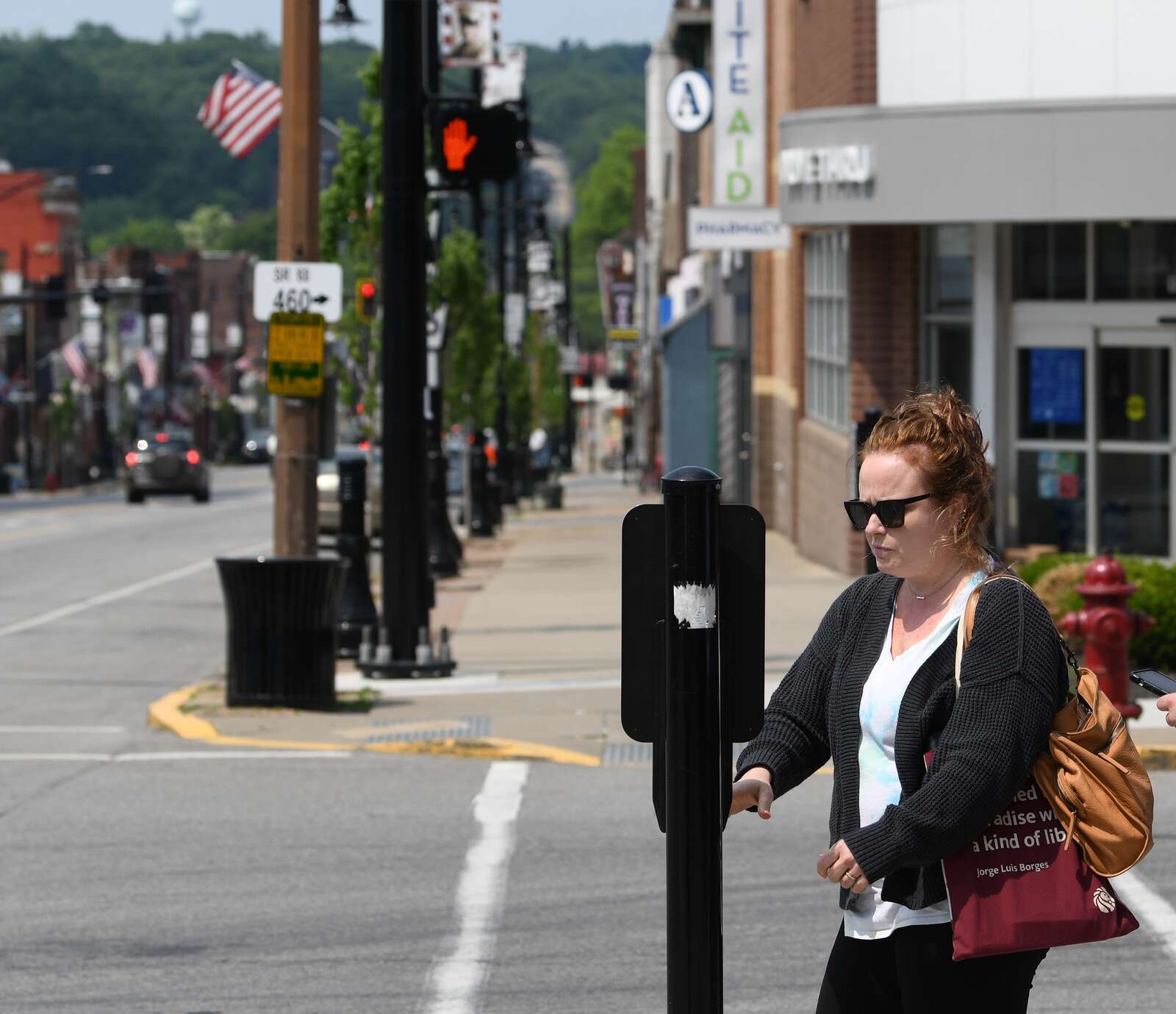 There is also a verbal cue when the walk signal is activated that tells pedestrian when they may begin to cross. The verbal cue will announce that the walk sign is on and the pedestrian is able to cross the street.
Shaylene McDougall and Shanna Haid are the owners of Another Realm Crystals & More, located on North Main Street in the heart of the new pedestrian crossings. McDougall has not utilized the crosswalks yet, but thinks the upgrades are "pretty cool."
"I'm excited if it talks to you," McDougall said. "I'm excited to go out there and push a button."
Haid is also excited for the upgraded technology.
"I think it's pretty neat, especially the fact that you could push the button for the street that you wanted to cross," Haid said. "I thought that was pretty cool. And it speaks to you whenever you're ready to cross."
Charles Ellenberger, a lifelong Butler resident, does not share the same enthusiasm for the new noises that come with the updated pedestrian crossings.
"In the old days you have the bell," Ellenberger said. "Now, it's just noisy all the time. The bells when they were working were better, but now with this beeping I don't understand it."
Wendy Gullo, who walks the street almost every day because of her job being located in downtown, thinks the upgrade provides a different quality to downtown.
"I think it looks very nice," Gullo said. "I think it makes the town look updated. I think it needed updated."
Nursing student Amanda Wemette worked downtown two years ago, and while she's not in the city as much, she took notice of the new features.
"I mean, it looks pretty nice," Wemette said. "It definitely improves the look of it."
Along with adding a level of inclusivity and the visual enhancement, the owners of Another Realm Crystals & More think there might be an economic factor with the upgrade.
McDougall think it might help with foot traffic.
"I think it will probably help it," McDougall said. "I feel like the other one, you just stood there forever because you couldn't push a button or anything. So hopefully the new ones will make it a bit faster."
For some residents, like Kayala Tini who walks downtown almost everyday, the $2.2 million project is underwhelming.
"I can't say I really noticed a difference," Tini said.
More in Community