Matthews headed for Thiel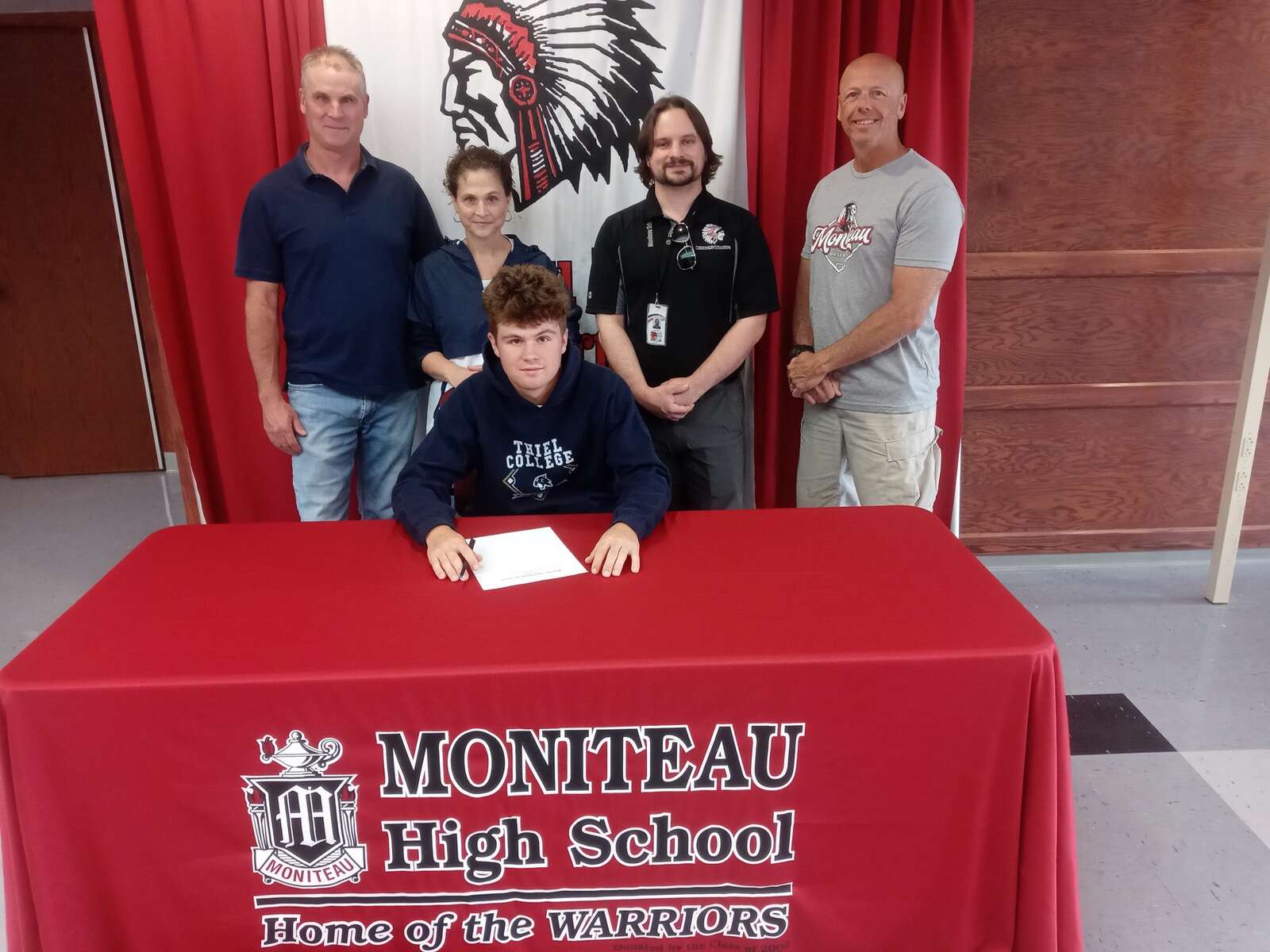 Moniteau senior pitcher to continue academic, baseball career with Tomcats
CHERRY TWP — Moniteau entered the 2023 baseball season loaded with young underclassmen.
Of the Warriors' 20 rostered players, 14 were either freshmen or sophomores. Oftentimes, Brock Matthews was the lone senior in the starting lineup.
"He had a lot on his shoulders and he handled all of it," Moniteau assistant coach Garrick Lapusnak said. "Brock definitely became the leader of this team."
"I felt like I had to be a leader, help bring the other guys along," Matthews said. "But I knew we could be a winning team. The talent was here."
And Matthews was at the head of it, on the mound and at the plate.
The Warriors reached the District 9 Class 2A playoffs, bowing to eventual champion Redbank Valley. Now Matthews will be continuing his academic and baseball career at Thiel College.
On the mound, the right-hander fashioned a 1.92 earned run average, striking out 45 and walking only 12 in 40 innings pitched. Opposing batters hit only .194 against him. Matthews surrendered only 30 hits all season.
At the plate, he hit .441 with seven doubles, two triples, two home runs and 21 RBI. Matthews made All-Keystone Shortway Athletic Conference for his efforts this season.
"He did it all for us," Lapusnak said. "Brock was the heart of our team. He hit fourth in the lineup, played some at shortstop and first base ... He's one of those guys who would do anything you asked."
Matthews also considered Washington & Jefferson and Clarion before deciding on Thiel. He plans to major in safety management.
"It's close to home and I like the coach a lot," Matthews said of his decision to attend Thiel. "He's been there a long time."
Joe Schaly has been Thiel's head baseball coach for 24 years. He's compiled 620 wins during that time and has placed 120 Tomcats on All-Presidents' Athletic Conference teams. He's had 23 players make all-region.
Matthews will be joining two other Butler County players on Thiel's roster. Mars graduate Charlie Luedtke is a pitcher there and Karns City graduate Cole Sherwin has seen action at shortstop and second base.
Thiel is coming off an 11-28 season, 5-15 in PAC play. The Tomcats' last winning season in conference play was 2019 (13-11), their last winning season overall was 2017 (21-19).
Matthews figures to see the field often next spring.
"They're interested in me doing both," Matthews said of pitching and being a position player. "That's something I wanted to do in college and I'm happy I'm getting that opportunity."
He throws a fastball, change-up and curve. Matthews' fastball has been clocked at 82 miles per hour.
"Brock throws strikes and spots the ball well," Laspunak said. "He can change speeds and keeps the hitters guessing. He made a good choice in going to Thiel. He'll become a great strength to their team sooner rather than later."
More in Sports