Moniteau's Class of '23 tosses caps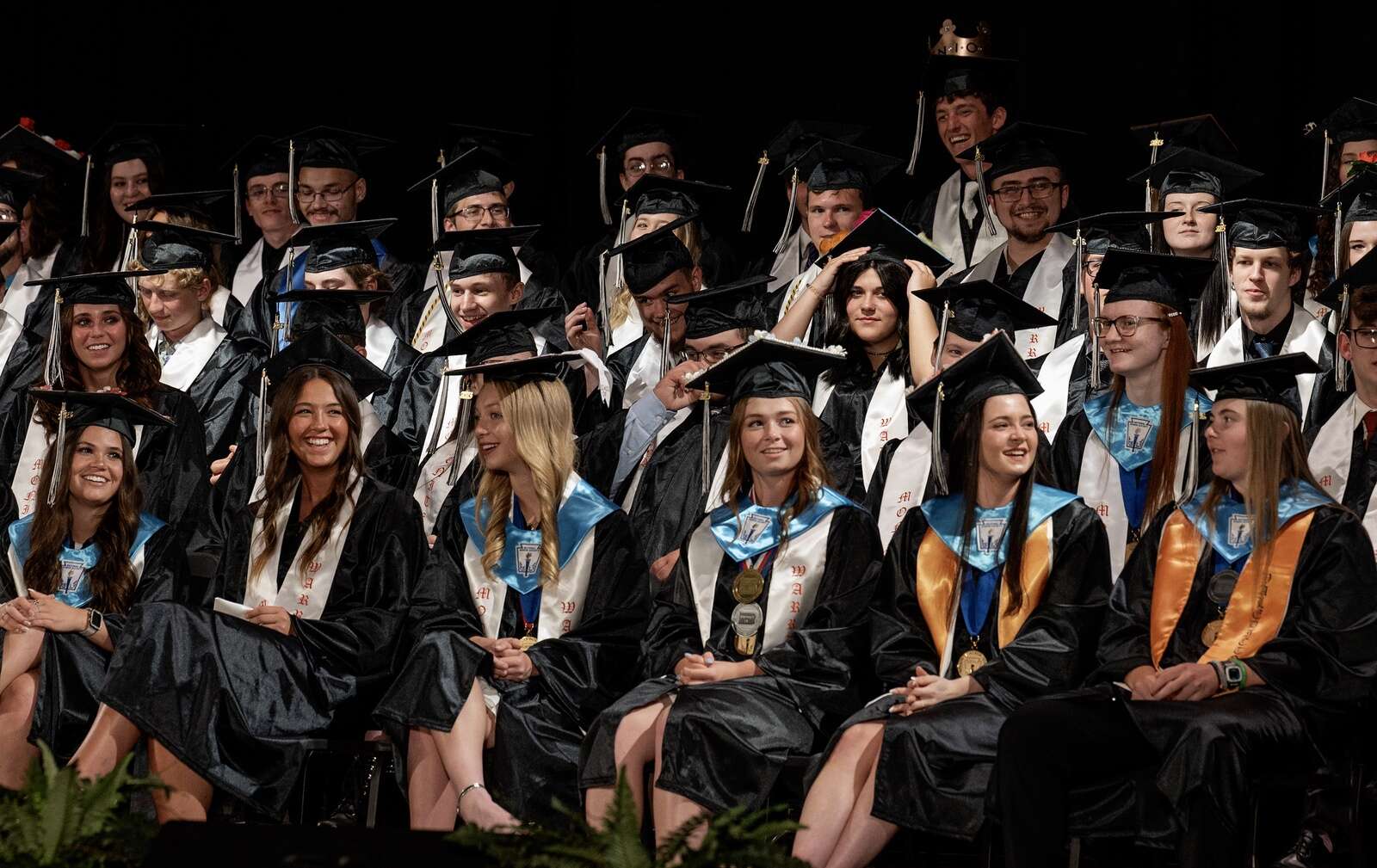 CHERRY TWP — Except for the faint buzz of conversation that seemed to grow louder from around the corner, the hallways of Moniteau Jr./Sr. High School were mostly quiet — and empty — on the last day of school early Wednesday evening.
Behind gymnasium doors, Moniteau seniors stood with their friends as they had before lunch or between classes. They took pictures, fixed their hair, secured their tassels and snapped pictures.
A little over an hour later, they would gather one last time on stage in the auditorium as a graduating class.
"It's hard to believe it went by so fast," David Yeager, father of Moniteau senior Emma Yeager, said.
Yeager graduated from Moniteau in 1998. He entered the workforce shortly after graduating from high school. When asked if there was a piece of advice he would impart to his daughter as she embarked into the "real world," he said he would tell her to follow her dreams.
"You're only young once," he said. His daughter will study criminal justice at PennWest Edinboro in the fall.
"It's the day you think of all of your childhood, and then it finally gets there, and you almost don't realize it until it's almost over," said Laura Kleemook, guidance counselor. "I look back at pictures, and I don't even recognize that kid anymore. You change so much in that time. These kids were pushed through a number of things I never could have imagined."
In 2021, Moniteau seniors lost a classmate, Olivia Bartholomew, who died that October from mitochondrial disease.
Graduates wore green bracelets to honor their fellow student.
"These are good, good kids," Kleemook said.
As parents and friends filled the auditorium, seniors shared their thoughts on the past couple of years, reflecting on the sudden changes and freedoms that high school graduation would offer.
"It's freeing. I'm not stuck here anymore," Alex Cole said.
Alex will study business management at Butler Community College and plans to later transfer to another institution.
"It's definitely a little bit nerve-racking. I feel like I've been preparing for it all year, but somehow I still feel like I'm not ready. But I'm very excited to see everything that happens post-high school," salutatorian Emma Landgraf said.
"I worried a lot as a freshman. I tried to plan everything out, get everything perfect. And things aren't always going to be perfect," she said.
She said she would tell her freshman self to relax and "roll with it." She will start classes at the University of North Carolina-Wilmington in the fall.
"Embrace the uncertainty of your life. Don't be afraid to change your plans," she said in her speech addressing classmates and their families.
Sean Morrow, voted faculty speaker by Moniteau seniors, addressed his former students.
"This is a bittersweet moment for many of you. You have friends here at Moniteau who you may never see again. But this is your chance to make new friends, start new lives," he said.
"Please don't get stuck here. Your adult lives are just beginning. Don't make high school your glory days. Now's the time to find your own path."
"I'm not telling you to forget about us. You will always have a place here at Moniteau," Morrow said. "I look forward to hearing the stories of your life outside of these walls. The world has much to offer. Take a couple chances, meet some new people, see the sights."
Valedictorian Emma Covert noted the color yellow in her speech. It was the color of their sashes, and the color of the elementary school walls, she said. She recalled the color of tennis balls, which student athletes had first picked up at some point before becoming invested in the sport years later, and the bright color of Snapchat messages that pop up on phone screens, waiting to reveal a photo or video from a friend.
Yellow was the color of the bus she and her classmates had taken to school their first day of kindergarten, she said. Tuesday, she reminded the crowd, Moniteau graduates took the school bus for the very last time.
More in Local News