Birthday Bash
Mars' Grieco scores 6 goals on day he turns 17
ADAMS TWP — Friday was Enzo Grieco's 17th birthday, but he was more concerned with the amount of balls the Planets put into the net than how many candles were on his cake.
The junior on the Mars boys lacrosse team did so six times to lead the Planets past visiting Upper St. Clair, 14-13. His last score — the team's final goal of the game — gave the Planets valuable breathing room at 14-12 with three minutes, 11 seconds left.
Dalton Yates scored for the Panthers 84 seconds later, but Upper St. Clair turned the ball over three times late and Mars celebrated the narrow victory.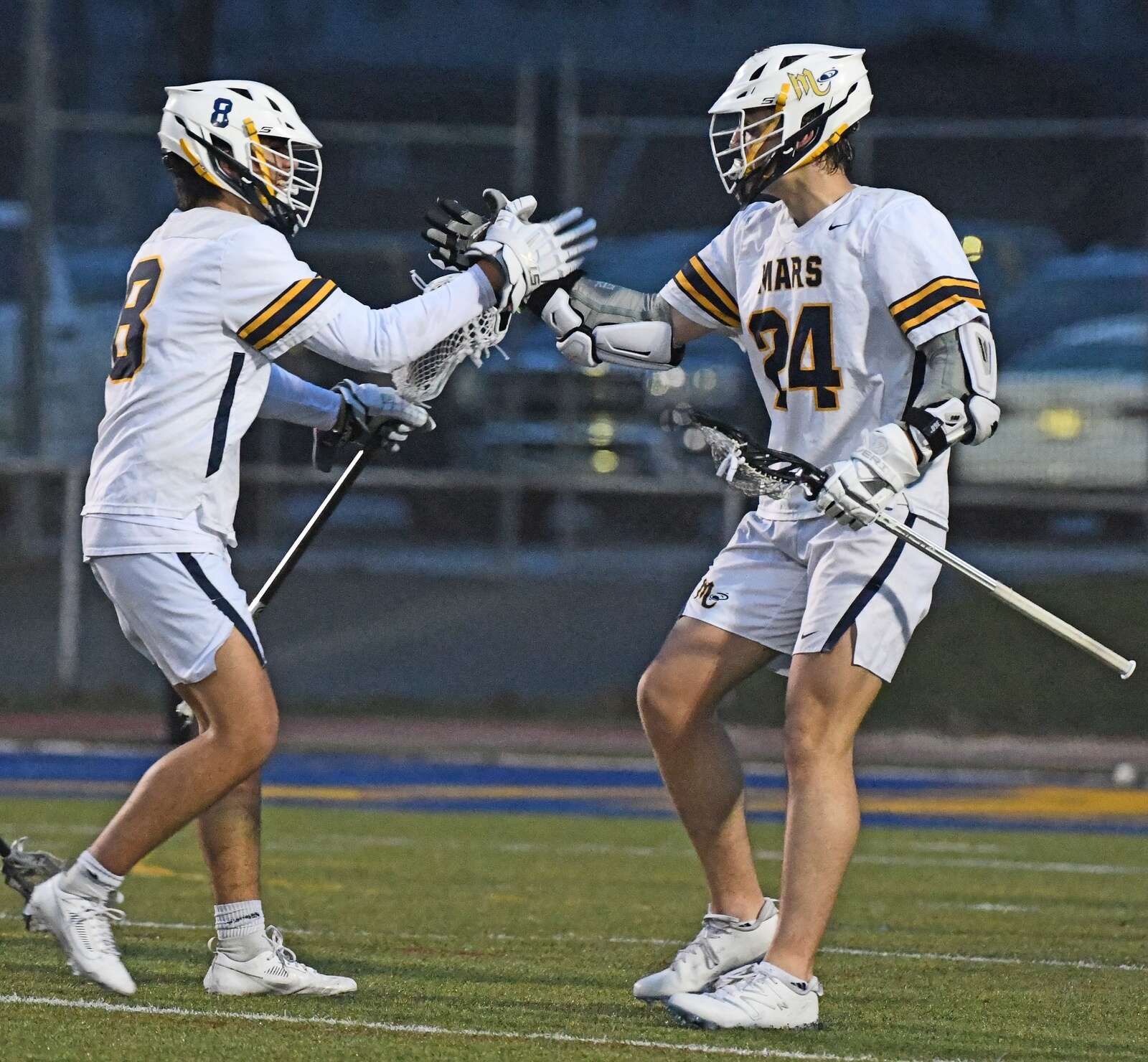 The Planets (6-0) are six-time defending WPIAL champions and are coming off a state crown earned last June.
"It came down to moving off the ball and getting off the best shot, not just the first shot," said Grieco of the latest win.
"Enzo is a tough, tough competitor," said Mars coach Bob Marcoux. "Last year, he was pretty much a finisher, but is now initiating a lot of our offense and getting assists. He's all about the team and has become a better leader."
As for the thought of losing on his birthday, Grieco replied: "Oh my gosh! I don't know what I would have done. That would have been probably the worst birthday ever."
The game was tied at eight early in the second half, but Grieco scored to put Mars up for good with 9:51 remaining in the third quarter. The Panthers, though, remained on the Planets' heels throughout. Will King, Yates (twice) and Aidan Besselman scored in the fourth quarter to keep Mars on its toes.
"We lost some great seniors from last year's team and are inexperienced at some spots," said Marcoux. "I think we were a little surprised at (USC's) speed and athleticism. They came after us and we gave up some goals in transition."
The Planets held a 7-4 lead, but USC scored three times in the final three minutes of the first half to tie the game.
Kyle McEwen was key to the outcome, scoring four goals and dishing out four assists for the Planets. Jack Dunham scored twice while Dylan Phillips and Ian Coulter both had one score.
Yates paced the Panthers (1-2) with four goals. Brady Erdos and King both added three.
Goalie George Garces made 13 saves for USC while Jonathan Grieco had five stops.
The Panthers provided a very stiff test, the kind the Planets don't see often. They recently beat Worthington Kilbourne, a team from Ohio, 9-4, but the team's other four victories came by a combined score of 62-7.
Mars is scheduled to play District 3's Trinity at Grove City College on Saturday.
More in Sports