SV's McMullen, Lopez both net 6 goals in lax win
Combo with Clout
JACKSON TWP — While the nasty weather didn't stick around for the entire game, the ability of Macy McMullen and Lorena Lopez to find the net did.
The senior attack and junior midfielder, respectively, both netted six goals in Seneca Valley's 17-7 girls lacrosse victory against Butler at NexTier Stadium on Wednesday.
McMullen scored five of her tallies in the first half, after which the Raiders enjoyed an 11-5 lead. Lopez took over afterward, beating Butler goalie Jolene Plaisted four times in the final 25 minutes.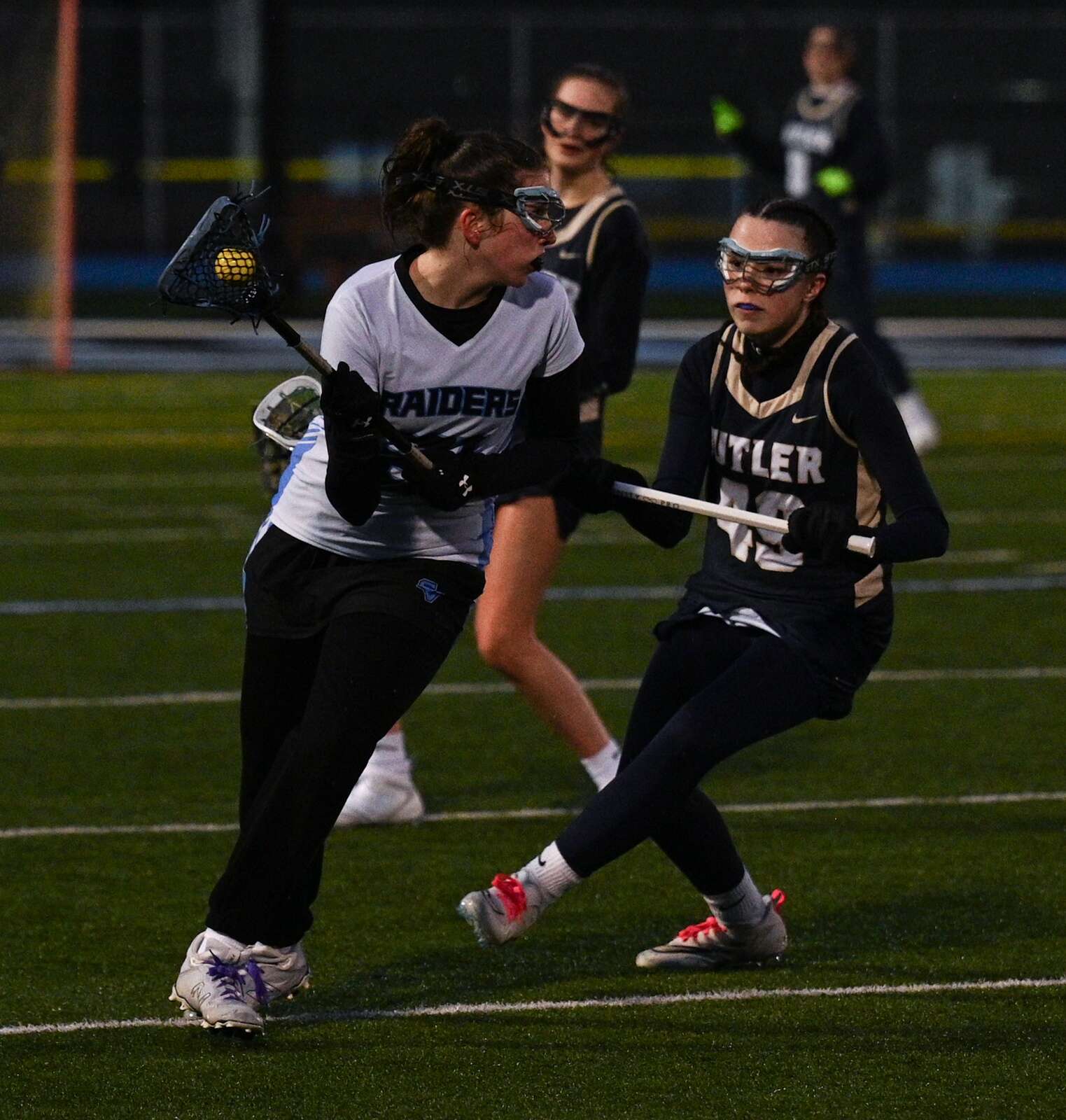 "Our communication was very important tonight," said SV coach Katie Smolter. "The girls are realizing that one person can't do it all. They have to work as a team."
After Butler (2-2, 0-1) took an early lead on Becca Allison's goal, McMullen, Kiki Nemcek and Lopez scored to put the Raiders up for good.
Hoping to find momentum at the start of the second half, Butler instead allowed goals to Anna Johnson, Lopez and McMullen in the first seven minutes. The last two came after the Raiders (3-1, 1-0) were awarded free position.
Junior goalie Megan Holby kept the Golden Tornado at bay, making seven of her 12 saves in the second half.
"She started for our junior varsity team last year," said Smolter. "She was fantastic tonight and has really stepped up for us."
The Raiders led 14-7 with under 15 minutes left when Lopez iced the victory with her final three goals.
"I focused more on defense last year, but love getting the opportunity to score," Lopez said. "I'm glad to fill that role for the team.
"Macy and I worked all fall and winter together. We just need to continue to see each other on the field."
Makena Berg and Lydia Miller both added a goal for SV.
Rylee Hurley, Khloe Huba and Allison each scored twice for Butler and Taryn Hilovsky had a goal.
Plaisted stopped four shots.
First-year Tornado coach Carrie Gamper is confident Butler, which has missed the WPIAL playoffs five straight seasons, is headed in the right direction.
"The score tonight does not reflect the talent on this team," she said. "I don't think these girls have ever been pushed the way they're being pushed right now and they're rising to the occasion.
"It's an incredible group of kids. They're willing to work hard and I expect to see that the rest of the season."
SV visits Allderdice on Thursday while Butler visits Hempfield Friday.
More in Sports