Sing Hosanna!'s 'Sister Act' a good habit
Review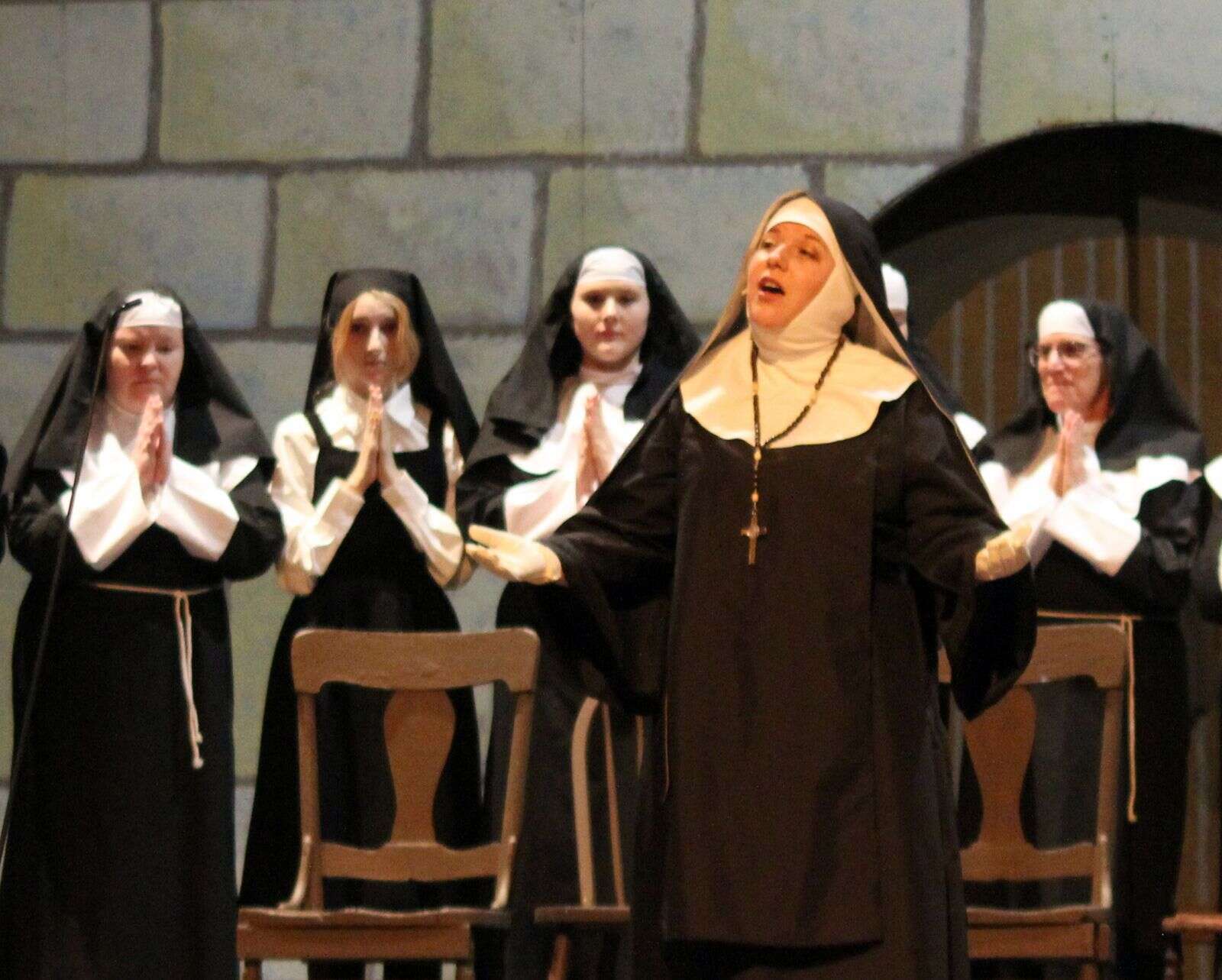 The Philly Soul sound swept America in the 1970s and with its funky horns and infectious percussion, it was hard not to sing along. This weekend, Sing Hosanna! brings its own infectious dose of soul to Butler County Community College's Succop Theater in its production of the musical "Sister Act" at 7:30 p.m. Friday, March 31, and at 2 p.m. Saturday, April 1.
The show opens in Philadelphia, a place, one of the nuns tells us, that is full of "cigarette smoke, alcohol, and cheesesteaks." Deloris Van Cartier, played by Heather Check, is singing her heart out in The Cozy Cat Club, her boyfriend Curtis Shank's (Jack Iole), nightspot. Right away – from the first groovy notes of the intro number "Take Me To Heaven," to the loud polyester colors worn by Curtis' gang, to the cheetah prints of Deloris and her shimmying backup singers – the audience knows that it is firmly ensconced in the 1970s.
Deloris and Curtis' relationship is failing, and, as Deloris goes to break up with Curtis, she sees him kill one of his gang members. Just like that, Deloris is on the run and placed in a convent for her own protection by Sweaty Eddie (Michael Traverso), her former high school friend who now is a police officer. Stuck in the convent for a year, Deloris is tasked with helping to whip the nuns' choir into shape as it prepares to sing for the pope, and the culture clash begins.
Deloris brings a lot of baggage to her new home. She carries a grudge against nuns from her grade-school education. But Deloris isn't the only one with issues. In the first act song "It's Good To Be A Nun," strong performances from Sister Mary Patrick (Megan Rockcastle), Sister Mary Lazarus (TommyLynn Kilian), Sister Mary Martin of Tours (Leah Harris), and the rest of the nuns humorously describe the privation of devoting their lives to the service of God and the church. In the second act, Sister Mary Robert (Mia McGrady) begins to doubt her calling in "The Life I Never Led" after being exposed to the outside world by Deloris' presence. McGrady has an expressive voice, and the number stops the show in the best possible way.
The show's story is about the ability of friendship to make us whole people who can accept our shortcomings and break from the habits (pun intended) of our past so we can relate to others. But to be honest, the plot is almost superfluous; it's a way to conveniently move from one crowd-pleasing song to another.
Andrea Patten, as Mother Superior of The Convent of Queen of Angels, shows off her strong voice and characterization in "I Haven't Got A Prayer." A lovelorn Eddie sings "I Could Be That Guy" in full Elvis regalia, including an impressive pompadour, sideburns, cape and full complement of backup singers. Nathan Rockcastle, Matt Nocera, and Levi Evans, as Curtis' henchmen, introduce a sleazy lounge vibe to "Lady in the Long Black Dress," and Iole brings his strong baritone to "When I Find My Baby" punctuated by clever choreography that uses waitresses and their serving trays to interject Batman 1966-style "Bams" and "Pows" to undercut the menace of the song.
There's lots of strong staging in this production from the Three Stooges-like antics of Nathan Rockcastle, Camden Rockcastle, Evans and Nocera to the kickline of sisters in "Sunday Morning Fever," to the barely controlled chaos of the climatic nun versus gangster fight with characters racing on and being wheeled off-stage
A big production such as this one, with 24 musical numbers and multiple costume changes, is an exercise in ambition even for a fully funded Broadway show. A community theater taking it on with a cast of 40, many of them young or first-time actors accompanied by live musicians who must switch quickly between disco and Broadway ballads, is beyond daring. Yet, veteran director Ralph Christy Jr. keeps the show on track and draws fine performances from his players against a sparse set that allows the focus to remain on the actors in what Christy describes as a "high-energy" show.
There's no real suspense in either of the show's plots. The audience has seen enough of these sorts of stories to know that there's no danger of the gangsters rubbing out Deloris or the sisters losing their church.
Sometimes, instead of a fancy meal, you want to spoil yourself with a fluffy sugary treat. That's what Sing Hosanna!'s "Sister Act" is: an evening of guilt-free musical cotton candy with a snappy score and fine performances. Runtime is two hours and 15 minutes with a fifteen minutes intermission. Tickets can be purchased at singhosanna.org.
More in Weekend Entertainment