Seneca Valley opens innovative educational venue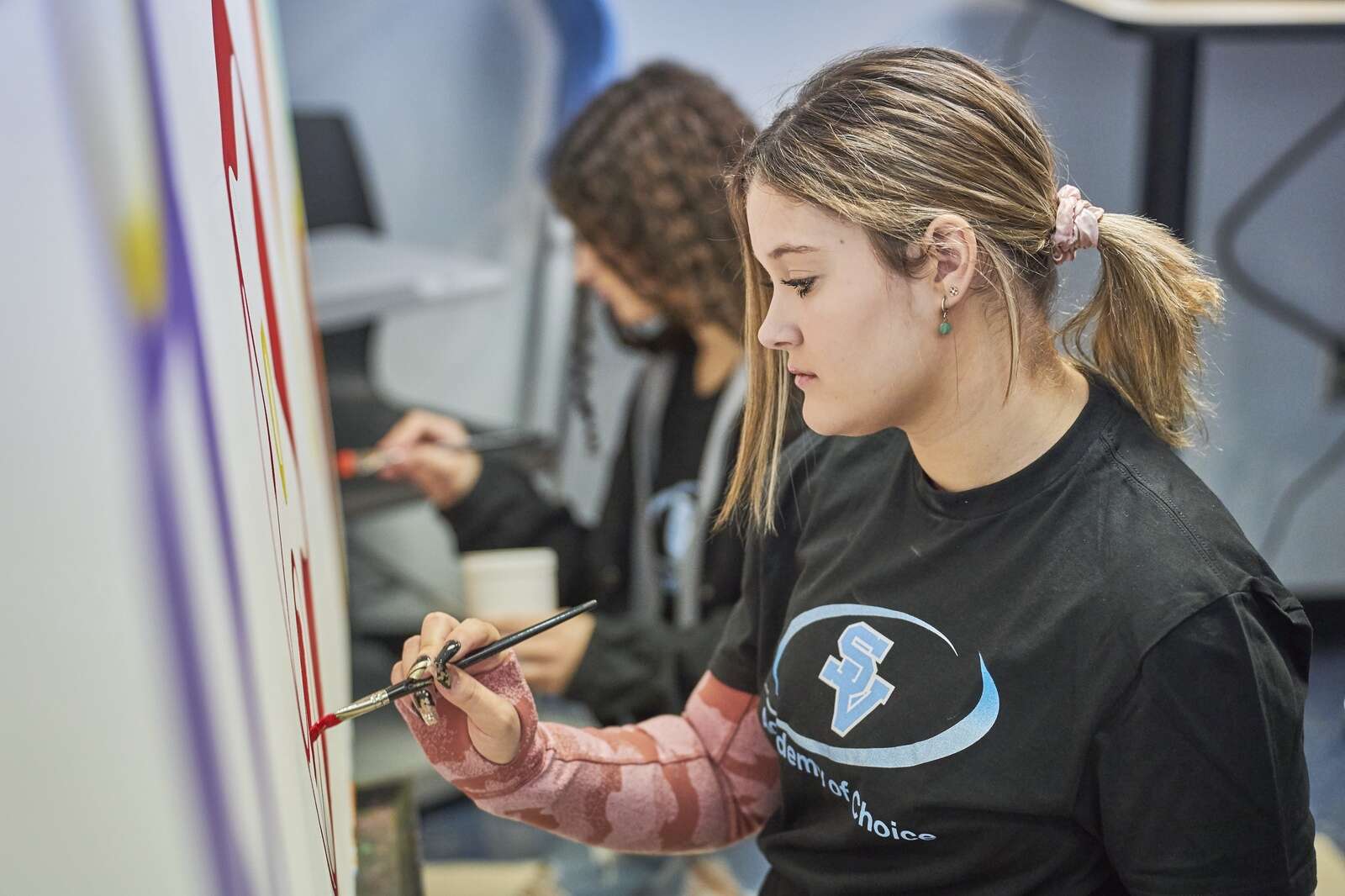 CRANBERRY TWP — Rigorous education with an emphasis on comfort, activities and fun was showcased Wednesday morning, March 29.
The Seneca Valley Academy of Choice Drop-in Center on Executive Drive held its grand opening and ribbon cutting before lunchtime.
The 6,200-square-foot, newly designed drop-in center allows students in the district's cyber program, the Academy of Choice, to stop in for one-on-one time with teachers or to attend a class, special activity, physical education program or to just hang out for a while.
The rooms in the center are set up to welcome students and make them feel comfortable in the spaces, which also serve as offices for the administrators and teachers who work there.
A mindfulness room, projects and partnerships room, cyber interactive classroom, gamer zone, demonstration kitchen with hydroponics capabilities, the social studies den, the book nook, a STEM lab with a three-dimensional printer and poster printer, a learning commons, and a science lab with microscopes and other equipment encourage students to learn in a face-to-face, group or hands-on way.
About 200 people attended the grand opening, including Seneca Valley administrators, teachers, school board directors, students, parents and others.
'Natural evolution'
"It's the natural evolution of a successful cyber program," Tracy Vitale, district superintendent, said of the center.
She said the center will provide an educational outlet for students who learn best in a nontraditional setting.
Vitale thanked the 23 teachers who educate students in kindergarten through 12th-grade at the center.
"They are constantly trying to hone and refine their techniques to keep up with what students need today," she said.
Matt McKinley, assistant superintendent for grades seven through 12, said he helped launch the Academy of Choice 16 years ago, when no other school districts in the region were creating cyber academies.
He said the Seneca Valley program kicked off with 18 students and 44 courses.
It now educates hundreds of students from Seneca Valley and more than 60 other school districts across the state, and boasts hundreds of courses.
Tara Schenck, one of the cyber academy's newest teachers, said although the drop-in center is a marvel of modern education, it will not stagnate.
"This new space will continue to buck stereotypes," she said. "We will tailor learning to the students' needs and interests."
Student impressions
Cyber students milled around the building among the adults who peeked into each room or chatted with a staff member.
Khloe Jackson, an eighth-grade Seneca Valley cyber student, helped paint an abstract work of art in one of the center's rooms Wednesday.
"We really get hands-on and creative, and it really engages eye-hand coordination," Khloe said of the center.
She said many students who have chosen the cyber academy have difficulties with social skills, and the center allows for interaction with other students.
"It's very important for their growth," Khloe said. "It helps students grow mentally and physically."
Camryn Cater, a seventh-grader in the program, appreciated that the center is a welcoming place where cyber students can feel comfortable.
"I like to come in and crochet and stuff," Camryn said.
Isaac Chiaraluna, a third-grader in the district's cyber program, called the drop-in center "awesome."
"We can come here to do our work," Isaac said. "You get to talk to your teachers and if you need help, you could just ask them."
Fred Peterson, a Seneca Valley school board director, appreciates the flexibility in learning and innovation the center provides.
"It's not like we've gone outside the box. It's like we threw the box away," Peterson said of the new facility. "Doing things differently makes Seneca Valley the special place it is."
He said Seneca Valley has a reputation for innovation among public school districts.
"We've developed a culture that not only tolerates greater thinking, but encourages it," Peterson said.
Nick Neupauer, president of Butler County Community College, also attended the center's grand opening. BC3's Cranberry Township campus is next door.
"I think it is a clear example of how forward-thinking the Seneca Valley School District is," Neupauer said of the center.
He recalled when cyberschools first began being discussed.
"Dr. Vitale, supported by a great board and a great staff, decided to be aggressive in this area," Neupauer said.
He said while BC3 already partners with the school district in various ways, he will be looking for new opportunities between the college's Cranberry campus and the drop-in center.
"I think it's an exciting day in Butler County," Neupauer said.
Teachers weigh in
Yvonne Dobrzanski, a Seneca Valley elementary teacher and president of the district's education association, said the teachers realized 16 years ago that a need existed among secondary students for cyberschool.
Later, the teachers realized elementary students also needed the program.
The association signed a memorandum of understanding to amend the contract between the district and its teachers to include cyber school.
"Having the opportunity for cyber students to use the course work that Seneca Valley offers, that's pretty phenomenal," Dobrzanski said.
Matt Pournaras, cyber coordinator of the Outreach Program for Technology, is in charge of coordinating students from about 65 school districts across the state who attend the Seneca Valley Academy of Choice online.
He said other school districts often are aware of the academy's excellent reputation when they call to discuss using the Seneca Valley cyber program.
Pournaras discusses with districts that contact him the opportunities and courses available to students who use the program.
"They realize it's a great opportunity they can provide to their own students," he said.
Denise Manganello, principal of the Seneca Valley Academy of Choice cyber school, was thrilled to show off the new drop-in center and looks forward to a long and innovative future at the venue.
"We try to make (the cyber program) more exciting every single year," she said.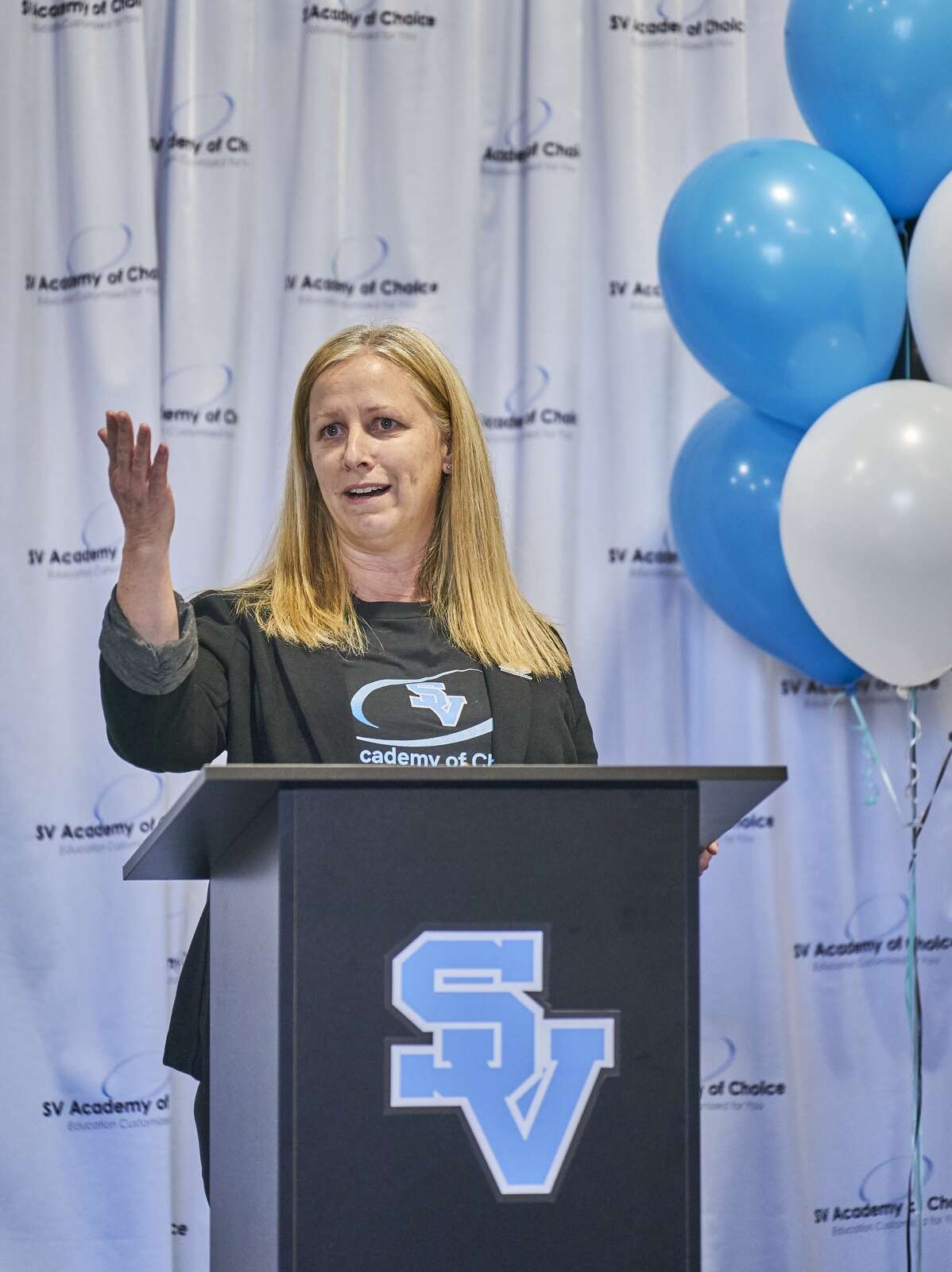 More in Education