Slippery Rock University students have plenty to do
SLIPPERY ROCK — When he first arrived at Slippery Rock University from his home near Odessa, Texas, Elijah Calzada became integrated into campus life in part thanks to his community assistant.
Calzada said his first community assistant, a term SRU uses instead of the typical title of university resident assistant, inspired him to go for the job his second year of college.
Calzada now spends his free time at school "working," although he doesn't consider what he does to be very labor-intensive.
"It's around-the-clock ... I don't consider it work when a resident just comes to talk," said Calzada, who is a second-year parks and resource management major at SRU. "You being able to guide them just makes me happy to be that mentor."
SRU has 62 community assistants this school year. They receive a waiver for their on-campus room's fee and a stipend of $3,200 per academic year, according to Patrick Beswick, director of Residence Life at SRU.
Beswick also said that a student must have earned 30 credits and have a 2.5 QPA to become a community assistant.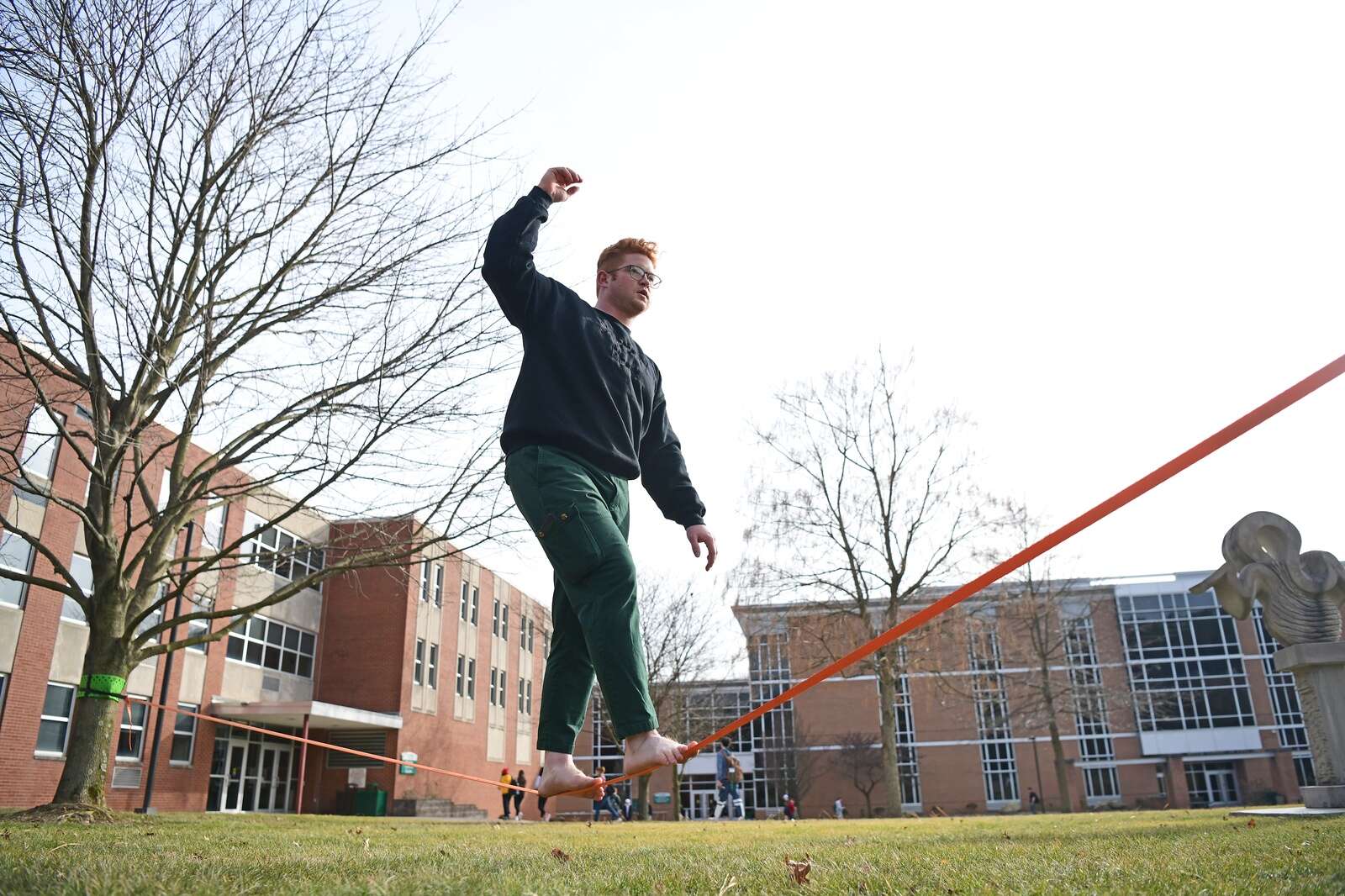 A significant portion of the university's students live on campus, so the university's staff tries to make them feel at home while away from the places they grew up, Beswick said.
"We have roughly 2,800 students who live on campus. Of them, about half are freshmen," he said. "What we're trying to do is make sure that they're fostering a commitment and feeling engaged in the community."
Campus culture
Beswick said SRU has "living learning communities," all within the residence halls. Each floor has a different concentration which students can select. The floors include health, science, honors, liberal arts and athletics.
Beswick said the differently themed floors give students a chance to pick a living space that they think will best fit what they want to get out of their campus living experience.
"Students can self-select to live in those if they have a certain major, if they are an athlete or if they have a major that's tied to one," he said.
Beswick said freshmen get a lot of attention when it comes to events and activities planned by Residence Life. In addition to the Week of Welcome, where the first week of the new school year is packed with ice-breaker events and activities for new students, the university has a "Rock the Weekend" series, which aims to create positive social opportunities for SRU students on weekends.
New students also have resources in their community assistants and other members of their peer group.
Sophomore environmental chemistry major Trevon Johnson works in the Office of Community-Engaged Learning. He said the office also provides opportunities for students to be socially active.
"I'd say like overseeing different opportunities for students to be involved on campus," Johnson said.
Calzada also said he enjoys being a helpful face to students in need.
"One thing that I have found being a community assistant is freshmen, they're new," Calzada said. "Mine is the first face they're going to see, and I want to be friendly. It has been great getting to know students like that."
Beswick said the residence life staff is primarily focused on making sure students are happy while on campus.
"It's my job that we are creating a safe environment where students are able to embrace diversity aspects and engage in ethical development," Beswick said. "The goal is that we're creating educational and social programs so they are aware of social and cultural opportunities at the school."
Dorm room residing
Even when there aren't school-sanctioned activities happening at SRU, students still are able to keep themselves entertained. The Robert N. Aebersold Student Recreation Center, known as "the ARC" by pretty much everyone on campus, provides gymnasium space, exercise equipment and other recreational equipment for use by anyone.
"I typically go to the ARC, I spend a lot of my time there," Calzada said. "If I'm not at the ARC, I'm at the library or the student center. I have friends there, we'll play games together."
Johnson also said the ARC provides a good way to stay active outside of class.
"I definitely go to the ARC sometimes," Johnson said. "It's either that or I'll just hang out with different friends I've made on campus. I just enjoy their company."
Independent entertainment
The university quads were filled with students on one particular Tuesday; some of them walking to their next class, others sitting on benches talking with friends and senior safety management major Tommy Koraido, who was walking on a slack rope tied between two trees.
He said he typically has enough time outside of schoolwork to pursue his interests, including a slack rope club that he helped found at the university.
Nicco Mickens, a freshman exercise science major, was shooting hoops at the ARC between classes.
Mickens lives on campus, having come to SRU from his hometown of Masontown in Fayette County. He said he tries to make time to not only get some recreational time in when not in class, but to get out in the community when possible.
"The way I schedule my day is I designate a certain amount of time to homework and time to play basketball," Mickens said. "There's lots of things to do. It's impossible to be bored here."
Meanwhile, third-year health care administration and management students Abigail Cox and Brooke Fry were in the library studying. They said the campus feels like a large family, because almost everyone they pass is a familiar face, in a way.
"I feel like when I'm outside I'll pass people I know," Fry said. "I'll think, 'Oh, I had class with them last semester.'"
Cox agreed, and said that although she often goes home on weekends, she enjoys the familiar atmosphere at SRU.
"I feel like we're a close bunch," Cox said. "It's a big school, but in a way it feels small."
Calzada said he feels thoroughly integrated into the SRU campus culture. Seeing students create and participate in a welcoming environment on campus is what he had hoped for when he applied to attend the university years ago.
"It's fun seeing them all interact with each other," Calzada said. "I have some friends around the area. Some of us play disc golf, some of us go to the gym to play pickleball. With nice weather outside we'll just toss a ball."
More in News