Hays eagle has sibling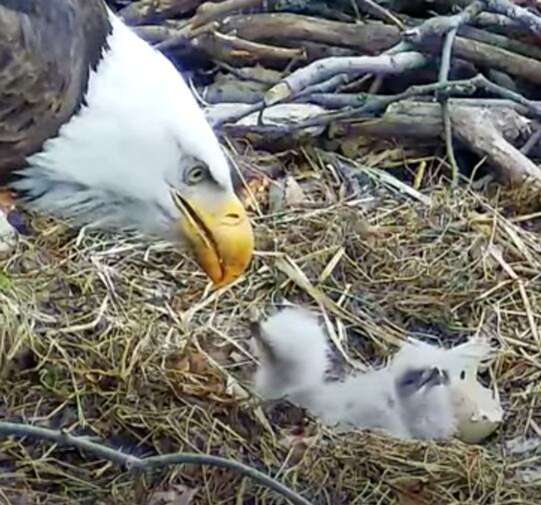 Those watching the bald eagle nest webcam in the Hays section of Pittsburgh were relieved Tuesday morning to see the avian couple's second egg hatch and a live chick emerge.
The Audubon Society of Western Pennsylvania said in a news release the eaglet joined its 2-day-old sibling just after 7 a.m. Tuesday.
The first eaglet, whose fuzzy head can be seen bobbing about when it looks for food from its parent, hatched Sunday. The Hays eagles had laid two eggs this year, on Feb. 17 and Feb. 20.
"The newest arrival will soon be feeding alongside the older eaglet, which has already had numerous meals fed to it by its parents," the news release said.
One of the parents will remain on the nest constantly to keep the newly hatched eaglets warm beneath their downy feathers.
The adults will take turns sitting on the nest while the other retrieves fish or small animals for the family to eat.
The parent sitting on the nest will strip tiny shreds of meat to feed to the babies as they grow.
The webcam, which is the product of a collaboration between the Audubon Society of Western Pennsylvania and PixCams, can be viewed at aswp.org/pages/hays-nest.
More in Local News