Afghan contributions warm newborns, add color to maternity ward
A longtime friendship is generating more than warm feelings between the two pals. It's keeping newborns warm also.
Kris Simon Noel, of Grove City, has known Sarah Burton, of Harrisville, for more than 23 years, since they both worked in the med surge/telemetry department of Grove City Hospital. Noel was a secretary and Burton was a nurse.
"Our kids were about the same age," Burton said. "We were friends because we got along really well."
"We're both kind of strange," Noel said.
The friendship continued even after Burton left Grove City Hospital and became a maternity ward nurse at Butler Memorial Hospital.
"I've done maternity since 2000. Their (Grove City's) OB department closed down, not enough deliveries or revenue to keep the department open," Burton said.
Burton and Noel's friendship, nurtured on frequent texts and weekly lunch meetings, continued after Burton's departure.
Noel said she had always crocheted — since her grandmother taught her the art when Noel was 7. She said it had become a form of therapy as she dealt with the loss of her sister a year ago. She said she was crocheting nearly eight hours a day.
"I think making afghans is good therapy," Noel said. "When I'm crocheting I'm not thinking about her as much."
During one of her get-togethers with Burton, Noel said, "She mentioned they were looking for blankets, afghans. She said, 'Do you want to make me some afghans?'"
Burton said the maternity ward keeps a closet filled with handmade blankets and baby hats to give to newborns and their parents when they are on the ward.
"People don't realize that blankets are not provided by the hospital. We give them one of these. It's a homemade gift, a keepsake," she said.
Noel set to work, and, so far, has delivered 25 afghans for newborns at the hospital in the last two months.
"I'm fast. I can crochet an afghan in two and a half days," she said. "I like to crochet, and I've added it up, I've spent about $500 on yarn.
"I measure from foot to waist, and that seems the right size," she said. Her afghans come in medium-weight cotton yarn in a zigzag pattern and in a multitude of colors. "I find colors that I like," she said, holding up a retro-striped afghan made from yarn her brother in Colorado sent her.
"I don't like that baby-thin stuff," Noel said. "What I use is thicker and warmer and it gets done quicker."
Noel said, with the size of her afghans, the babies can grow into them. She said they are easy to clean — just wash cold in the machine's shortest cycle and remove from the washer the second the cycle ends — and never dry them on a clothes line.
And it's not just new parents and their newborns who enjoy the blankets.
Burton said the knit contributions add a dash of color to the maternity ward.
"They're so great when they are laying in the cribs with their cute little hats on," she said.
But no matter how fast she can crochet, Burton said the local birthrate is outpacing her friend.
"They're running about 50 babies a month and I can't do that many," Noel said.
Burton said that other people also contribute baby hats, blankets and afghans. But still the supply of handmade contributions often runs out.
"If we have them, we will hand them out. When they are gone, they are gone," Burton said.
Burton said people who want to donate blankets, afghans or hats to the maternity ward should call the main desk at the hospital at 724-283-6666.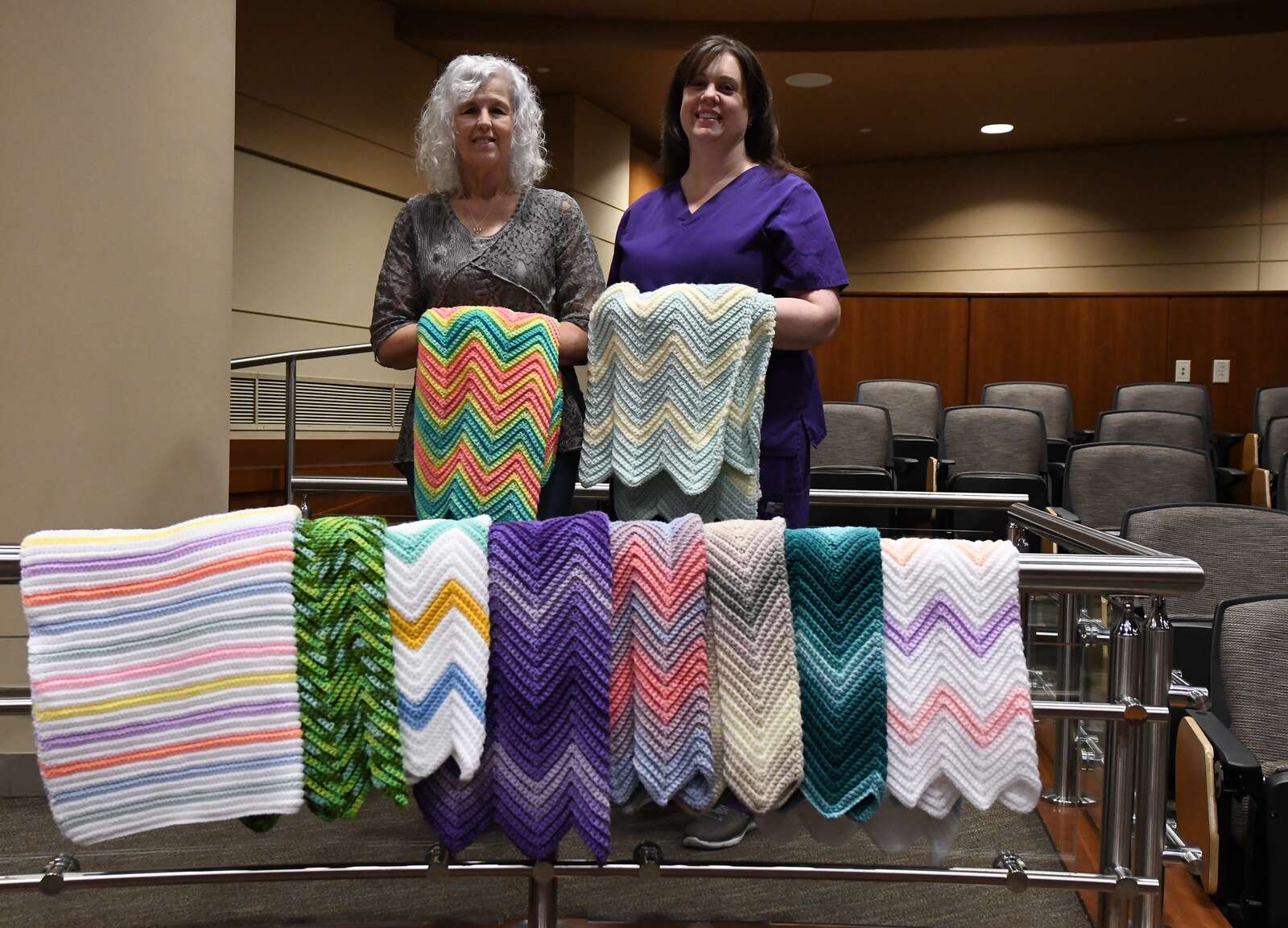 More in Community