Vodenichar made mark on county sports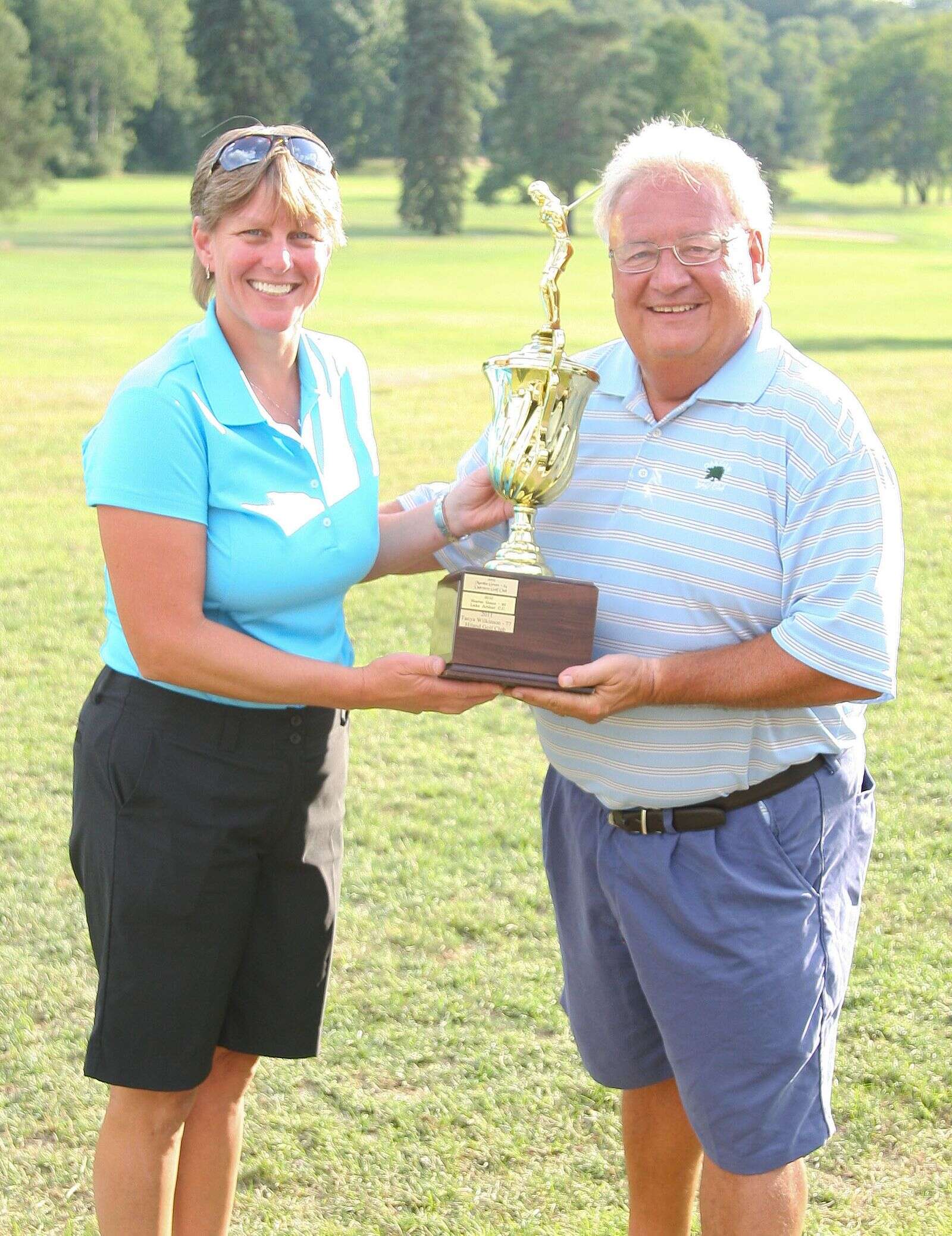 Retiring Eagle general manager's impact felt in golf outings, Eagle Amateur Open, Butler basketball, cheerleading
Sitting behind a desk is not Ron Vodenichar's style.
Already active in the community in a number of ways, the Butler Eagle general manager also made his presence felt on the golf course, as an advance scout for the Butler Area High School girls basketball team, and as a supporter of the high school's competitive cheer team.
He has been a member of Butler Country Club since 1992. "They have plaques on the wall indicating event winners and my name's on my share of those," Vodenichar said of the country club.
His love for the sport extends beyond the country club. Often teaming up with longtime friends Ken Fair and Dave Matteoni, Vodenichar has played in numerous charitable golf events throughout Butler County.
Fair and Vodenichar befriended each other through their membership in the Rotary Club.
"Our relationship goes far beyond golf," Fair said. "We know each other's families. We've been on an exchange trip to Scotland, done numerous activities together. Ron is just a great guy and more than just a good friend.
"He is as sincere a human being as I know. He's never afraid to say what's on his mind, and I've always respected that about him. Ron is a giving person who cares very much about this community.
"There will be a hole in my life once he's gone (to Texas)," Fair added.
While Vodenichar appreciates their friendship as well, he also admires Fair's golf game.
"That man goes on a golf course and shoots his age all the time," Vodenichar said, smiling. "He's something to see."
One way Vodenichar has given to his community is through the Butler Eagle Amateur Open. The newspaper was not involved in the origin of the tournament.
The event — formed years ago by some area golfers to bring the top amateur golfers in the county together for a one-day 18-hole tournament — was about to disappear in the mid-1990s.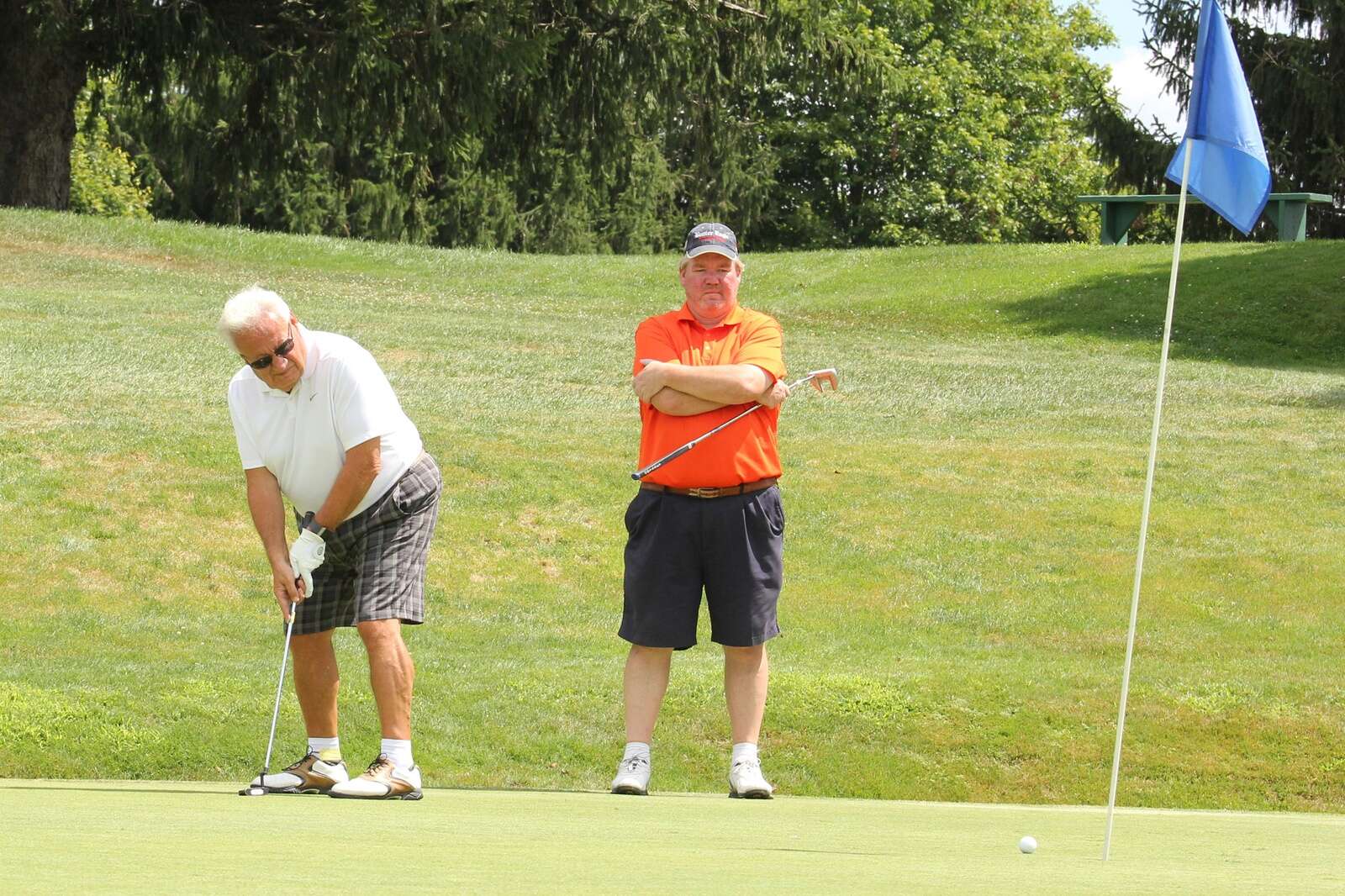 Rob Voltz, an Eagle Amateur committee member, credits Vodenichar for stepping up to save the tournament.
"That tournament has grown into a premier golfing event in the county. It wouldn't even exist today if it wasn't for Ron," Voltz said.
Vodenichar recalled a committee member approaching him with an idea of the Butler Eagle sponsoring the event. The tournament had been dormant for a couple of years as there wasn't enough funding for it to continue.
"I thought it was a worthwhile thing and that we should get involved," Vodenichar said. "They offered to rename the tournament in honor of (then-retired longtime Eagle sports editor) Mike Surkalo, but Mike was never a golfer.
"We decided to call it the Eagle Amateur, and that name stuck. The tournament grew over time."
Vodenichar, Fair and Matteoni played together in the Eagle Amateur for years. He used his many golf connections in the area to swell the event's participation numbers as well.
"We've had a full field a few times. You can't do better than that," Voltz said. "Ron brought a lot of golfers in. He worked hard to publicize the tournament. Through the newspaper, he gave us a voice we didn't have before."
Basketball backer
Vodenichar's involvement with Butler girls basketball began with his daughter, Adrianne, who started for the Golden Tornado from her freshman year through her senior season in the late 1990s. He attended all of his daughter's games, home and away.
When Adrianne's Butler basketball career ended, her father's connection to the program continued. But it shifted gears.
Vodenichar went from being a cheering parent to becoming an advance scout for Butler girls basketball coach, Jonna Burke.
"Jonna called me and asked if I'd be willing to go to games involving upcoming opponents, film them and put together a scouting report," he said. "I enjoy basketball. I'd never done anything like that before ... It sounded intriguing."
He wound up doing it for a number of years — for Burke and for Dorothea Epps, Butler's following head coach.
"Ron was a tremendous help," Burke recalled. "There was no footage of games on the internet then, no other way to get that type of information on an opponent unless somebody actually went to the games and got it for you. Ron excelled at that.
"He knows basketball, knows what to look for. We were spoiled, having him, because not many teams had a person who could do that sort of thing. Ron played a big part in our successes that way."
Vodenichar said he would come back from a game and drop the tape off at Burke's house.
"If she was home and had time, we'd pop the tape in and go over it that same night," he said.
One of the teams Vodenichar did advance scouting on was Fox Chapel. Then Pittsburgh Steelers coach Bill Cowher had two daughters playing for the Foxes at the time.
Vodenichar was filming Fox Chapel the night Cowher's oldest daughter, Meghan, scored her 1,000th career point.
"Bill and his wife, Kaye, were always in the stands watching their girls play," Vodenichar said. "The girl ran up into the stands and gave Bill the ball after she reached 1,000. I filmed that moment and gave him the tape. He really appreciated that.
"I did enough of their games that Cowher got to recognize my face. He never knew my name, but he'd see me and shout out, 'Hey, Butler!'"
Vodenichar's youngest daughter, KayLeigh, was a member of Butler's competitive cheerleading team. He supported that program as well.
He went to all of the sporting events the cheerleaders performed at, again showing support. He brought the cheerleaders snacks, attended their competitions.
"I just enjoy doing things for the kids," he said.
Always a big Pittsburgh sports fan, Vodenichar built up quite a collection of memorabilia over time. He had autographed footballs of each member of the Steelers' defensive front four from the Super Bowl years of the 1970s, as an example. He also has the game program — in mint condition — of the Franco Harris "Immaculate Reception" playoff game from 1972.
Jerseys, helmets, autographed items ... he collected them all.
"I only have a few things left," Vodenichar admitted. "I've given away most of that stuff."
One thing he'll never give away is his affection for the Butler County area.
"We've played golf together at Butler Country Club, Grove City Country Club, St. Jude, done charity tournaments for the hospital, Chamber of Commerce, you name it," Fair said. "Ron is a genuine, giving, caring person.
"I feel like I could ask him for anything and he'd give it to me, do it for me ... That's just who he is."
More in Special Sections