Venerable publisher also a dedicated family man
While Ron Vodenichar placed great significance on his managerial duties at the Butler Eagle and charitable commitments throughout the county, his highest priority was and remains his family.
The no-nonsense newspaper publisher is a husband of 46 years to his wife, Linda, and doting father to his four grown daughters and their children.
Vodenichar's daughters relate that their dad, while known as a daunting adversary and an occasionally tough boss, always made sure his little girls had a "spin-around dress" for every holiday or formal occasion.
"We all had spin-around dresses," daughter KayLeigh Malpass said of the full-skirted formal wear that flares out when the wearer turns in circles.
"Even into high school, he helped with dresses for formal occasions," said daughter Sherri Farias.
Farias, of Leander, Texas, the oldest of the four Vodenichar girls, said her father was just 23 when she was born.
His training for the important life lessons that Vodenichar wanted to teach his daughters began with Farias.
"From the time I was 8 years old, I was helping with Meals on Wheels with him, and I'd see him quietly pay for someone's meal at a restaurant," she said. "Those are values I've held throughout my life."
Farias said he didn't preach to his daughters about the importance of a strong work ethic and dedication to community service, he demonstrated it.
"He led the way with work and community," she said. "It's just the way I was raised and who I've become."
Farias said her dad is an attentive and involved grandfather who often texts his grandchildren to ask how they are or relate some family news.
She said her kids will relate a piece of information from Butler that she doesn't know, and when questioned, the youngsters report they got the news in a group text from their grandfather that includes their cousins.
"He's a conduit for making sure the kids are all connecting," Farias said. "It's really sweet."
Her dad also made sure to form a friendly relationship with all four of his sons-in-law, even though they are scattered around the U.S.
"It feels unique to me," Farias said. "All the boys get along, and they all get along with my dad."
She can't wait until her father moves to her parents' new home in Texas once he retires, as it is near her own home.
"I've been begging him," Farias said.
Malpass, of Richmond, Va., was a cheerleader during her years at Butler Area School District.
"He really was the best cheer dad. He showed up for everything," she said. "He always had caramel apple treats for the girls. We all kind of looked at him as our cheer dad."
She recalled one home basketball game at Butler High when Vodenichar was stuck in traffic and the squad was about to perform.
"I told my coach 'I can't do this without my dad,'" Malpass recalled, "so we waited for him."
She said her dad showed up for every game, musical or any activity she pursued.
"He was there, but he wasn't a pushover," Malpass said. "He was stern, but we all respected him so much that we never wanted to do anything to disappoint him."
She said Vodenichar's love for his family only multiplied when grandchildren arrived on the scene.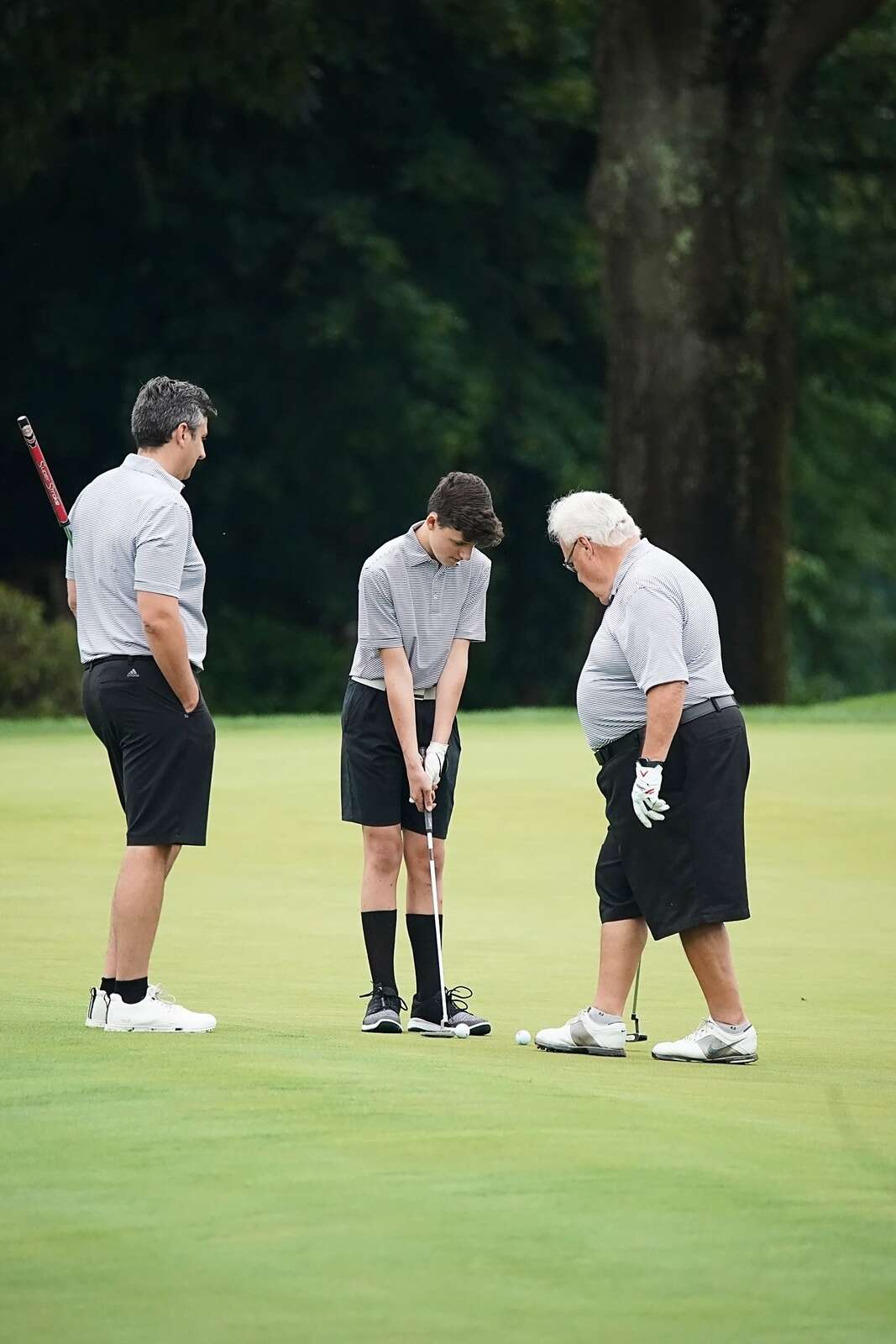 "I don't think there is a better grandfather in the entire world," Malpass said. "If you think he loves his daughters, he loves his grandchildren twice as much."
Although his daughters do not live in the Butler area, Malpass said there has never been a moment when her children haven't felt their grandfather's presence, whether during a milestone or on a regular day.
"If he sees something he thinks one of us will like, he sends it to us," she said. "I can't tell you how many pounds of chocolate have arrived at my house for Easter."
The famous spin-around dresses also have been delivered to her doorstep for her daughters.
"He bought them and the girls wore them on holidays," Malpass said. "It has continued down to his granddaughters."
Adrianne Thompson, another of Vodenichar's daughters, also lives in Richmond.
"Dad was very present and available, even though he worked as hard as he did at the Eagle and as involved as he was in the community," she said. "He always put our needs first."
Thompson also marvels at the dedication her father showed to the activities in which his daughters chose to participate.
In her case, Vodenichar spent countless hours driving her to and from basketball games.
Thompson wonders how he managed to find the time to support her basketball career by driving her to Pittsburgh every day for her traveling team's practice sessions, attending every game whether home or away, creating four commemorative basketball scrapbooks for her, or driving her to games in Michigan.
"He was unbelievably proud of us," she said.
Like Farias, Thompson recalls learning firsthand the importance of giving back to the community.
Among other charitable endeavors, she remembers flipping pancakes at the Rotary Election Day Breakfast as a child.
"'To whom much is given, much is expected.' He instilled that in us in words and practice," Thompson said. "He taught us the value of engaging with the community."
Thompson said Vodenichar sent her 60 packages when she spent two years living in Rwanda.
In 2010, she adopted a boy from the country who her dad later placed beside him when he served as emcee of the Butler Spirit of Christmas Parade.
"He wanted the world to know that was his grandson," Thompson said. "My dad was clearly telling the world 'He's mine.' It was such a beautiful way to show his support and love."
She said Vodenichar also had someone take a picture of him and his grandson sitting together as he emceed the parade.
"By the time I got down to the parade, he already had the picture framed with my son next to him on the podium," Thompson said.
Stephanie Eggar of Fairport, N.Y., thinks her dad's unfailing support of all his daughters' activities and pursuits has had a direct result on the girls as adults.
"Not every woman grows up thinking they can do everything they want," Eggar said. "That's how all four of us were raised, and that is what we believe."
Eggar also mentioned her father's generosity with no expectation of acknowledgment, and recalls a childhood of overhearing her father on the phone asking a recipient of his benevolence or an organization receiving a charitable donation to not name him.
"He is literally the most generous man you'll ever meet in your life," she said. "The amount of things he did for the community that no one knows about, you wouldn't believe."
In addition to monetary donations, Eggar said her father also likes to take homemade meals to families who have lost a loved one or had some major difficulty.
She said ribs basted with his own sauce, homemade spaghetti sauce, meatballs from scratch, and potato salad starting with fresh potatoes are just a few of her dad's signature dishes.
"And he makes the best roast beef in the world," Eggar said. "His grandchildren request it."
She said her father would go to any length to be there for his daughters, and recalls him riding on even the most terrifying or nausea-inducing amusement park rides if one of his kiddos had no one to ride with.
"He absolutely loathes amusement park rides," Eggar said with a chuckle. "I think that's why he started paying for tickets for our friends, but that's not confirmed."
Linda Vodenichar said the tight-knit family is the result of her attendance 47 years ago at orientation at Franciscan University of Steubenville in Ohio as a transfer student.
"Ron was the orientation leader," she recalled.
He invited the pretty coed to a Livingston Taylor concert in 1976.
"We got married the next year," Linda said.
She said that in college, Vodenichar wrote for the newspaper in Wheeling, W.Va.
"Ron's always been an old soul," she said.
She said his parents and many siblings were all avid newspaper readers, and when the family goes on vacation, Linda, a Realtor, is looking at houses.
"He's looking at where the newspaper tubes are," Linda said.
She said her husband has always been a natural leader, having served on the faculty board in college.
When he was nervous about moving away for a new job, she reminded him he would be a leader wherever he lands.
"You don't lose who you are, and he is a leader," Linda said.
She also called her husband a very giving person, and very hardworking. Both those attributes are tenets he grew up with.
Regarding their long residence in Butler County, Linda looks back fondly on the community and its care for her family.
"Butler has been so good to us," Linda said.
The couple's home in Leander, Texas, is in a golf community. Their backyard, Linda said, is the 13th hole at their country club.
In addition to lots of golfing, Linda said her husband has two trips planned in the fall with his college buddies. The couple also plans to visit friends along the East Coast during retirement.
"This is so new for my husband," she said. "I'm the traveler, and he likes to do the same thing every day."
She envisions lots of visits from their three daughters and their families who live in other states, and golf lessons for the grandkids.
"He's a good teacher," Linda said.
Rodney Vodenichar, Ron's brother, said nine siblings grew up together in a rural setting in New Sewickley Township, Beaver County.
Ron, the sixth child in the family's succession, is the only one to graduate from college.
"Ron was always the smart one of the family," Rodney said. "He always had leadership qualities, to be honest. He's always stepped forward when something needed to be done."
Although he worked to bale hay on neighboring farms as a teen, one job Vodenichar never stepped forward to take over was working on cars, which his brothers always seemed to be doing.
"He's no mechanic," Rodney said with a chuckle. "He had a flat tire one day, and Dad looked at me and my twin brother, Randy, and said, 'You go out there and change that tire for him. He doesn't know how.'"
As a brother, Rodney said Ron was loyal to his siblings.
"You didn't mess with the brothers," Rodney recalled. "If you did, the other brothers stepped in. And we fought like brothers, too."
Rodney calls his brother Ron "a good man," which is about the best testament anyone can receive.
"I wish him the best in retirement, and I hope his house is big enough that my wife and I can come and stay for a long time," he said.
Sandy Sniady, of Newport News, Va., also remembers her sibling as a natural leader.
She said her memories of her brother, Ron, revolve around the Lutheran family's church activities.
"We were all in the choir," Sniady said.
She said all the siblings learned the importance of a strong work ethic from their father.
"Every single one of us worked every day," Sniady recalled. "We started out weeding the garden, then mowing the lawn and feeding the dog. Everyone helped out, because that's what a family does."
Because of that work ethic, Sniady is a little surprised her brother is actually retiring.
"I didn't think he'd do it," she said.
She also called Vodenichar a thoughtful and giving person with a big heart for others.
Sniady said when they were kids, their mother had a light-up picture of Jesus in the Garden of Gethsemane that hung at the bottom of the stairs.
If one of the siblings was ill, their mother would turn the light on to illuminate the stairs so they could get down to the bathroom.
When her mother died, the picture remained in the home.
When her stepmother died, Sniady was devastated to learn the picture had been ruined, as she had hoped to keep it to remind her of her happy childhood.
"Then I got a box in the mail. Ron had gone online and found the picture for me," she said. "That's just Ron. He knew that picture meant a lot to me because it was our mother's."
She said when the time comes, the lighted picture, which now hangs in her living room, will go to Malpass because she is Sniady's goddaughter.
Joyce Wilbur, Vodenichar's cousin, said he is about three years older than she is, among 35 first cousins.
She said she always hit it off with Ron, whether as a child, teen or adult.
"We had a shared value base," Wilbur said. "A lot of us cousins did, and it centered around the importance of family."
She said all the cousins were raised to believe family and God come first, and kindness is more important than achievement.
"Another reason I think Ron and I get along so well is that we have the same love of lifelong learning, and I think that will serve him well in retirement.
Wilbur said the pair met for lunch in Zelienople recently, and Vodenichar made it a point to stop and visit his three very elderly aunts afterward.
"He has always been super respectful of them, and I think part of it is he lost his mom so young," Wilbur said. "He doesn't take that generation for granted. He sees them as precious, and he acts on that."
Wilbur said she knows her cousin will end up as a leader in some capacity in his new community when he retires.
"But I hope he takes time to slow down and relax, and to enjoy watching the world go by," she said.
More in Special Sections