Easter hops into Butler County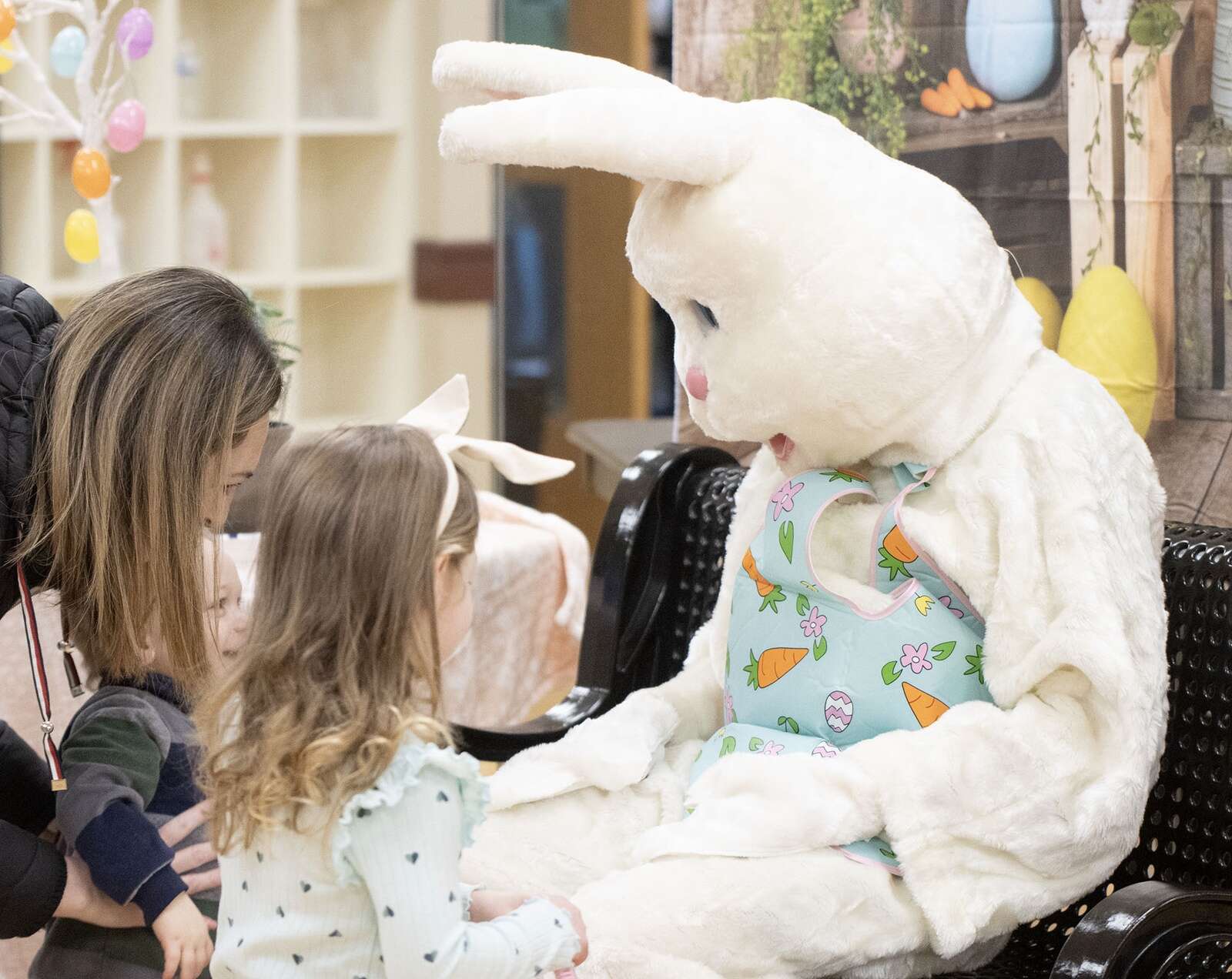 Easter celebrations are plentiful — and colorful — in the county this year. From egg hunts to fun runs, there are lots of chances to get outside and celebrate the holiday in the sunshine.
Children will have opportunities to find some goodies and get their annual photo-op with everyone's favorite bunny.
"When places do special events like this, it promotes community engagement," said Jack Cohen, president of the Butler County Tourism & Convention Bureau. "Families travel in to visit for holidays and participate. It's truly a wonderful thing."
These events start as early as Saturday:
– Girl Scout Troop 52924 is hosting an Easter Egg Hunt at 11 a.m. Saturday, March 25, at Thorn Creek United Methodist Church, 142 Rockdale Road.
– The Clearview Mall's Easter Eggstravaganza will take place from 11 a.m. to 7 p.m. Saturday, March 25. When children visit the Easter Bunny, they will have a chance to win eggs filled with prizes, gift cards, coupons, money, and candy. Eggs will be given away while supply lasts. There will also be chances to win raffle baskets.
– Portersville EMS is hosting an egg hunt at 3 p.m. March 25 at Moraine State Park, South Shore. Children, ages 1 to 10, are welcome.
– An indoor carnival at the Knoch High School Gym and Cafe will take place from 4 to 8 p.m. March 25. The event will feature a bounce house, games, prizes, balloon animals, raffles and more.
— Keffalas Designs, 790 Pittsburgh Road, Suite 5, will host three days of free Easter Bunny meet-and-greets with an in-store egg hunt the final two weekends. March 25 is Doggy Day Out with the Easter Bunny from noon to 3 p.m.
Two more meet-and-greets with the Easter bunny complete with a backdrop will take place from noon to 3 p.m. April 1 and 8. Parents are asked to bring their own cameras for photos. A free in-store egg hunt throughout both days will enter them for a chance to win the ultimate Easter basket.
– St. Wendelin Catholic School is having an Easter Bunny Pancake Breakfast from 8 a.m. to noon Sunday. There will be breakfast, pictures with the Easter Bunny, crafts, 50/50 and raffle baskets.
– Butler County Parks and Recreation is hosting a Flashlight Easter Scavenger Hunt on March 31 at Alameda Park.
Children ages 4-7 will hunt from 7 to 7:45 p.m., and those ages 8 to 10 hunt from 8 to 8:45 p.m. Register online here.
– There will be an Easter Egg Hunt at Harrisville Community Park at 11 a.m. April 1.
– Trinity Community Presbyterian Church, 107 Staley Ave., is hosting a pancake breakfast followed by an Easter Egg Hunt at 11 a.m. Saturday, April 1. All are welcome.
– There will be an Interactive Mr. & Mrs. Easter Bunny Adventure from 9 a.m. to noon April 1 at Butler's Grand Ballroom, 201 S. Main St., Suite 300.
Attendees can get their picture taken with the Easter Bunny and enjoy a treat, crafts, coloring, face painting, and dancing with Mrs. Bunny.
– Gospel Life Church, 242 S. Washington St., Evans City, is planning its EC Easter Party from 10 a.m. to noon Saturday, April 1, for children up to age 12. There will be a hunt for prize-filled eggs, an account of the Resurrection and a bunny Olympics with numerous events and prizes for each age group.
There is no charge, but registration is required as space is limited. Register online here.
– Butler's Best Buddies Eggstravaganza is Saturday, April 1st at Art Bernardi Stadium on the Butler Senior and Intermediate High School campus.
The Easter Egg Dash 5K race will begin at 10 a.m. with a 1-mile "Bunny Hop" family Fun Run/Walk starting at 11 a.m.
An Easter Egg Hunt for children ages 10 and younger will begin at noon. Tons of prizes have been donated from multiple sponsors. Children can also enjoy free face painting, raffle baskets, refreshments, and free pictures with the Easter bunny.
Online registration will be accepted up until March 31st here.
– The Harmony Egg Scavenger Hunt happens from 10 a.m. to 4 p.m. April 1. Pick up your Egg Hunt Scavenger List at Harmonie Laden, 229 Mercer Street, Harmony, and venture out to find the eggs in participating businesses. Fill out your form and return completed list to Harmonie Laden to receive a prize.
Each entry is entered to win an Easter basket (one child and one adult basket raffle.)
Extra entries for basket raffle can be obtained by showing receipts from participating businesses.
– Church Experience is hosting an Easter Egg Hunt with 2,500 eggs at 11 a.m. Saturday, April 8, at The Island Park by the Butler Eagle. The event will include food, drinks, face painting, a fire trucktour and more.
– The East Butler Baseball Association is hosting an egg hunt from noon to 2 p.m. Saturday, April 8, at the baseball fields in East Butler, complete with crafts, a visit from the Easter Bunny, and more.
More in Arts & Entertainment