Thoma, 4th-generation owner, continues to follow family's path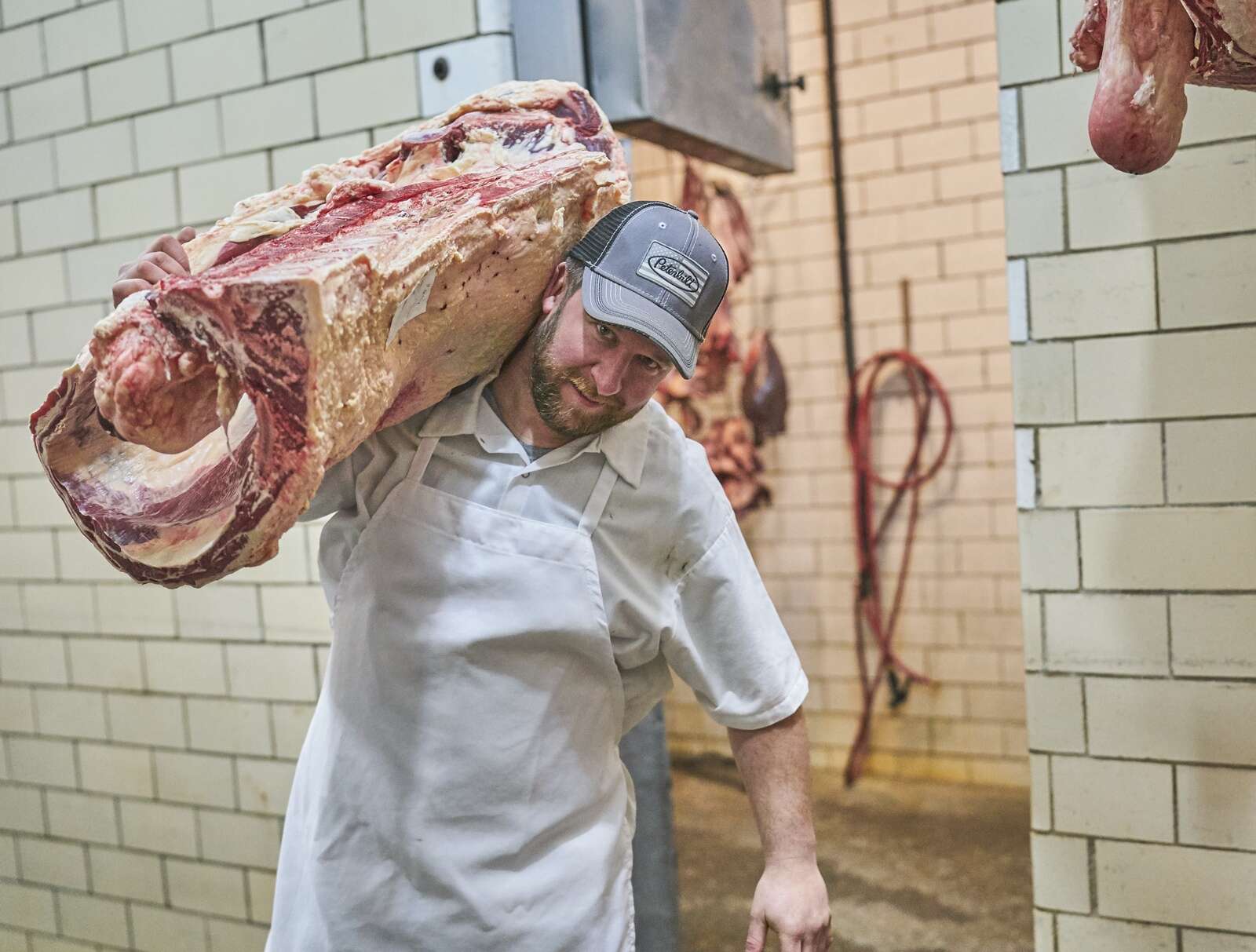 The nearly 80-year-old tradition of quality meats from local Saxonburg family business Thoma's Meat Market continued into its newest chapter when Brad Thoma became the fourth-generation owner last month.
While the title may be new to Brad, the work surely isn't. For the past few years, Brad's father, Brian Thoma, former co-owner, started passing down more responsibility to his son.
"Nothing has changed for me," Brad said. "I'm doing the same thing I was doing two months ago as far as running things."
Paul Sr. and Dorothy Thoma opened Thoma's Meat Market in 1945. They ran the shop until 1978 when they passed the business to their sons, Paul Jr. and Wayne Thoma.
In 2001, the management went from a brother co-ownership to two cousins. Paul Jr.'s son, Brian, and Wayne's son, Tim Thoma, co-owned the market from 2001 until the beginning of 2023 when it was passed to Brad.
"As far as management, it's always been family," Brad said.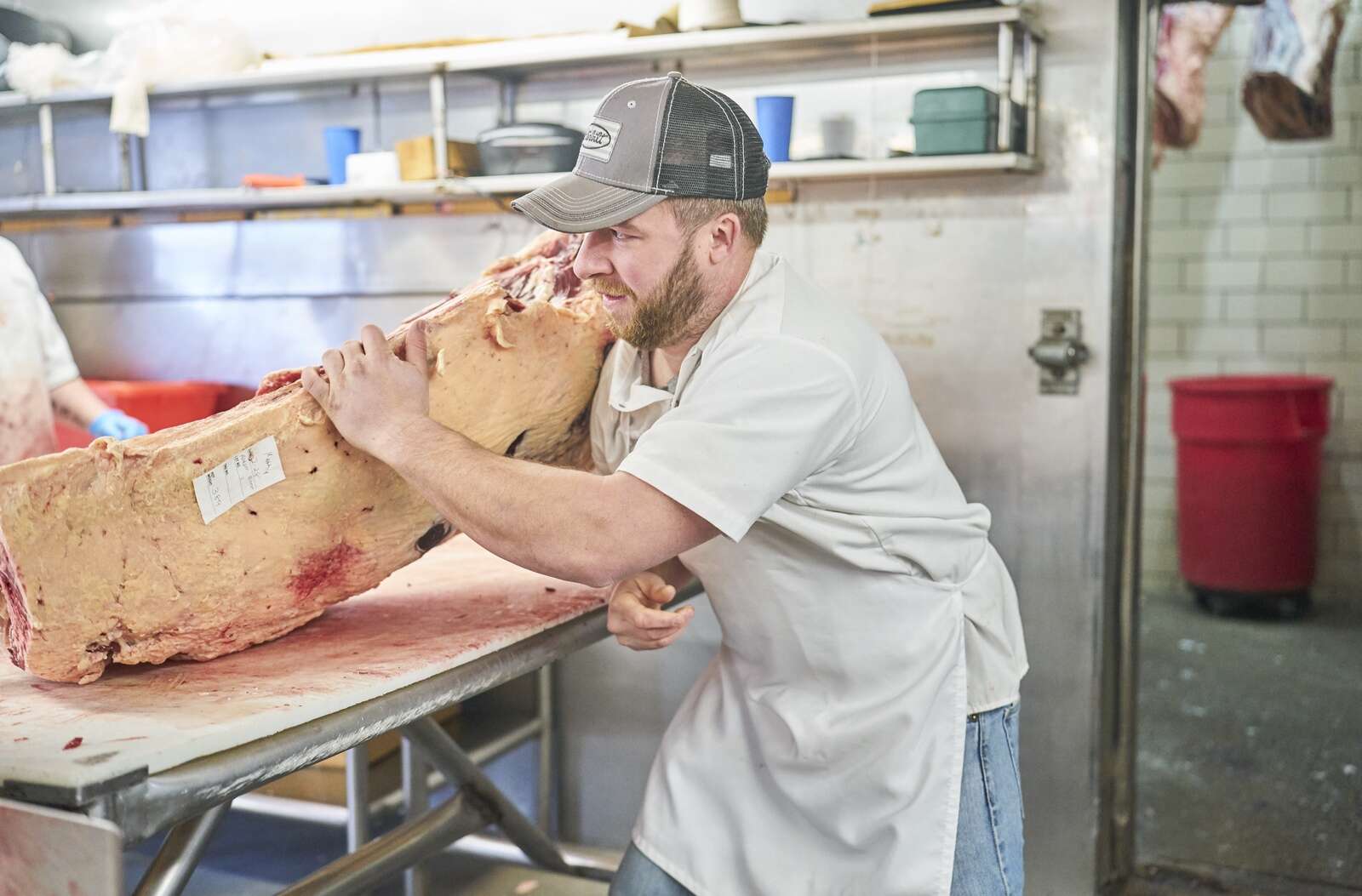 Change over the years
When Thoma's Meat Market first opened, there were less than five employees, including Paul Sr. and Dorothy, and it has since grown to 27.
Paul Sr. came up with the recipe for the family's "Famous Saxonburg Bologna" that they sell to this day.
"It is the same as it was 75 years ago," Paul Jr. said.
In the beginning, most of the market's products were cattle and hog. Since then, they have expanded greatly and have had their popular items change with the times.
When Brian and Tim were the owners, custom butchering for farmers was a large part of their business. During that time, they laid down the framework for the next chapter of Thoma products.
"(Brian and Tim) bought a lot of new equipment, new smokehouses, they put a new processing room on, and they went after the smoked product market," Brad said. "They created an emblem for Thoma's to put on all of our packaging, created a website to try and modernize things."
According to Brad, about 95% of their business today is Thoma products.
Along with the growth of their products, their physical shop has grown too. When Thoma's first opened, the business was in a single small building.
"My grandmother and grandfather's (Dorothy and Paul Sr.) shop would be compared to a one-room schoolhouse," Brian said.
They have since built additional buildings and a small parking lot.
According to Brad, some of their most popular items include the Saxonburg bologna, smoked meats, bacon, ham, freezer beef and pigs, which are custom cuts and roasting pigs.
Roasting pigs are one of the most popular items during the summer months, selling between 30 and 55 a week to large parties. Oven rentals are also available.
Another popular item is for man's best friend. In addition to animal bones, Thoma's offers Dinnerbell Pride, their own brand of raw dog food.
After being approached by some local dog breeders and kennels looking to order raw dog food, Thoma's made them an order that was, "the best dog food they ever had," according to Brad.
At first, the dog food was made with scraps, but as this aspect of the business grew, they now buy and harvest from animals that are fit for human consumption.
"It is a very large part of our business now. I would have never thought it would come to that," Brad said.
Homegrown meats
Contrary to other businesses during the COVID pandemic, Thoma's was thriving and they earned new customers.
"It was a huge moment of people realizing that big business isn't always good," Brad said. "COVID was a huge eye-opener and a huge step for our business because we gained a lot of business when people realized that we didn't let them down when it felt like the whole world had.
"Thoma's never ran out of anything during the pandemic because we harvest our own animals."
Thoma's owners prides themselves on the generations-long relationships they have with local farmers. They know the quality of the animals they purchase and butcher, and they can tell customers where their food came from.
"Within a 45-mile radius with our place as a hub, there isn't a farm we haven't done business with," Brian said.
In addition to purchasing animals from local farmers, Thoma's buy from local livestock auctions and they raise their own animals as well.
"When I was around 8 or 9 years old, I wanted to raise animals, but we didn't have a lot of property where we lived," Brad said. "My dad (Brian) had Italian clientele that always wanted baby goats and lambs for Easter, and it was hard to find them.
"When I was little I started raising those, and that has grown now to where we harvest a lot of lambs and goats."
Brad raises nearly all of the lambs and goats that they butcher and sell. Additionally, he and his uncle, Bruce Thoma, raises some cattle.
The rest of their cattle are purchased from local farmers or livestock auctions.
"There's at least 25 different farmers that we've been buying their cattle from them for generations," Brad said. "We know their cattle just as well as our own."
Bruce feeds their cattle and grows grain to make hay with Brad to feed their animals. They feed around 2,000 lambs and goats on six different farms.
They buy their hogs from local auctions and from Nowicki Farm, which is one of their closest neighbors.
"The big market thing you hear now is 'farm-to-table,' well, Thoma's has been farm-to-table since 1945, that's all we've ever been," Brad said.
The one animal Thoma's doesn't raise or butcher is poultry, which they get from Imler's Poultry in Altoona.
Today, Thoma's harvests more lambs and goats than they do cattle and hogs because of customer demand.
According to Brad, they do a lot of business with Nepali, Hindu and Muslim populations.
"We are not just a beef and pork butcher shop now, pretty much any ethnic group and religion who are looking for anything can come in," Brad said.
In addition to their retail sales in-store, they also sell smoked meats wholesale to some local Giant Eagle and Walmart locations, convenience stores and gas stations, and they sell fresh to multiple restaurants in Pittsburgh and Butler County, including Cafe Contrary, Hardwood Cafe, Natili North, Mac's Cafe and Saxonburg Hotel.
In addition to their meats, Thoma sells other local foods in their store, including Mancini Bread, Marburger Dairy Products, Troyer Products, Yeany's Maple Syrup from Marienville and more.
Way of life
After growing up coming to work with their dads, continuing the family business was simply part of their lives. According to Brad, there was never a moment where he thought about doing anything else.
"I think for all of us it is just a way of life, we've all done it since we were in diapers," Brad said.
For Paul Jr., going back to work full-time was a very natural decision after spending his adolescence working at the store.
In 1955, one year after graduating high school, Paul Jr. was drafted into the U.S. Army and went to Fort Carson, Col., for basic training before being deployed to Germany, specifically, the Berlin Wall. After returning home, he returned to work.
Brad attended Knoch High School in the South Butler County School District, which is a short walk next door to Thoma's Meat Market. He spent his high school days going to work in the morning with his father, going to school and going back to work after school.
"I grew up there, and that's what I've always wanted to do," Brian said.
Brad has two children with his wife, Kylie, 4-year-old Brycen and 2-year-old Brody; with a third boy on the way. His children love going with their dad to work or helping feed the animals.
"The people at the sales and the farms know Brycen as well as they know me, my dad and my grandfather," Brad said. "He is coming with me all of the time. He even bids on lambs and goats with me helping him."
According to Brad, Brycen's animals are in one barn and he knows them well enough to know when one is sick or injured.
Brad plans to continue business as usual.
"We are so busy that I am content just doing what I'm doing and keeping going from there," Brad said.
You can find some Thomas working at the store today. Brad's mother, Kim Thoma, works at the store as their secretary and public relations contact.
"She's an amazing person in our company, we wouldn't be where we are without her," Brad said.
Brad's cousin, Josh Thoma, Tim's son, also works full-time as a manager and is a large part of the fourth generation of the family business.
While Paul Jr. and Brian are retired, they aren't done working at the shop.
Paul Jr. is a few months shy of 87, and he comes to the shop every day to visit and take bags home to put the Thoma label on them. He will help deliver orders and complete other tasks.
Brian also comes to the shop every day and is described as the ultimate handyman, fixing anything that needs to be fixed.
"I am very blessed with my crew," Brad said. "I'm looking forward to continuing to try to do the best I can to keep them all here and happy. If Thoma's is winning, then my employees are winning.
"I'm looking forward to bringing my kids up in the company and hoping that someday the fifth generation can take over — I'm doing it for them."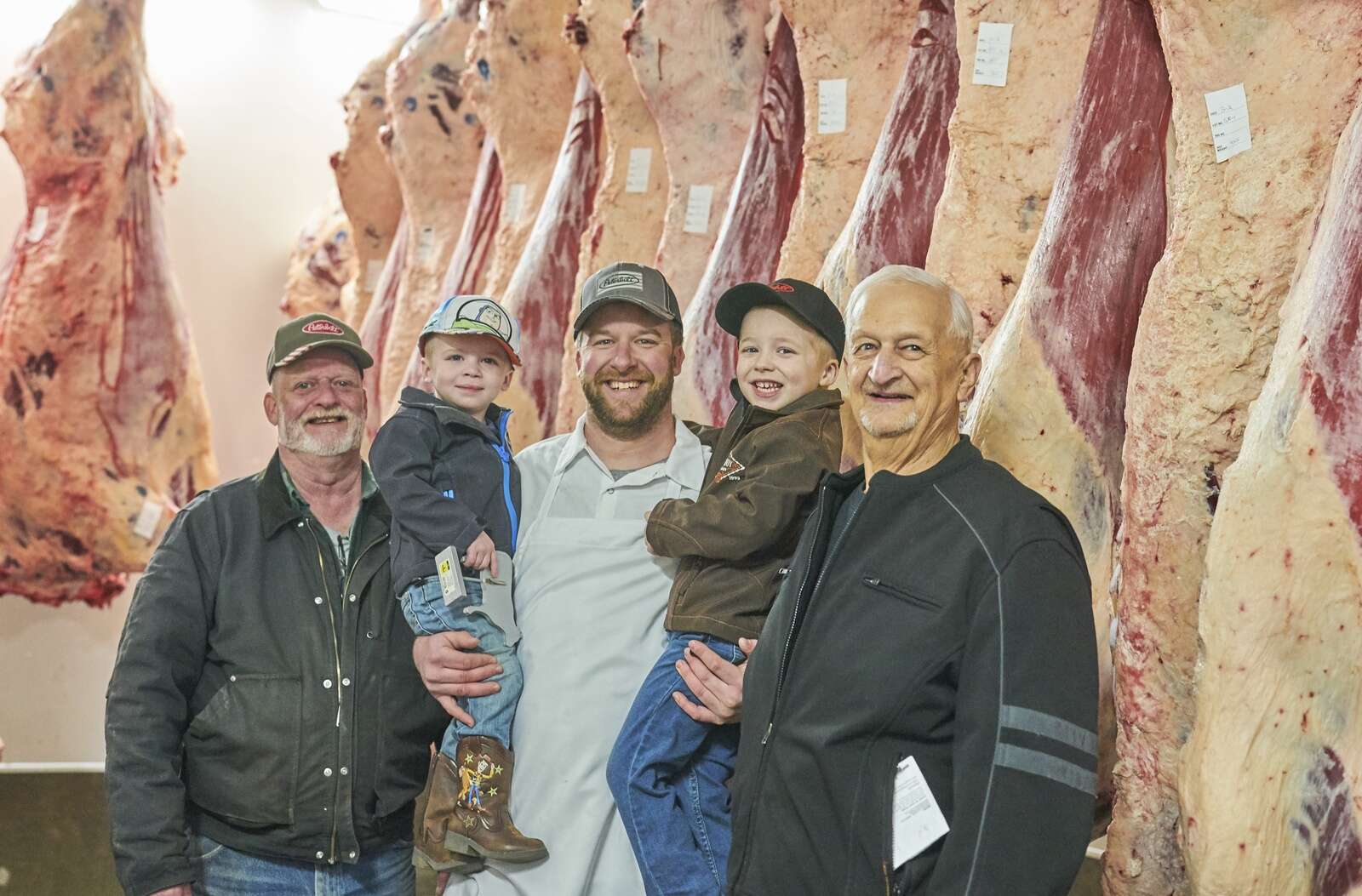 STORIES YOU MAY ALSO LIKE