Aquaponics program continues to grow
SLIPPERY ROCK — Robert Arnhold stands in the doorway of North Country Brewing Taproom. With great pride, his gaze moves from one student or volunteer to the next.
Arnhold, who is CEO, president of the board of directors and founder of Growing Together Aquaponics, has seen the Slippery Rock-based program impact the community with its mission. The nonprofit uses the science and technology of aquaponic systems to provide preemployment transition services to students with intellectual and other developmental disabilities.
"We take students who are ready to transition from one point in their life to the next with the skills needed to move forward, with and without disabilities," said Marena Toth, company COO. "Each student's path is unique and customized to their goals."
Arnhold, a retired professor of adapted physical activity at Slippery Rock University, began focusing on healthy lifestyles beyond physical activity by developing transition programs while at the university.
After his retirement, he and a colleague toured an aquaponics system in Harrisburg. Arnhold thought teaching STEM (science, technology, engineering and mathematics) concepts in a hands-on way to people with disabilities would provide an environment that fosters learning of various job skills.
Such skills include caring for fish and plants, retail, packaging, delivery, office work and branding.
"We have multiple outcomes for our students," Arnhold said.
In its initial phase, Arnhold was searching for a location that could house the buckets, tubs and tanks for the first system. Five years ago, he asked Bob McCafferty, owner of North Country Brewing and a local philanthropist, if he had space. McCafferty told Arnhold that he had him covered.
"He is a wonderful person and has been supportive of us since day one. It's kind of his mission to provide healthy opportunities for the community," Arnhold said.
Toth, one of Arnhold's graduate students, did her graduate assistantship at Growing Together Aquaponics. She is passionate about what the nonprofit provides.
After joining Growing Together Aquaponics, she earned her graduate certificate in aquaculture for aquaponics from Kentucky State University. She liaises between students and schools, teaches curriculum, manages employees, handles day-to-day operations and repairs the systems.
Toth explains that the system takes two positives and two different systems and creates a hybrid system where water from the fish tanks gets pumped to the plants. This in turn cleans the water, using the waste as plant nutrients, then recirculates the water back to the tank. This system uses 70% less water than traditional farming, and it recirculates the water through a closed-loop system.
"We weren't farmers five years ago," Toth said.
Students come from the state Office of Vocational Rehabilitation's Butler location or are referred by their school counselors. The program has students from 10 to 12 school districts.
Many are on the autism spectrum, so when the nonprofit evaluates a new student, they consider his or her specific needs in order to prevent sensory overload. This includes the system's sights, sounds, scents and how it feels to the touch. If the student is comfortable interacting with these aspects of the system, he or she is accepted into the program.
The curriculum
Their curriculum has a seven-step module. Everyone goes through the first five steps, which focus on understanding and making decisions.
Students learn skills such as being responsible, time management, farming, retail, packaging, shipping and prepping. Staff members talk the students through different scenarios where they learn how to advocate for themselves, as well as participate in mock job interviews to prepare them for entering the workforce. The last two steps are dedicated to stewardship and action.
"This is where students can be placed in a position of a peer teacher to other students with disabilities. They may also help run the Friday night Aquaponics Club for younger students," Toth said.
A student's work schedule is individualized. Work is available Monday through Friday and at the farmers market on Saturdays. The program has four to five different paths students can take. Some may work up to 22 hours per week, the highest hours allowed per week for an employee with a disability, according to the state.
Students from the Office of Vocational Rehabilitation have a set amount of hours to complete in order to gain skills for employment. Students may come during school hours, after school, or a combination.
According to the nonprofit, a typical workday for a student will start with washing their hands upon arrival, and then clocking in on a system similar to what they would have in a factory or other workplace. They may check to see if anything needs to be harvested, followed by plant maintenance. After harvesting, and checking for pests and deficiencies, they will look at a list of what needs to be accomplished and begin those tasks.
Program's success
Proof of the nonprofit's success is as distinctive as each individual attending. Toth and Arnhold spoke of a student, Rachel, who completed the program and then became the first on-staff Master Gardner.
Another student who went through the program left Growing Together Aquaponics when she got her dream job in child care, they said. Another blossomed in social media management.
"There are many more success stories," Arnhold said.
Growing Together Aquaponics is piloting two programs. The first is the Pennsylvania Assistive Technology Foundations program, "Cents and Sensibility," which Arnhold describes as a financial education and money management program for those with disabilities.
Another program is through the Mitsubishi Electric American Foundation, which is dedicated to helping youth with disabilities lead productive lives through increased employment. The MEAF program proposes to train students at Growing Together Aquaponics and then direct them to Agway Farm and Home stores, where they will build small aquaponics systems to be sold in the stores.
"They would be employed through Agway to be a spokesperson for the products," Arnhold said.
Growing Together Aquaponics has created an avenue for everyone, ages 4 through adult, outside of the program, without changing its mission.
"There's a secondary outcome to Growing Together Aquaponics — the crops. (This) is a byproduct of what they do, and it's becoming popular, providing crops to North Country and a newer local restaurant, Georgetown Eats," Arnhold said.
The programming has grown since its initial system installation. Growing Together Aquaponics has increased the number of participants, as well as the age range. They opened the program to additional disabilities — such as neurological disorders and brain injuries — covering the spectrum of anyone who can benefit from the program.
Back on track
When they had to pause their goals during the COVID-19 pandemic, they helped the community by providing produce to local food banks. Crediting North Country Brewing and McCafferty for Growing Together Aquaponics surviving during the turbulent time, the nonprofit is back on track and focused on the goal of getting a greenhouse. This will allow for increased job training, employment and production.
Existing on grants, donations and fundraising, both Arnhold and Toth are thankful for the support of the Slippery Rock community, Wolf Creek Strategies, Georgetown Eats and Roosters, as well as Rock Falls Coffee, which donates a percentage of sales on specific coffee blends to the program.
The nonprofit's annual fundraising event will be in September at Georgetown Eats, featuring the sale of merchandise, memberships and art.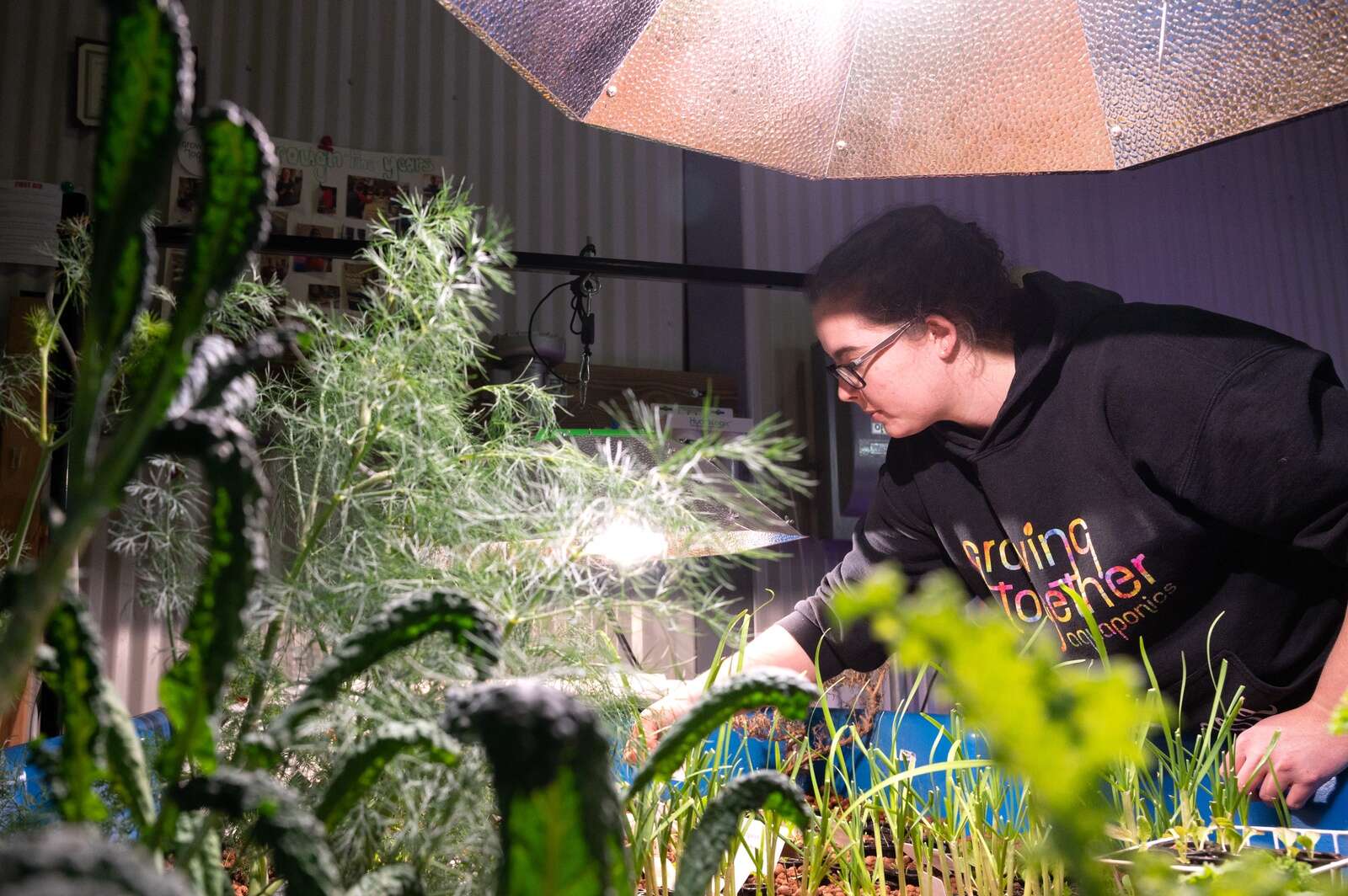 Favorite part
Near the end of the workday, Kirkland Campbell looks into a container. The student's face lights up when he says his favorite part is "the chemicals."
"That, and I love harvesting chives," Campbell says. "There's something kind of calming about it."
Joy, a student in the program, performs one of her favorite tasks, the fish camera. She gets the camera, turns it on and places it in the water. She explains that it lets staff watch the fish underwater and check if they're eating and doing well.
"Going over the daily activities and mentoring the students" is a favorite part of staff member Kendal Kuhns' day, she says. "That and people coming in who love fish poop as much as I do."
Growing Together Aquaponics plans to continue to grow using the aquaponic systems to provide preemployment transition services to students.
"Bob chose the perfect name for this program because every day we're all growing together, and the biggest thing is, not only are the fish and plants growing together, but the staff and participants, the employees and everybody in the community are all growing together, and it's amazing," Toth said.
STORIES YOU MAY ALSO LIKE