Butler County's seasonally adjusted jobless rate rises to 3.7%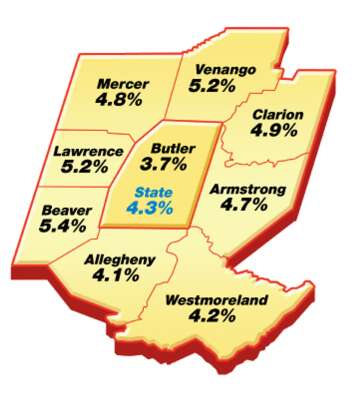 The Pittsburgh region's seasonally adjusted jobless rate remained at 4% from December 2022 to January 2023, while Butler County's seasonally adjusted jobless rate did increase 0.1% during that time to 3.7%.
Despite the rise, Butler County retained the lowest rate of the seven-county Pittsburgh Metropolitan Statistical Area, according to the most recent data released by the Pennsylvania Department of Labor & Industry.
Pennsylvania's seasonally adjusted rate rose 0.4% in January to 4.3%, while the United States rate slightly decreased to 3.4%.
Butler County's seasonally adjusted labor force did lose 1,400 people from December to January.
Allegheny, Armstrong, Beaver, Fayette, Washington and Westmoreland are among the other counties in the Pittsburgh region.
Despite the region's overall seasonally adjusted rate staying the same, all counties saw an increase to their jobless rate due to losses within their labor force.
Allegheny County saw the largest decrease in its seasonally adjusted labor force, falling from 637,800 workers to 633,400.
Washington County saw the largest increase to its seasonally adjusted rate, from 3.9% to 4.3%.
In surrounding counties not classified as part of the Pittsburgh region, Lawrence and Venango counties came in with a seasonally adjusted rate of 5.2%, Mercer County at 4.8% and Clarion County at 4.9%.
The Gettysburg Metropolitan Statistical Area boasted the lowest seasonally adjusted rate in the state at 2.8%, while East Stroudsburg had the highest at 5.4%.
Jobs declined from December to January in nine of the 11 "supersectors" in the Pittsburgh area — the broadest groups of industries.
This was led by a decline in the leisure and hospitality sector, which lost 7,400 jobs.
The second biggest decrease came out of the trade transportation and utilities sector, which was down 6,100 jobs.
Even with decreases within the past month, jobs are up in 10 of the 11 supersectors over the past year.
Professional and business services had the largest volume increase with a gain of 8,000 jobs.
The only decline over the past year was in the construction sector, which was down 2,500 jobs since January 2022.
STORIES YOU MAY ALSO LIKE