Law enforcement scrimmages, encourages Butler County's Special Olympians
BUTLER TWP — Tuesdays are always scrimmage nights for the Butler County Special Olympics floor hockey team.
Only Tuesday's scrimmage this week was a little bit different.
The team squared off against a group of law enforcement officers in the McQuistion Elementary School gym on Tuesday, Feb. 7. The scrimmage helped the team get ready for its tournament March 4 and 5 in York, Pa.
"A lot of the officers here tonight are involved with the Law Enforcement Torch Run (a fundraising effort by the officers to raise money for Special Olympics)," said Melissa Spohn, floor hockey coach with the county Special Olympics. "We've been putting this scrimmage with them together annually for a while now.
"Our team gets really pumped up for this. They love playing against them. This is far different from our regular scrimmage nights. I like the fact that the officers get a chance to see where that fundraising money is going."
Approximately 20 county Special Olympics floor hockey players took on 20 to 25 law enforcement officers. Among departments represented on the gym floor were the Butler County sheriff's and probation offices, Butler Township, Butler city and Penn Township police and Pennsylvania state troopers.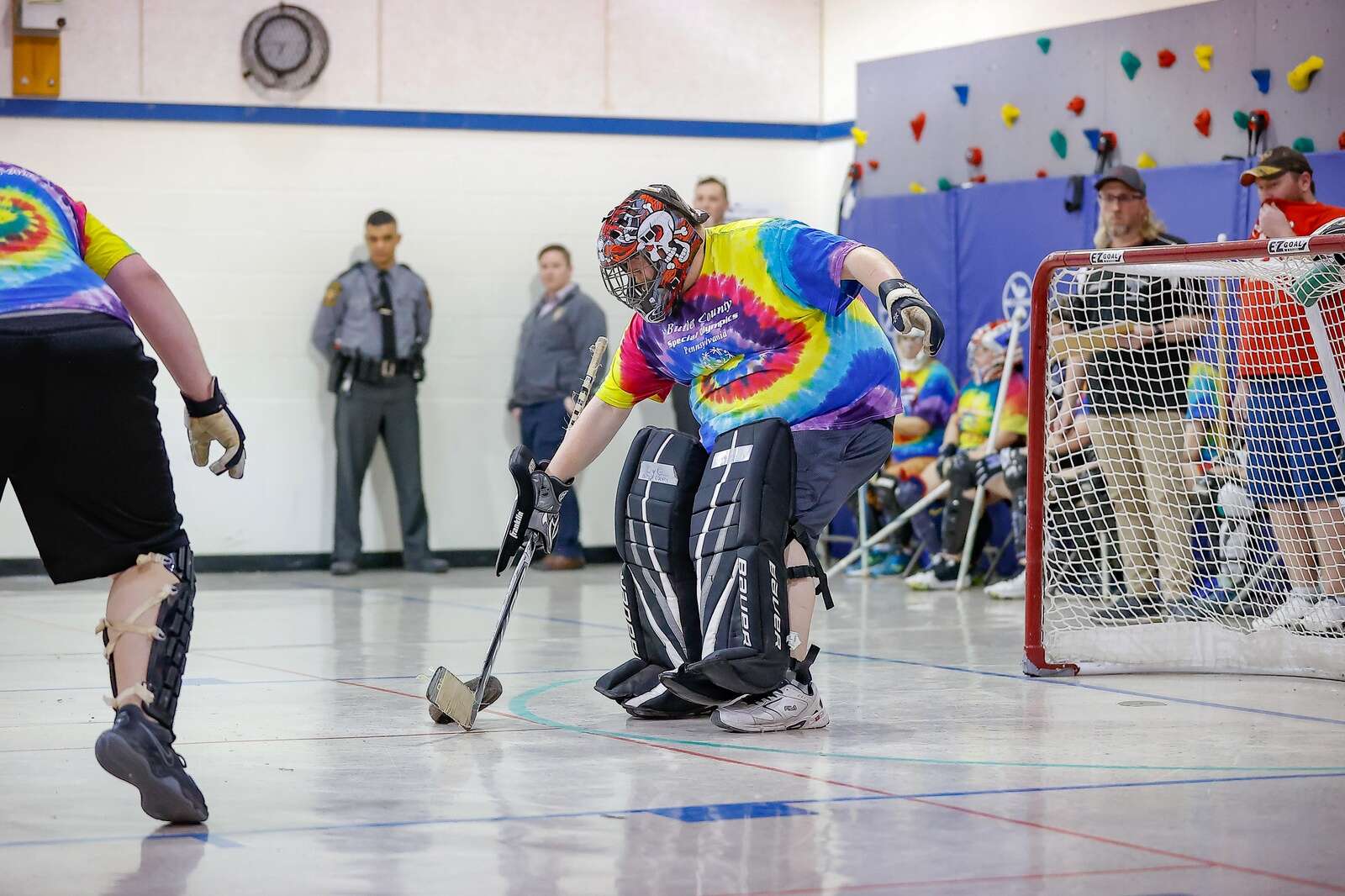 Myles Bizub, a Butler city police sergeant, helped organize the law enforcement team.
"No one is being paid to be here. It's all volunteer, and we've got quite a turnout," Bizub said. "Local law enforcement has always supported Special Olympics. We go to their basketball games, bowling, hockey ... They're a pleasure to be around."
While the floor hockey team was warming up, one of its players ran past Bizub and "called him out," saying he was ready for him tonight.
Bizub couldn't help but smile.
"We build relationships here," he said. "That's just an example. These players know us and we know them. There's a mutual respect. When we see these players in public, they always take the time to come over and say hello. That means a lot."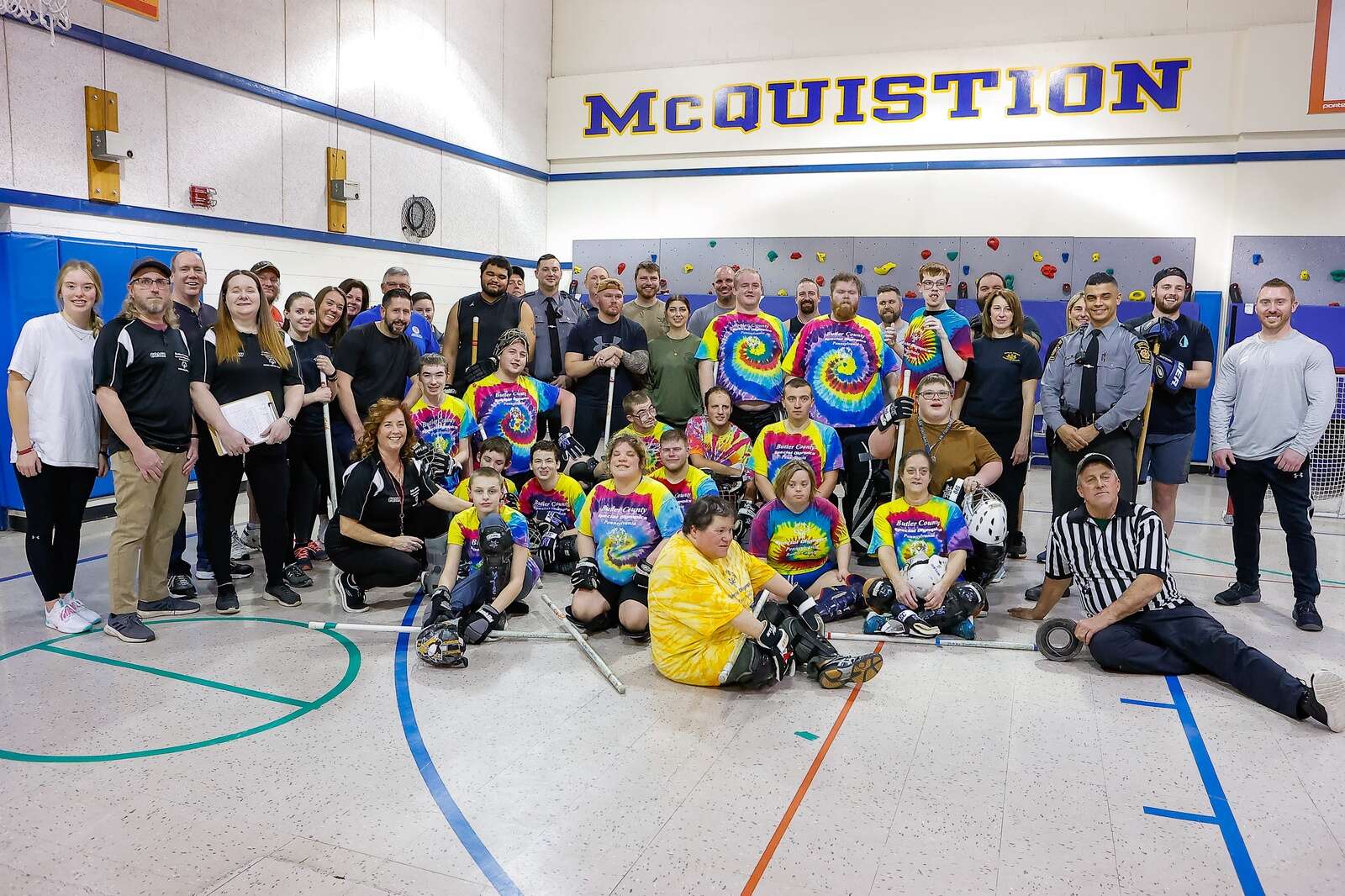 Carl Bachman, a hockey referee, helps officiate this special scrimmage every year.
"I love it," he said. "This event brings people into the gym to watch. This team doesn't usually get that. When there are people watching, they really want to put on a show. I wouldn't miss it."
When the county Special Olympics floor hockey team heads to York, it will mark the program's first out-of-town competition since the COVID-19 pandemic struck three years ago.
"We were literally on the bus, on the way to play this tournament in 2020 when we got the word the event was canceled due to COVID," Spohn recalled. "Our bus had to turn around and go back home. It was so hard to break that news to our athletes.
"Our season began in the fall and will conclude in York. We're looking forward to it, and these officers are helping our team get ready. It's a wonderful thing."
STORIES YOU MAY ALSO LIKE