Signs encouraging for 9-year-old cancer patient from Butler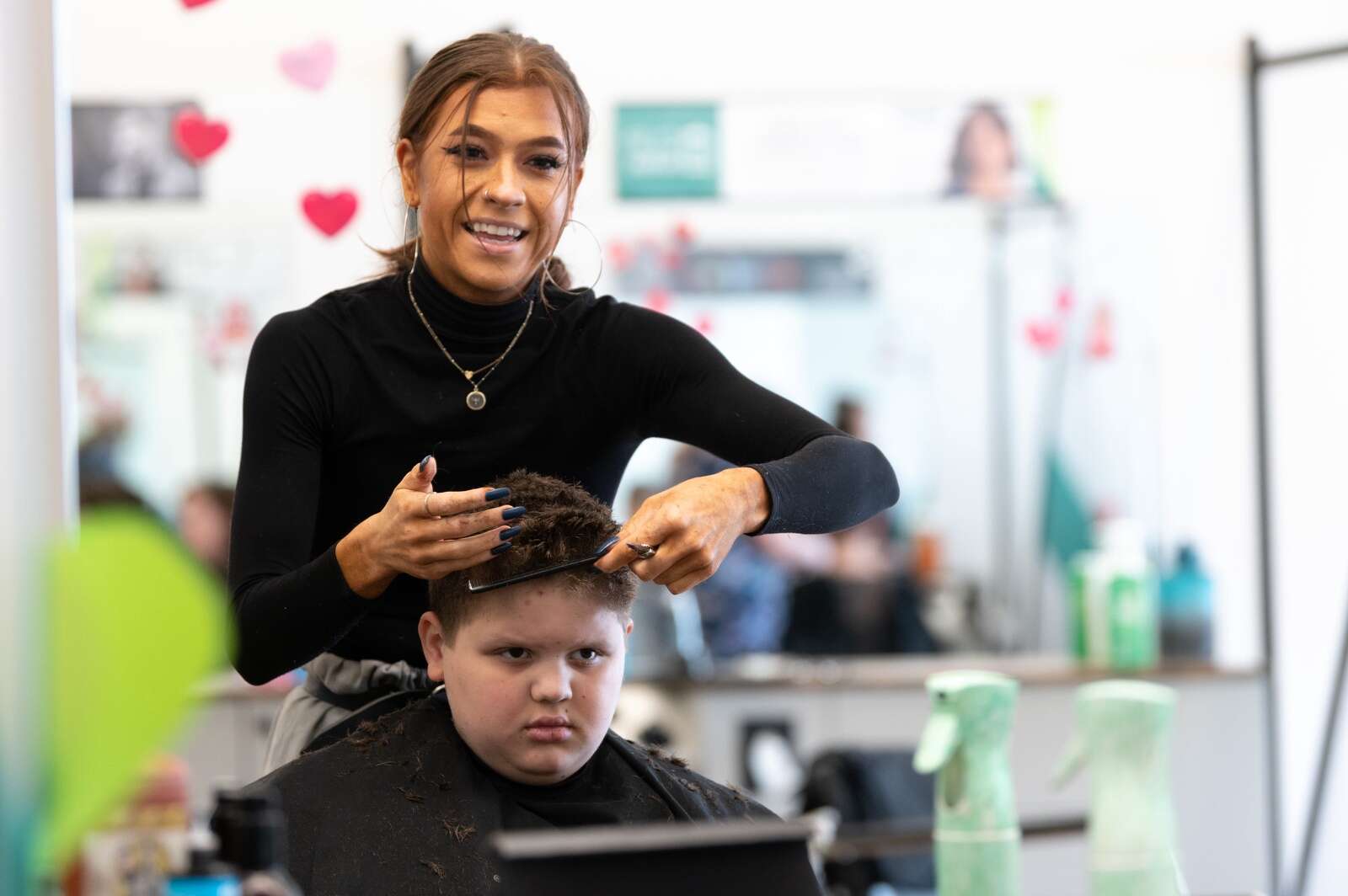 Aiden Bartley, 9, has a lot of questions as the he works the old handheld game console his father has given him.
"Why are you in the same town all the time?" Aiden asked, his fingers flickering over the keyboard.
"I haven't played that game in 25 years. It's been collecting dust," said his father, Mike Bartley.
"Why do you have two monster balls?" an outraged Aiden asks. His dad allows that maybe he made the use of a cheat code or two.
Shortly after, Aiden excuses himself from the table and leaves the room.
His mother, Megan Bartley, said he's probably feeling a little tired still from his chemotherapy session last week.
She hopes to take him for a haircut later in the day. "We've been waiting to cut his hair because of the chemotherapy and everything," she said.
Aiden is one of only two children in the United States to be diagnosed with the adult form of pancreatic adenocarcinoma, a cancer of the pancreas.
Aiden began complaining of an upset stomach in October. After diagnoses of acid reflux and acute pancreatitis, a CT scan revealed a tumor on his pancreas. By the time the cancer was correctly identified, "it had spread to the liver and the lymph nodes surrounding the pancreas, so it's considered stage 4," she said.
The Bartleys said Aiden's doctor at UPMC Children's Hospital of Pittsburgh, Dr. Julia Meade, a pediatric oncologist, told them that the medical community had never seen a case of adult pancreatic adenocarcinoma in a patient so young.
Because his disease was so rare in someone so young, Aiden also was examined by doctors at UPMC Presbyterian Hospital in Pittsburgh, which has a reputation for having the best pancreatic specialists.
Aiden's doctors worked out a schedule of chemotherapy to shirk the tumor on his pancreas. Aiden's father said that, with the addition of a port, every other Wednesday Aiden has been undergoing a nine-and-a-half-hour chemotherapy session at Children's Hospital since November. Aiden goes home wearing a backpack connected to his port to supply him with more drugs for an additional two days which is disconnected on Friday by a visiting nurse.
The treatment leaves him with nausea, vomiting and diarrhea. His mother said it also leaves him agitated emotionally and exhausted physically.
But however bad the side effects, the chemotherapy seems to be working.
Mike Bartley said the latest MRI scan on Jan. 3 at Children's Hospital "did not detect any cancer in his liver and lymph nodes.
"I use the words detect because she (Dr. Meade) said she saw shadows behind the liver," he said. Aiden's going back to Children's on March 20 for both CT and MRI scans.
Tests of his blood show Aiden's cancer antigen count is at 42, compared with a count of 162 when his cancer was first discovered. The normal count for a cancer-free adult is under 30.
"It looks very promising; it's coming down," said Aiden's mom.
Despite the encouraging scan results, Aiden still faces biweekly chemotherapy sessions until the end of August. And he still will face surgery to remove his pancreas in May if not before.
Aiden is showing some physical effects of the chemotherapy. His skin is darkening, he gets weak in the knees and his hair is thinning.
Just as debilitating, Megan Bartley said, are the psychological effects. Aiden has begun to suffer from depression, and a therapist has been called in to help the 9-year-old deal with it. Certain words relating to his treatment are triggers that is mother and father work to avoid saying.
"He's dealing with depression, and the chemotherapy is kicking his butt more and more," his mother said.
So his parents look to cheer him up as much as possible.
Aiden's been stuck at home with a compromised immune system since be began chemotherapy and has been going to school remotely. But, his mom said, Aiden has returned to McQuistion Elementary School in person and suitably masked. He went to the school's holiday Elf Day celebration of everything elf.
And the entire family will be going to Disney World, thanks to Make-A-Wish of Greater Pennsylvania and West Virginia.
Dana Antkowiak, senior manager of marketing communications for the area Make-A-Wish, said often referrals for wishes are made by a child's medical team.
In Aiden's case, she said, a social worker at UPMC Children's Hospital referred his case to the organization that works to make wishes come through for patients ages 2½ to 18.
"Aiden, his mom and dad and siblings will be going to Disney World in March. They will be staying in the Give Kids the World village and have access to all the parks."
"There's a Pokemon shop that we went to three years ago," said Megan Bartley of the upcoming trip. "I'm working with them to have a special event for Aiden.
Aiden's fight with cancer has taken its toll on his parents both emotionally and financially as well.
Megan Bartley said, "It's tough to try to navigate with two other children with needs as well (Aiden's brother Jack, 3, and sister Carmella, 4).
"We're trying. Aiden has been blogging his journey explaining a day of chemotherapy," she said.
She added there are not a lot of support groups for parents of kids with cancer in Butler County.
"We have family and friends for support, but they're not going through this, nobody is except someone with a child with cancer," Megan Bartley said.
"We have to do it for him. We have to be optimistic for him," she said. "We can't wallow in self pity. We have to keep moving."
The family hopes to get support of another kind during a spaghetti dinner fundraiser from noon to 4 p.m. Feb. 18 at the Highfield Community Center, 229 Highfield Road.
Mike Bartley, who's had to take unpaid time off from his job as a credit analyst for NexTier Bank at Butler's NexTier Center to take Aiden to his chemotherapy treatments, said local businesses have donated merchandise for the event's basket raffle and there will be "Aiden Strong" T-shirts and bracelets for sale, along with a face painter, a balloon artist and a possible appearance by the Butler County Dairy Princess.
"The Dairy Board has donated cheese, creamer and butter," he said. "Marburger Dairy has donated drinks, and the Butler Farm Market has donated bread."
There has been an account set up at NexTier Bank to take donations made out to "Aiden's Journey."
For more information or to help support the family, call Connie Wetzel at 724-498-6421 or 724-498-6420 or email clb617@zoominternet.net.
For now, Aiden's parents are encouraged by the latest medical reports.
"I've never had a bad feeling he won't survive this, if that makes sense," said Megan Bartley.
"I'm very cautiously optimistic," said Mike Bartley. "I go by what the numbers say and the data shows."
STORIES YOU MAY ALSO LIKE