Church Experience pastor continues family business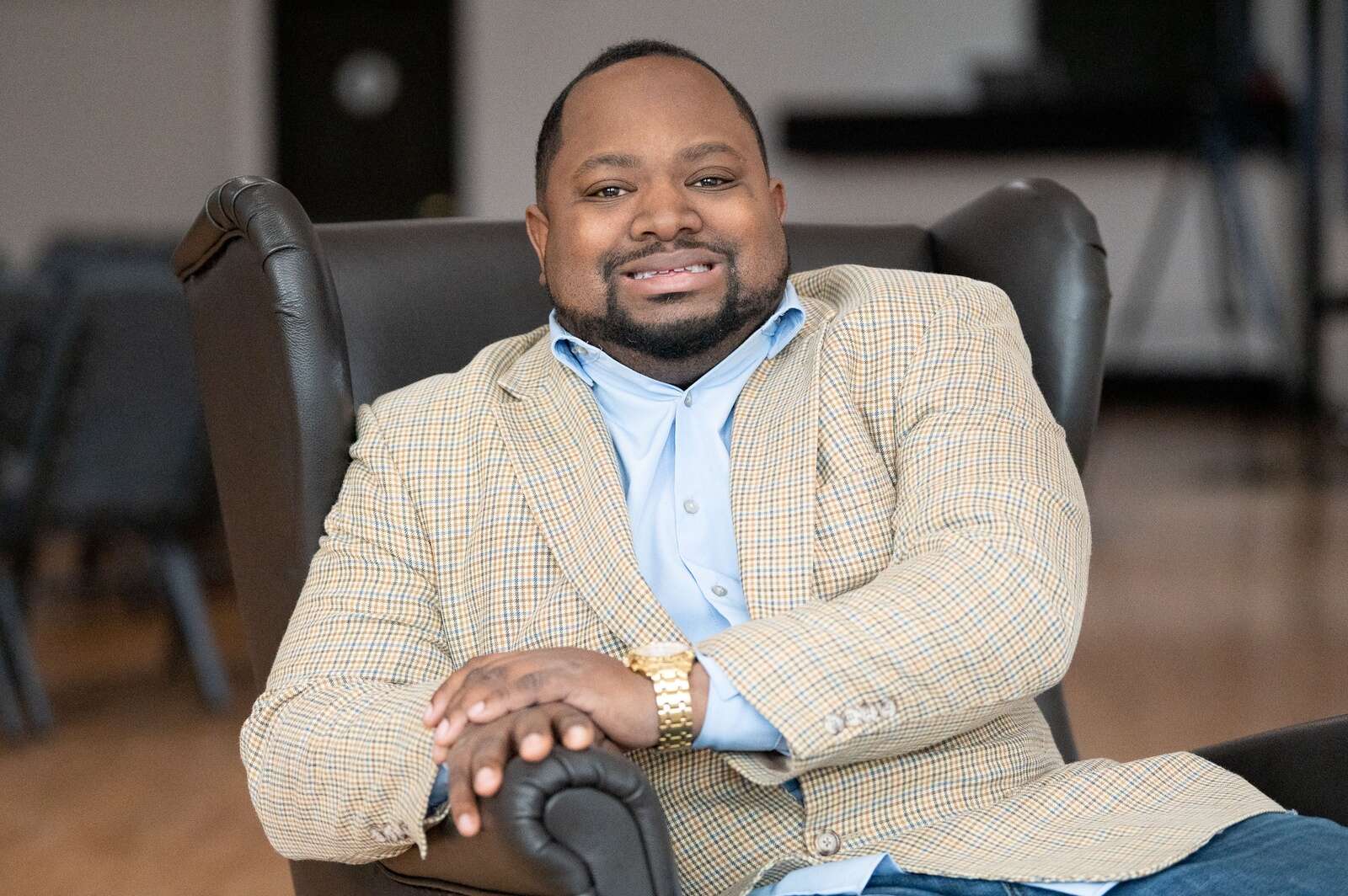 Marcus Richmond wanted to be a drummer in a Christian rock band but, he said, the Lord had other plans.
The Mississippi native finds himself living in Butler and taking over as pastor of the Church Experience, 127 Cunningham St.
The church had been meeting in the vacant medical arts building since 2021 with a sanctuary on the third floor, a children's and student area on the second floor and church offices on the first floor.
Richmond became as pastor in September. He said he was just continuing in the family business. His father and grandfather had also been church pastors in West Point, Miss.
"I was at another church in Mississippi when I head about the opening here. I came and preached," he said. "I felt a strong connection with the area and the people. It was hard to say no."
Richmond said the Church Experience is a nondenominational, multicultural and generational church.
"I would describe our church as a trail mix. Some of us are a sweet, some of us are a little bit rough, but we all come together and taste real good," said Richmond.
He described himself as "energetic, creative and out of the box."
"We will bring a biblical message using 21st-century methods," he said.
The Church Experience is bring its message to its 60-member congregation through a 10 a.m. Sunday service, a 10 a.m. men's group on the second Saturday of every month, a student experience event for sixth- through 12th-graders at 6 p.m. on the second and fourth Saturday of the month and Friday Night Fire at 7 p.m. on the third Friday of the month.
Richmond said the Friday service features special guests from around the nation — singers and guest evangelists — to join the congregation in worship.
He said the church plans to start a 6 p.m. "midweek fuel" Bible study class and "celebrate recovery" and single mother groups in the near future. "We'll be able to provide midweek fuel and encouragement throughout the week," he said.
It's all part, Richmond said, of the church's plan to outreach to the community "and take the church beyond the four walls."
Nancy Wilson of Chicora, a volunteer who is Richmond's administrative assistant, said Church Experience, a nondenominational church branches in Florida that just celebrated its eighth anniversary.
"I started when it was Intersection Church, when it met at Alameda Park," said Wilson who became aware of the church through her son, Patrick Wilson, who played bass and electric guitar with Church Experience's worship team band.
"Family. We're a family," said Wilson about the Church Experience congregation.
Richmond said if things had gone differently he would have been playing drums for the band.
He said his father and grandfather were both church pastors, and he didn't think he would have been the third generation to follow in the family tradition.
"I would say I tried to run away from it, from the ministry. I would have thought I would have been playing drums for a Christian rock band, but the Lord had other ideas," he said, although he's sat behind the drum set a few times during Sunday worship since coming to Butler.
After graduating from West Point High in 2008, Richmond attended the Christ for the Nations Institute in Dallas graduating with a degree in pastoral studies.
He was pastor of the Genesis Dream Center in Columbus, Miss., when he learned of the opening of the Church Experience campus in Butler. It came at an opportune time.
"I was really praying for an opportunity to move outside of my hometown," he said, adding he found the weather in Butler colder than he was used to but the people have been warm.
"We're a church that really has a heart for reaching everyone. We believe strongly in being the hands and feet of Jesus and serving God and serving others," said Richmond.
"We love God and we love people, " he added. "We aren't judgmental. We want to see people working their God-given assignment despite their mistakes, their struggles. We want to see people grow in their relationship with the Lord."