PEOPLE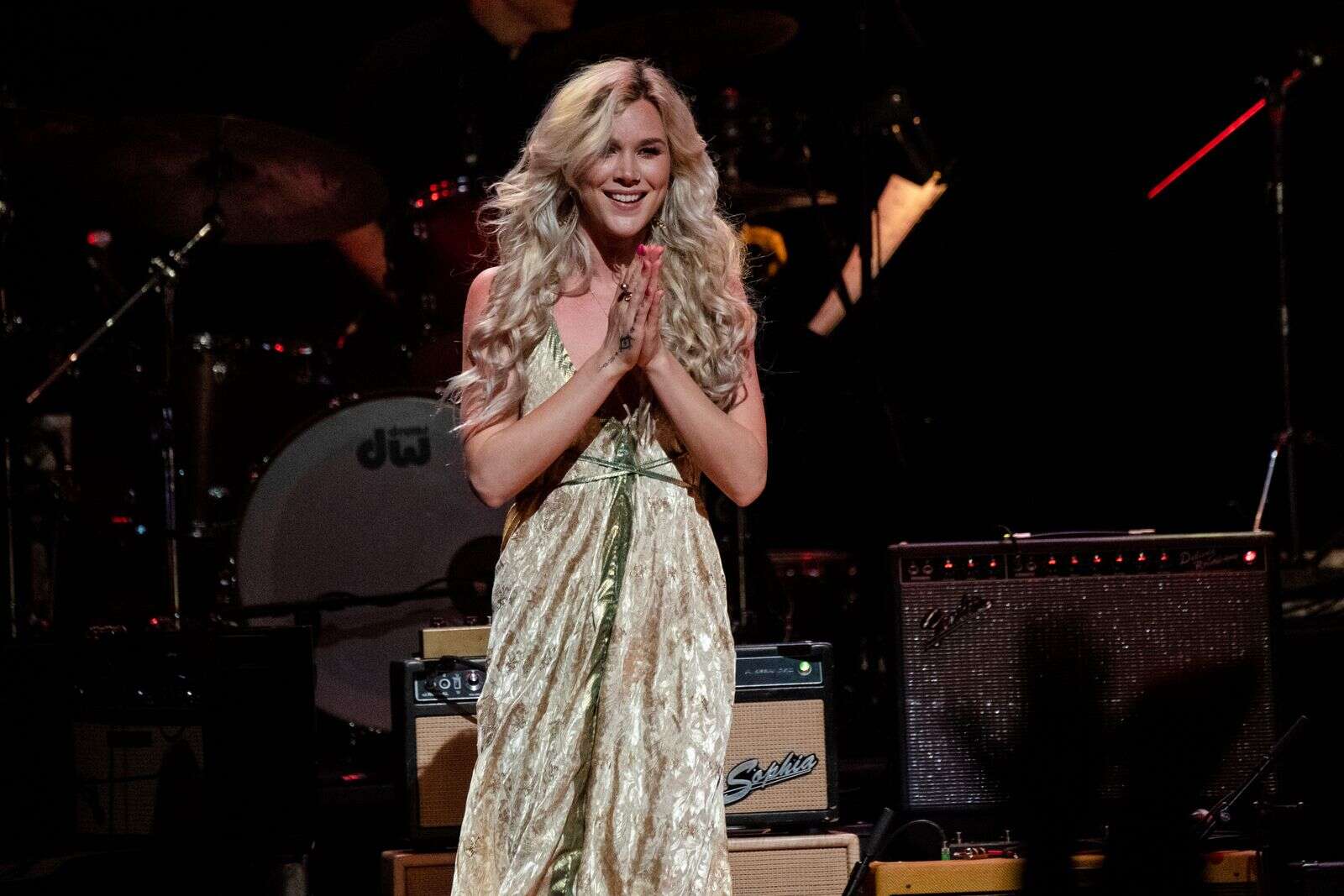 Joss Stone has a lot to be thankful for this holiday season.
The Grammy-winning singer is "grateful" to be alive after surviving a harrowing childbirth that nearly took the lives of both mother and child.
Stone and her boyfriend Cody DaLuz welcomed their bouncing baby boy, Shackleton Stoker, in October — but it didn't turn out to be quite the joyous occasion they had hoped for.
"You know, it's nice to be alive," she told ET during an interview published Tuesday. "It really is. I'm very, very grateful for it."
Stone and DaLuz shared the harrowing details of her 32-hour labor and emergency C-section when they announced the Oct. 18 birth of their newborn on social media.
"It was because my uterus was split," she explained in an Instagram video thanking the 15 doctors at Vanderbilt Birth Center in Nashville, Tenn., who assisted in her care.
"I'm very grateful because I thought I was going to have to be a single dad," said the singer's co-parent. "For about 20 minutes, I thought I was going to be on my own with a couple of kids."
"So it got pretty scary, but thank God for them," DaLuz continued. "They brought them back to me … Everyone is happy and healthy."
The couple also shares 1-year-old daughter Violet.
The 35-year-old British vocal powerhouse recently released her first holiday album, "Merry Christmas, Love." Stone also recently performed for the National Christmas Tree Lighting in Washington, D.C., scheduled for broadcast Sunday at 8 p.m. ET on CBS.
———
LOS ANGELES — 2 Chainz wants to capitalize off the NFL's huge "Thursday Night Football" platform to feature some of the world's most popular musical performers on Amazon Music's live concert series.
The Grammy winner is the host of "Amazon Music Live," a weekly live show that streams on Prime Video after "Thursday Night Football." It is filmed each week in front of a live audience in Los Angeles. The concert series, which debuted in late October with guest Lil Baby, has also featured Megan Thee Stallion and Kane Brown. Last month, 2 Chainz took the stage with Lil Wayne, who performed some of his hits, including his verse on DJ Khaled's "God Did."
Rapper A$AP Rocky will hit the stage Thursday, and Brazilian singer Anitta is expected to perform next week.
"This is a huge benefit for artists who are able to access one of the biggest platforms on TV, with 'Thursday Night Football' having so many viewers, coming on after the game," 2 Chainz said about the concert series.
"You're going to be in certain living rooms that you may or may not be privileged to be in," 2 Chainz said. "I think it helps the overall bigger picture as far as sports and music fusing together."
In each episode, 2 Chainz interviews the featured artist. He usually reads the questions off a teleprompter, but he sometimes throws in his own topics as well.
2 Chainz credits Vice TV's "Most Expensivest'' for readying him for the challenge of the concert series. He hosts the reality series that explores the most expensive items such as food, jewelry and drinks. The rapper said he just wrapped filming his fourth season.
"That show, I think, has grown me and prepared me for roles like this, where I'm on the other side of the desk," he said. "With hosting, I'm still holding a microphone. So, it's still very much a part of the DNA that I'm accustomed to. ... like being on stage and rocking out."
2 Chainz said Amazon reached out to him and his team about a "new vision" of marrying the worlds of football and music. The idea was birthed after Amazon and the NFL entered into an 11-year agreement to air the prime-time professional football games on the streaming service.
The rapper said a strong relationship was already built between him and Amazon Music after partnering to rollout a couple of his albums.
"They needed an Iconic, legendary, handsome, intelligent host to fuse it all together," he said. "You know, ultimately, I'm the man for the job."
———
"The Daily Show" has yet to hire a permanent replacement for outgoing host Trevor Noah. But Comedy Central has recruited some big names to helm the late-night program in the interim.
On Tuesday, the cable network announced that Al Franken, Chelsea Handler, D.L. Hughley, Leslie Jones, John Leguizamo, Hasan Minhaj, Kal Penn, Sarah Silverman, Wanda Sykes and Marlon Wayans will serve as rotating guest hosts of "The Daily Show" starting Jan. 17. Noah's final episode is set to air this Thursday.
"As we enter Trevor's final week, we want to thank him for his many contributions," Chris McCarthy, president of Paramount Media Networks, said in a statement.
"Trevor redefined the show, as did Jon Stewart before him, and as we look to the future, we are excited to reimagine it yet again with the help of this incredible list of talent and correspondents along with the immensely talented 'Daily Show' team."
In September, Noah shared his plans to exit "The Daily Show" after seven years. On an October episode of "The Tonight Show," the comedian expressed a desire to travel the world doing stand-up after his "Daily Show" tenure concludes.
From combined wire services