Mural illustrates retired man's world
Don Rape woke up one day this summer and decided the wall of the family barn he is renovating needed a little something.
The solution can be seen on Perry Highway, just south of Zeilenople.
"I just decided that that wall that we poured years ago, it was looking kind of bad, so I wanted to dress it up," Rape said. "So I laid out a little mural for myself and painted it."
This isn't the first time Rape has shared his gift with the world. When he was 13 years old, he paid for a 10-speed bicycle by designing T-shirts for customers. Family and friends would go to Rape with a blank T-shirt asking for a specific design on their shirt, and for $2, he'd draw it on the shirt.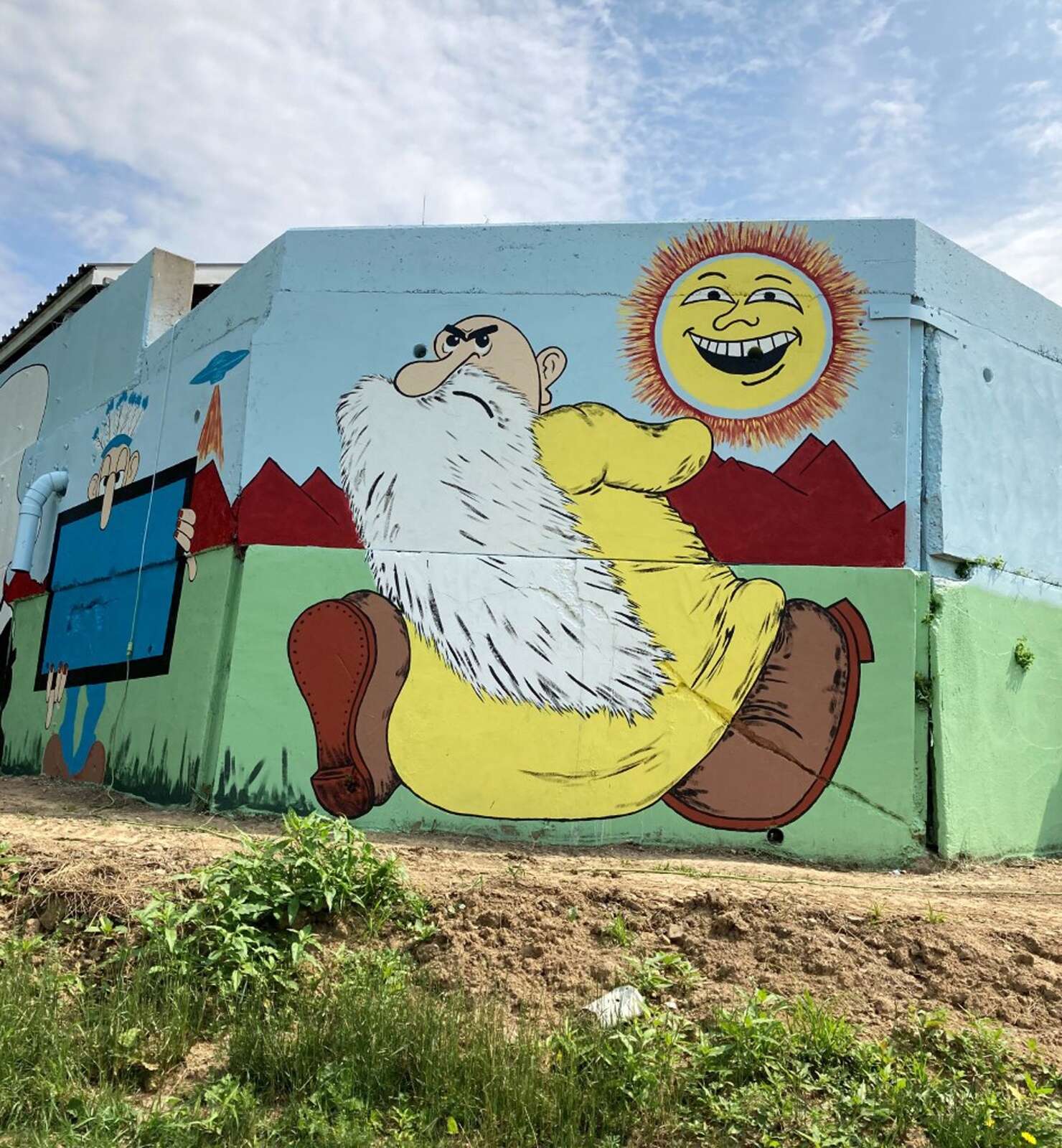 It was a neat business for the middle-schooler, and worked out for him, as well. His mother, Delores Rape, said his love for art died down a little because of struggles with a teacher in art class in high school. He didn't view art as a career anymore and, to this day at age 71, he has no desire to make it one. It is something he does because he enjoys it.
Instead of art, Rape chose to pursue a career in cement mixing. Just like when he was 13, he ran a nice business for himself. He worked in the cement mixing business for 48 years before retiring four years ago. He is someone who loves to work with his hands, so when he retired, he decided to fix up his family's barn.
The barn was built in 1933, making it 89 years old. It's one of the few remnants of when his family owned 100 acres over a century ago, when his grandfather bought the land. Over time, the Rape family sold off most of its land and now owns only 16 acres. Rape has lived there almost his entire life. One of his first projects post retirement was to fix up the barn.
"I grew up in this house and moved away when I got married, but when I had the opportunity to buy it back, I did," Rape said.
He has fixed up several areas inside the barn. The outside renovation will showcase the skill he has had since he was a child.
Rape's mural is filled with characters that he loved growing up and events that have meaning to him.
On the mural, Mr. Natural, a popular comic book wizard from the 1960s and 70s, features significantly as does Foghorn Leghorn and the chicken hawk from the Looney Tunes Cartoons.
"I just want everyone to see it," his mother said. "I'm proud of it."
There's a pot of gold with the number seven on it. The pot is black and gold, likely leading people to think that it was a tribute to former Pittsburgh Steelers quarterback Ben Roethlisberger. That isn't the case, while the number seven does relate to football it's actually for the seventh Super Bowl in 1972.
In that Super Bowl, the Miami Dolphins defeated the Washington Redskins to cap the team's perfect 17-0 season. That Dolphins team remains the only football team to go through an entire season, including the playoffs, without a loss in NFL history.
There's also a Seneca Valley Indian painted on the mural with the "Class of 69" inscribed on it, in honor of when Rape graduated from Seneca Valley.
The entire mural is built around the man who made it, Rape himself.
"If I do something, it's for me," he said. "Not for other people."
The current mural took only a few weeks to complete. However, there's still about 50 feet left of open canvas left on the wall. Rape doesn't have a plan yet for what's going to end up on the remainder of the wall, although he has a few ideas.
"I have a couple dogs buried there and their names are inscribed on the wall, so I may put their names on dog houses on the wall," he said.
People who want to view the mural can see it from the Baierl Ford automotive store alongside Perry Highway with it being almost across from that location.