Man who put the paddleboats in the Butler Farm Show pond dies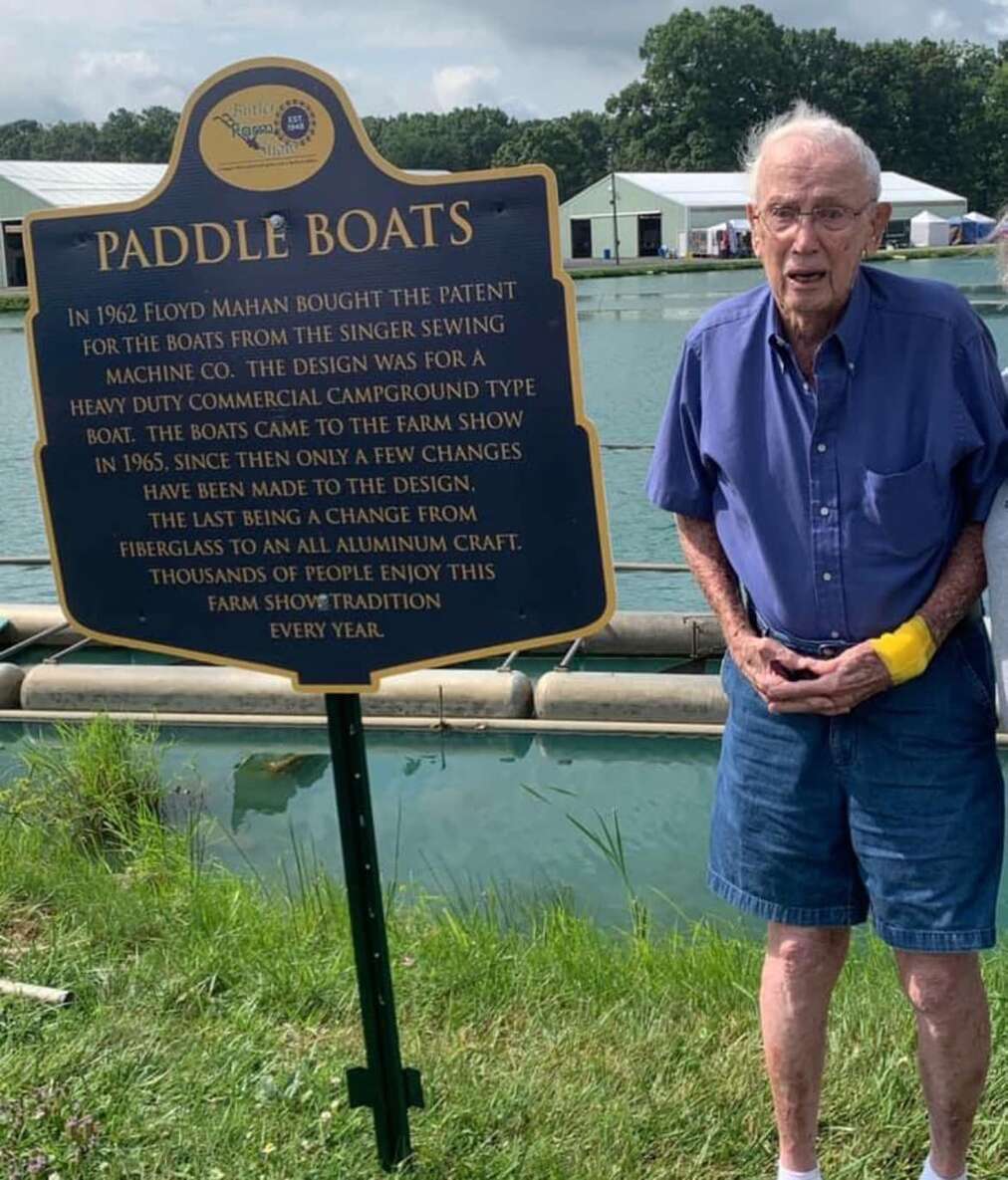 Had Floyd Mahan not shared his whimsical idea in the 1960s, the annual Butler Farm Show would be devoid of the sight of grinning children, teens and adults pedaling around the pond on paddleboats.
Mahan, 95, of Middlesex Township, died on Friday, but left behind a nautical legacy that will continue to delight visitors to the farm show indefinitely.
Ken Metrick, a longtime farm show board member, said Mahan was raised on a farm on the Butler County/Allegheny County border, so he hung around the farm show a good bit.
"But he was quite the boater," Metrick said. "He boated up and down the Mississippi River."
He said the Singer sewing machine company in the early 1960s built small boats for venues like Boy Scout camps.
"In 1962, (Mahan) bought the patent and improved their design," Metrick said of the rudimentary crafts.
After switching to fiberglass to lessen their weight, Mahan approached the farm show board about adding self-propelled paddleboat rides to the large pond on the grounds during farm show week.
"In 1965, it was the first year at the farm show that people could take boat rides," Metrick said.
He said the paddleboats, which are now aluminum and have been sold twice since Mahan owned and operated the venue, remain a popular feature during farm show week each August.
"If those boats weren't there, there would be a lot of disappointed people," Metrick said. "People really look forward to seeing those paddleboats and riding them."
Metrick recalled one youth in years past who showed rabbits at the farm show.
The boy was so enamored with the paddleboats that he paid to ride them once or twice a day.
"They hunted him down in the rabbit barn and gave him a free ticket," Metrick recalled with a chuckle.
He said while the current owner of the boats has no plans to stop offering rides at the farm show, the board of directors told him they would be interested in purchasing the boats if he ever decides to quit or sell.
"People identify the paddleboats with the farm show," Metrick said.
Ken Laughlin, farm show board president, said the paddleboats are a unique feature among the farm shows held across the state.
"I think we are the only fairgrounds in the state to have an airport and a pond, and I don't believe any others have paddleboats," Laughlin said.
He did not know Mahan, but praised his idea for the paddleboats, which has held up so well over the decades.
"A lot of people look forward to it," Laughlin said. "A lot of people come out looking for the boats."
According to his obituary, Mahan was a U.S. Navy veteran of World War II and Korean War veteran, and longtime owner of Mahan Boat Sales.