Mars Area students create sci-fi comic about space exploration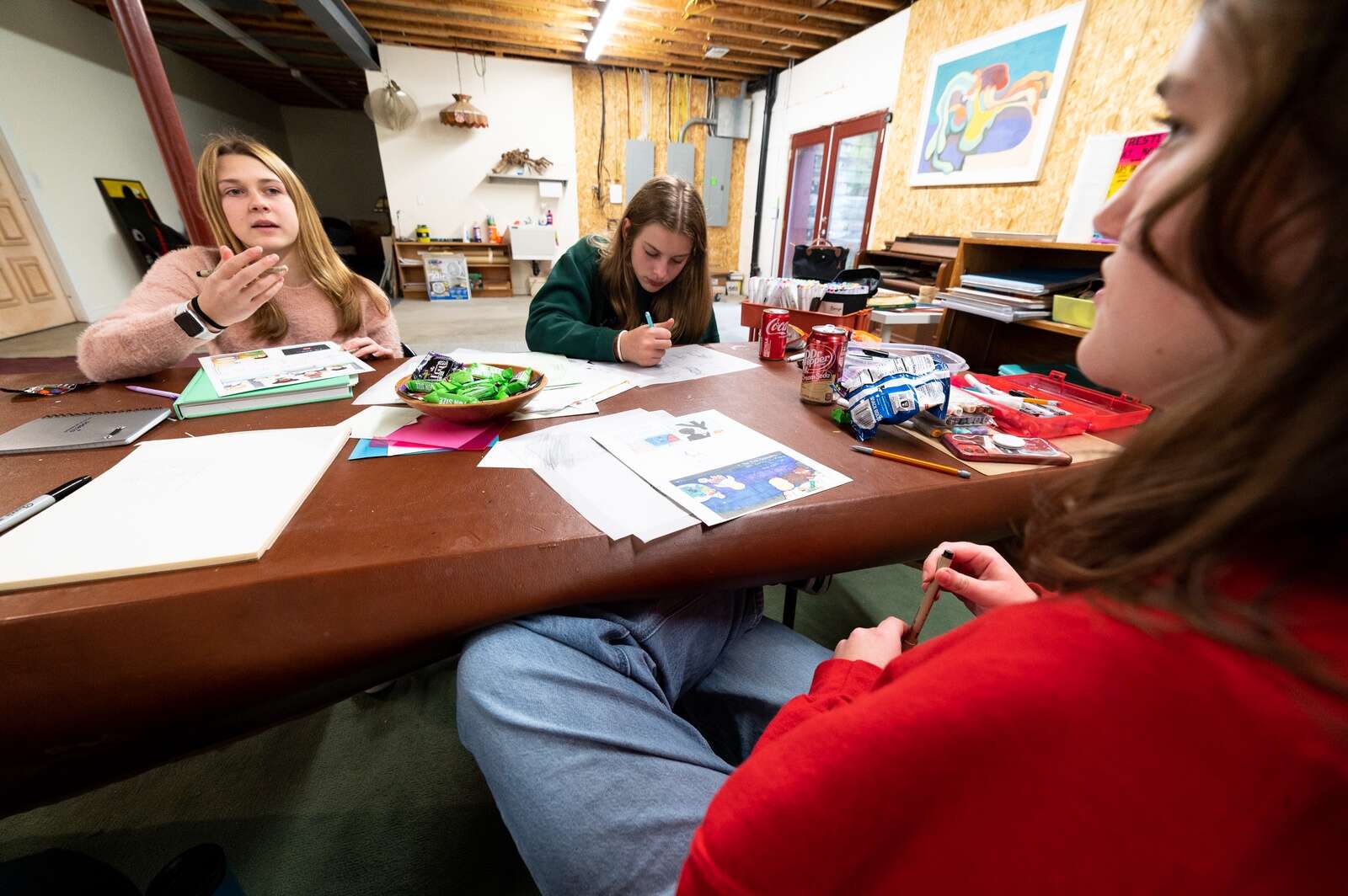 ADAMS TWP — Each Tuesday afternoon this year since August, a group of students has met in an Adams Township basement workshop to tell the story of an adventure traveling to the planet Mars.
The four Mars Area School District students have collaborated with Marcy Bogdanich of the Mars Area Public Library on a project titled "Journey to Mars — Mission 35," a science-fiction comic book story that shares the tale of four teenagers from around the world who explore the Red Planet.
Over the past several years, Bogdanich has worked on projects with the library for the Mars New Year celebration, an event held every two years to celebrate the new year on the planet Mars and promote STEAM (Science, Technology, Engineering, Arts and Math) education.
"We wanted to have more art involvement in the STEAM education part," Bogdanich said. "We decided a comic book would be pretty cool. This summer, at the end of the school year, I emailed the middle school art teacher, and she gave me seven names. We've got four who have been able to participate since August — she had kids who were interested in art."
The group put the finishing touches on their comic on Tuesday, Nov. 1, and plan to show off their work at the Mars New Year Blast-Off Dinner in February. The comic will be available to buy as a fundraiser for Mars New Year at next year's event.
Working together to create
The four Mars Area students in grades eight and nine have worked together for the past three months to plan, write, sketch, color and put together the comic.
"At first, it was a bit tense, and nobody really knew what was going on, but once we got started, it got really easy," said Addison Pangonas, 14. "We didn't know what we wanted it to be about, until we got the beginning done. Afterwards, we had the questions on what we wanted to do for this part. Everybody chimes in, and we decide what idea we like the best."
Though the project is made collaboratively, it doesn't feel like "work," she added.
"It's probably my favorite activity that I've ever done," Pangonas said.
"I usually draw and doodle and stuff, and make up my own stories, kind of like in a comic format, but I've never done an official one for anything," said Elizabeth Kelly, 14. "Art is definitely something I want to go into, so I think this is a good opportunity to do something new, and something I haven't done before."
"They've all drawn some of the panels, so there's four different styles," added Bogdanich. The group uses a lightbox to transfer sketches done by different members of the group onto the final comic page.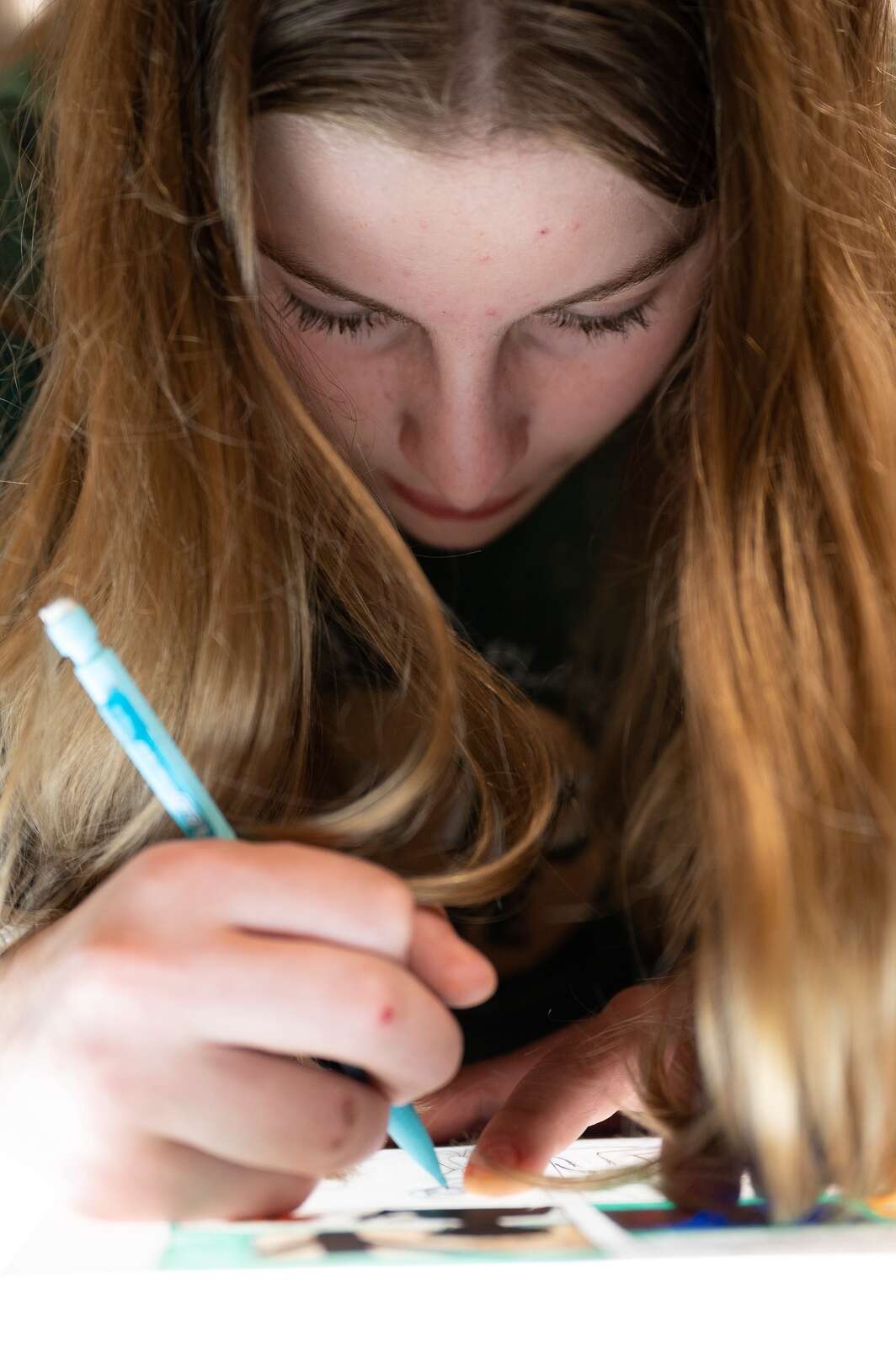 An imaginative project
In the group's eight-page comic, four teens from different countries travel to the planet Mars to explore and gather information for a future human settlement.
"I've always liked learning about art, and seeing a lot of art, and I've always drawn, but personally, never on this scale," said Julian Coquelet, 15. "It's been fun coordinating the project together."
Ashlyn Varner, 13, said the team's efforts have been a lot of fun.
"We look forward to this part in our week," Varner said. "It's more of a fun activity, almost (more) like free time than a school project."
Being creative and coming up with an original story has been essential to the process, she added.
"Nobody really knows exactly what it would be like on Mars, so we kind of got to use our imagination with that," Varner said.
Bogdanich came up with the early premise for the comic, Pangonas said, and the group built its idea from there. While the base idea of the comic is inspired by real-life space science and STEAM as a whole, the story also includes some more fantastical elements, including space animals and a Martian city.
"I'm interested in art and technology," Kelly said. "STEAM has always been really interesting because it's a lot of different things combined together, and I feel like that's really fascinating in how it can all connect."