Opportunities abound for county shoppers of all tastes
Those who have a hankering to grab their wallet and hit the stores or restaurants in Butler County will be pleased to discover a wide variety of opportunities, especially if they're willing to take a short drive to a new neighborhood.
In Butler, shoppers can find anything from a new car to a bag of organic tea.
Jordan Grady, president of the Butler Chamber of Commerce, said any shopper will find what they're looking for, as well as things they were not, in the downtown corridor and beyond.
"It's a unique experience," Grady said of shopping in downtown Butler. "As well as great food."
Regarding food, one of Grady's favorite subjects, he said longtime downtown restaurants such as Natili's North offers Italian and American food, whether in the form of wholesome full meals, sandwiches or homemade desserts.
"That's my favorite," Grady said of the latter choice.
He said all dressings and desserts at Natili's are made in house.
"It's a City of Butler staple," Grady said of the Natili's.
The Chop Shop, also on Main Street, offers homestyle and unique menu items in various interesting combinations.
The eatery is in the former Jay Shoppe children's clothing store that will be remembered by county residents of a certain age. The logo remains on the tile in the entrance.
The Sons if Italy is a hidden gem on Main Street, Grady said.
The club, which offers delicious food to the public, creates homemade ethnic food and sometimes holds spaghetti dinners in the bingo hall.
The menu normally is listed on the Butler Sons of Italy Facebook page, Grady said.
Breakfast enthusiasts flock to Canella Cafe on Main Street for a hearty or healthy breakfast and seasonal coffee-based drinks, he said.
Regarding clothing and shoes, Grady said Miller Shoes has been on Main Street for 130 years, and came back even stronger after a fire in 2021 destroyed much of their merchandise and forced a six-month hiatus.
"You don't see a lot of independent shoe retailers, and I think that gives you a good picture of their reputation in the area," Grady said. "It's got to be a tough business to survive in, and they seem to be doing really well."
Branded in Butler sells quality vintage and other clothing, and a new second-hand shop to benefit Robin's Home, Butler's housing for female veterans, is now being set up on Main Street near Miller's Shoes, Grady said.
Home goods such as furniture, decor and home improvement items can be had in areas around downtown Butler, like R.W. McDonald & Sons in Center Township, which sells appliances, furniture, electronics, cabinetry and more.
Furniture Galleries on Route 8 in Penn Township is a staple in the county for outfitting any room in a home with furniture or decor.
All About Reclaimed offers floral decor and more, while Bortmas, the Butler Florist has offered floral services and decor for several decades. Both are in the downtown Butler area.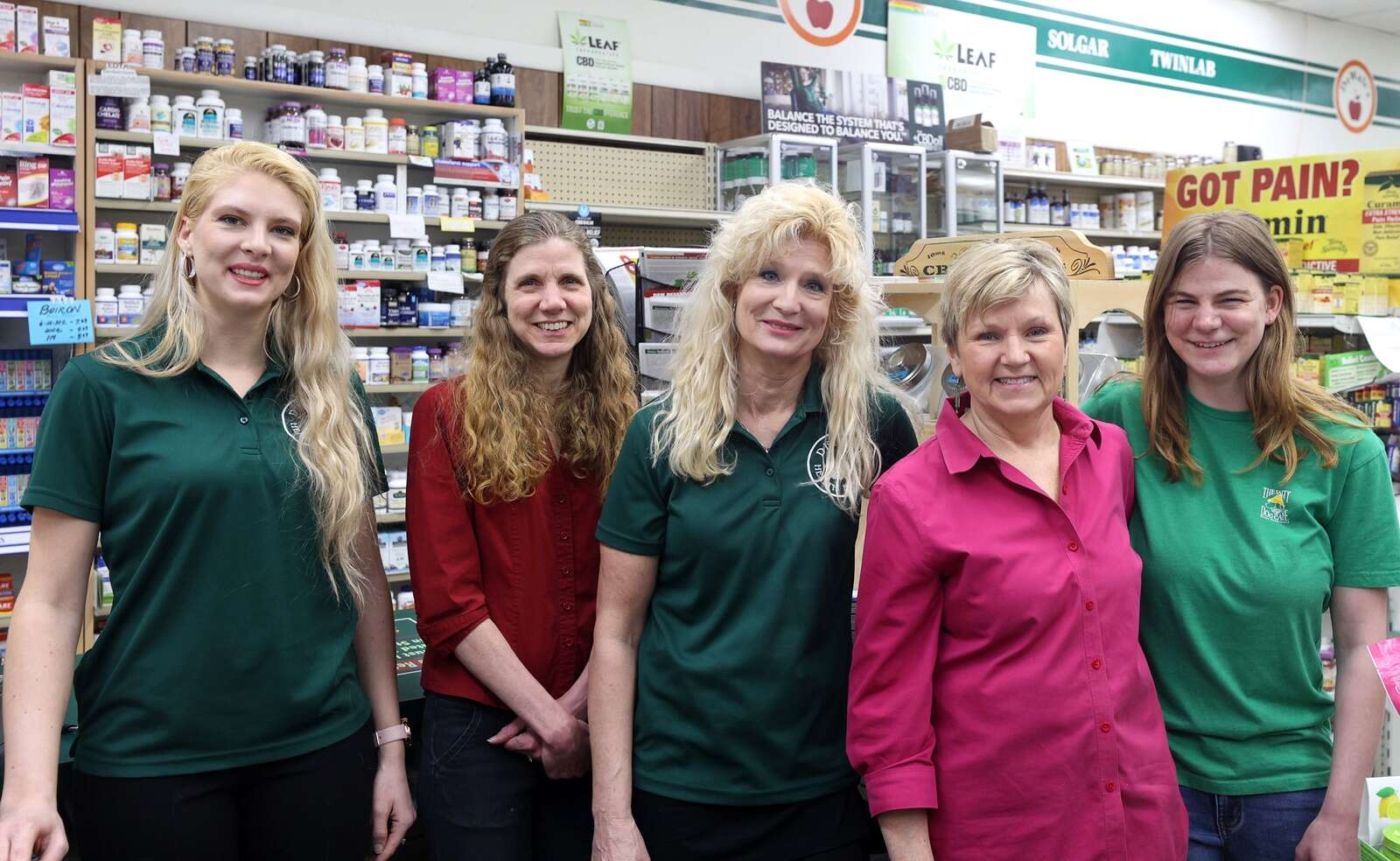 Artisan shops
Artisan and unusual shops abound in Butler, Grady said, where shoppers can peruse bespoke or unique items unavailable elsewhere.
Mystique Moon on Main Street sells antique and vintage furniture and decor and also allows local artists and crafters to rent space in the store to peddle their unusual and captivating wares.
Grows on Main also is a great place to wander into for shoppers looking for something on the green side.
"It's a plant store with a variety of unique and common houseplants," Grady said.
Another shop, Realm Crystals and More, also on Main Street, is a hobby-based crystal shop.
DeWalt's Health Food on Main Street provides organic and whole foods to the health-conscious, as well as supplements and educational materials, Grady said.
A small shopping section of Butler hides near the intersection of Washington and Brady streets, where a gift shop and a new store that purveys essential oils and tea tempt those looking for something different.
In addition to all the smaller, specialty or family retailers in downtown Butler, large chain retailers along New Castle Road in Butler Township round out the shopping opportunities in the area, Grady said.
"That's obviously a very popular corridor at this time of year, and they are big drivers of economic impact here," he said.
Grady recommends everybody try downtown Butler for a day of shopping.
"For the most part, everyone is really friendly, and you can expect to be treated like family when you walk past strangers on the street or in some of these stores."
Slippery Rock
Lara Wozniak, president of the Slippery Rock Business Association, said the college town in the northwestern sector of the county is a great place for shoppers and diners of all ages and interests.
The borough's Main Street offers a handful of delicious dining options.
"We have staples like Bob's Subs Sandwich Shop that has been around forever," Wozniak said. "No matter where in the country you go, if you say you're from Slippery Rock, you'll hear 'Is Bob's Subs still there?'"
A destination restaurant and brewery on Main Street is the unique North Country Brewing, which offers various beers and a large menu that will please everyone in any party.
Ginger Hill Tavern is another popular restaurant in the borough.
"The restaurants bring back fond memories of the time people spent on campus and in our community," Wozniak said.
In addition to the borough's handful of tattoo parlors, the borough offers a farmers' market in the downtown area each summer that sells produce from local growers as well as craft and artisan items from area artists.
"There's lots of different types of markets, and I think our farmers' market really captures all of those aspects," Wozniak said.
She said Slippery Rock Light Up Night will be held Nov. 19 to encourage shoppers to head downtown with the Christmas lists.
"What I like about shopping in Slippery Rock are the residents, the variety so close to home and the uniqueness of our area," Wozniak said.
Zelienople
Erika Shumaker, a Zelienople Business Association board member and Main Street business owner, said every shopper should make a day trip to the borough to experience the plethora of storefronts there.
"There are a lot of really great boutiques and unique stores all up and down Main Street that sell things you really can't find in other places," she said.
Her restaurants, Shu Bru, which sells craft beer and American fusion soul food, and General Shu, an Asian-inspired eatery with signature cocktails, are popular places to grab a bite and a drink, but many others are as well.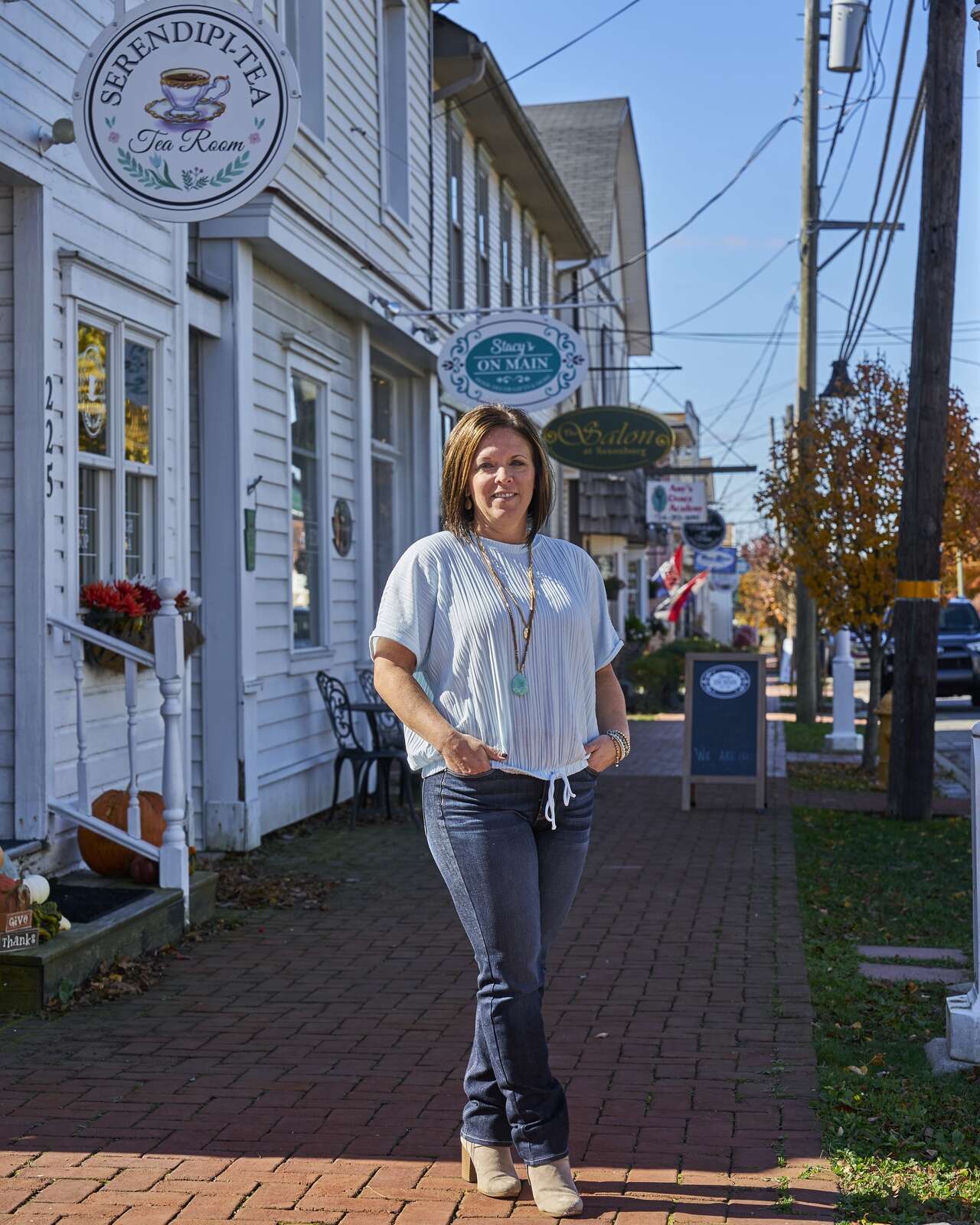 Della Terra is an Italian restaurant in an old Main Street bank, the Kaufman Tavern offers upscale American dining in a historic hotel, Spring on Main offers breakfast, lunch and coffee to go, and Goodfellas has Americanized Italian food and is family friendly, Shumaker said.
Boutique 16063 stocks women's apparel and shoes and Eva Bryn Shoetique offers footwear, handbags, jewelry and accessories.
The borough is frought with artisan stores, including Curio Cool, which showcases works by local artists and offers ceramics classes.
The Unordinary retails items found at estate sales and in collections.
"They have furniture and decor, and it's a nice place to get gifts and tableware too," Shumaker said.
The New Look has very modern decor and is a great venue for gift shopping, she added.
Love, Annie is another excellent gift shop in Zelienople, Shumaker said.
"They have everything from wine glasses to jewelry, candles and pottery," she said.
Modern Alchemy sells crystals and offers reiki treatments.
Spring Street Studios glass center sells bespoke glass items and offers classes where groups create glass art.
"We do have two dessert places too," Shumaker said.
The Ice Box sells hard ice cream, while Sips and Sweets offers various desserts and boba teas.
"You can spend almost a day here in Zelie, shopping and getting a drink and getting dinner," said Shumaker. "You can find almost anything here, whether it's a four-pack of beer or a nice outfit, shoes and accessories."
She encourages all shoppers to spend a day in Zelienople.
"Local people own all these businesses, and everyone is really passionate about what they do, so that's another thing that makes it much different than going to someplace like Cranberry (Township)," Shumaker said.
Saxonburg is another quaint small town, where historic buildings continue to boast storefronts that entice shoppers to town.
Kerri Kadyk, vice president of the Saxonburg Business Association, appreciates checking off items on her shopping list in the borough.
"Saxonburg is filled with locally owned, small businesses," Kadyk said. "Mom 'n' pop type shops."
The relatively new Sprankle's Neighborhood Market means the borough no longer is a food desert, and Batch offers all locally sourced products, plus jams, jellies, lunch items and stuffed breads.
"The Hotel Saxonburg is the primary restaurant on Main Street," Kadyk said.
Saxonburg Coffee & Tea is a mainstay where folks meet to chat, and a new ice cream shop recently moved in beside the laundromat on Rebecca Street.
Kelly's Restaurant on Main Street and Cafe Contrary on a side street offer breakfast and lunch.
A new store, Rustic Blossom, offers home goods, furnishings and clothing, Kadyk said.
Red Door Antiques on Main Street sells vintage finds, Serendipity books themed tea parties and Scene Setters provides interesting backdrops and settings for customers who bring a camera or smartphone.
"It's the ambience of the little town," Kadyk said of shopping in Saxonburg.
Cranberry Township, said Carrie Nolan-Robson, director of events at Pittsburgh North Regional Chamber, offers shoppers and diners mostly chain eateries and retailers.
Big-box retail and grocery stores, scores of popular restaurants and several boutiques along Route 19 provide a buying opportunity for all.
"There's some for everyone," Nolan-Robson said. Whatever your price range may be, there is variety when it comes to dining out, whether you want something upscale or are looking for a good food at a drive-thru.