Jack sets record in style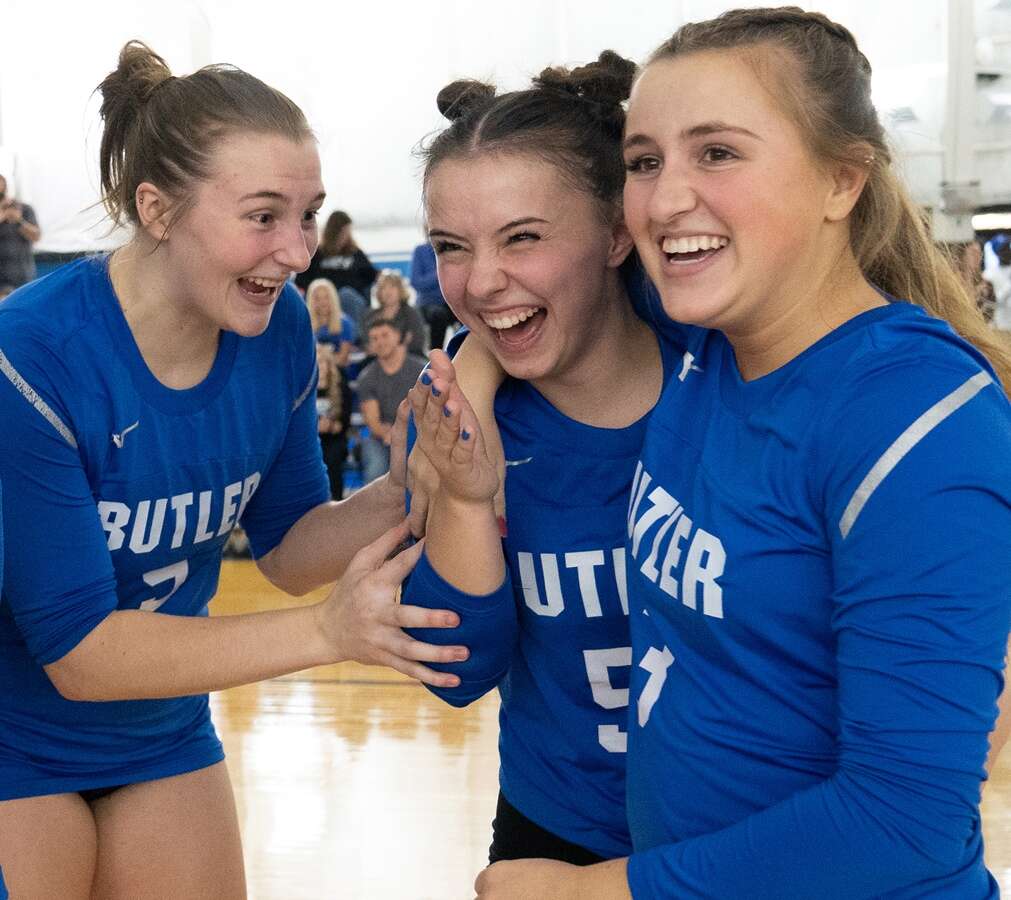 Knoch graduate snaps BC3 volleyball mark for career assists
BUTLER TWP — On her final pass in her last home game, All-American Morgan Jack set up the kill Saturday that sent the No. 1-ranked Butler County Community College volleyball team to a district championship tournament in North Carolina and the setter to the top of BC3's career list in assists.
The kill by fellow All-American Breanna Reisinger completed BC3's sweep of Howard Community College in the National Junior College Athletic Association Division III Region 20 championship tournament in BC3's Field House.
The kill also secured the 1,361st career assist by Jack, who broke the BC3 record of 1,360 set by Nicole (Sebastian) Bajuszik in 2002-2003.
"The perfect way to end it," BC3 coach Rob Snyder said.
"Last play ever here," Jack said. "Just so surreal."
"It's amazing," Reisinger said, "that it was all tonight."
In the Region 20 semifinals Saturday, BC3 defeated Anne Arundel, Arnold, Md., 25-17, 26-24 and 25-11 and Howard, Columbia, Md., defeated Westmoreland County Community College 25-15, 25-16 and 25-16.
BC3 won its unprecedented fourth consecutive Region 20 championship by defeating Howard 25-21, 25-11 and 25-21 in the final.
Jack was selected as the most valuable player of the Region 20 championship tournament. She entered the semifinal Saturday 68 assists shy of passing the mark set in 57 matches by Bajuszik.
In her 41st match at BC3, Jack on Saturday had 32 assists against Anne Arundel and in her 42nd, she had 36 against Howard to move past the member of BC3's Charles W. Dunaway Pioneer Hall of Fame.
The Pioneers, ranked No. 1 this season for the first time in program history, moved to 19-2 with their 12th consecutive victory and 10th sweep in a row.
Howard jumped to four leads against BC3 early in the first set.
"(Then) they made a run on us," Howard coach Jake Atchen said. "We stopped playing as hard as we needed to to take on the No. 1 team in the nation. … We knew what we were going up against and kept it as close as we could."
The score was tied four times in the first set, including at 20-20.
"I always warn the team that everyone gives us their best game," Snyder said. "The ranking does that to you. Everyone comes out hard and we slowly try to wear them down by being consistent."
The 53 points Howard scored in three sets were the most against BC3 in 18 sets dating to Sept. 28.
"No game," Aslyn Pry said, "is ever going to be easy."
"Every single team wants to beat us," Reisinger said, "because we are ranked No. 1."
Jack had 11 assists in the first set against Anne Arundel, 13 in the second and eight in the third. She had 13 assists in the first set against Howard, nine in the second and 14 in the third.
With the Pioneers leading 24-21 in the third set, BC3's Zoe Morley received the serve from Howard's Brenna Siperko. Morley passed to Jack, who passed to Reisinger, whose hit deflected off a Howard player and gave BC3 the set and the Region 20 championship.
"I think we learned a lot today," Jack said. "We kind of started off rough. But we finally started getting in a groove and really showing what BC3 is all about, about what type of team we are, about what the No. 1-ranked team in the country should look like."
BC3 has been top-ranked among 96 NJCAA Division III programs in five consecutive weekly polls.
The Pioneers advance to the NJCAA Division III Mid-Atlantic District A-B championship tournament Oct. 29 in Pinehurst, N.C., and may compete against teams ranked No. 2 and No. 11 in the NJCAA Division III.
Owens Community College, Perrysburg, Ohio, was ranked No. 2 at 20-6 as of Oct. 17 and Sandhills Community College, Pinehurst, No. 11 at 18-12.
The winners of District A and District B advance to the national championship tournament in Minnesota.
A second consecutive berth in the national championship tournament would be a first for BC3's volleyball program. The Pioneers finished sixth in the national championship tournament in 2021 and in 2009, and fifth in 2002.
BC3's volleyball program has won 12 Region 20 titles in Snyder's 23 seasons.