Horror-thriller takes BC3 stage Oct. 26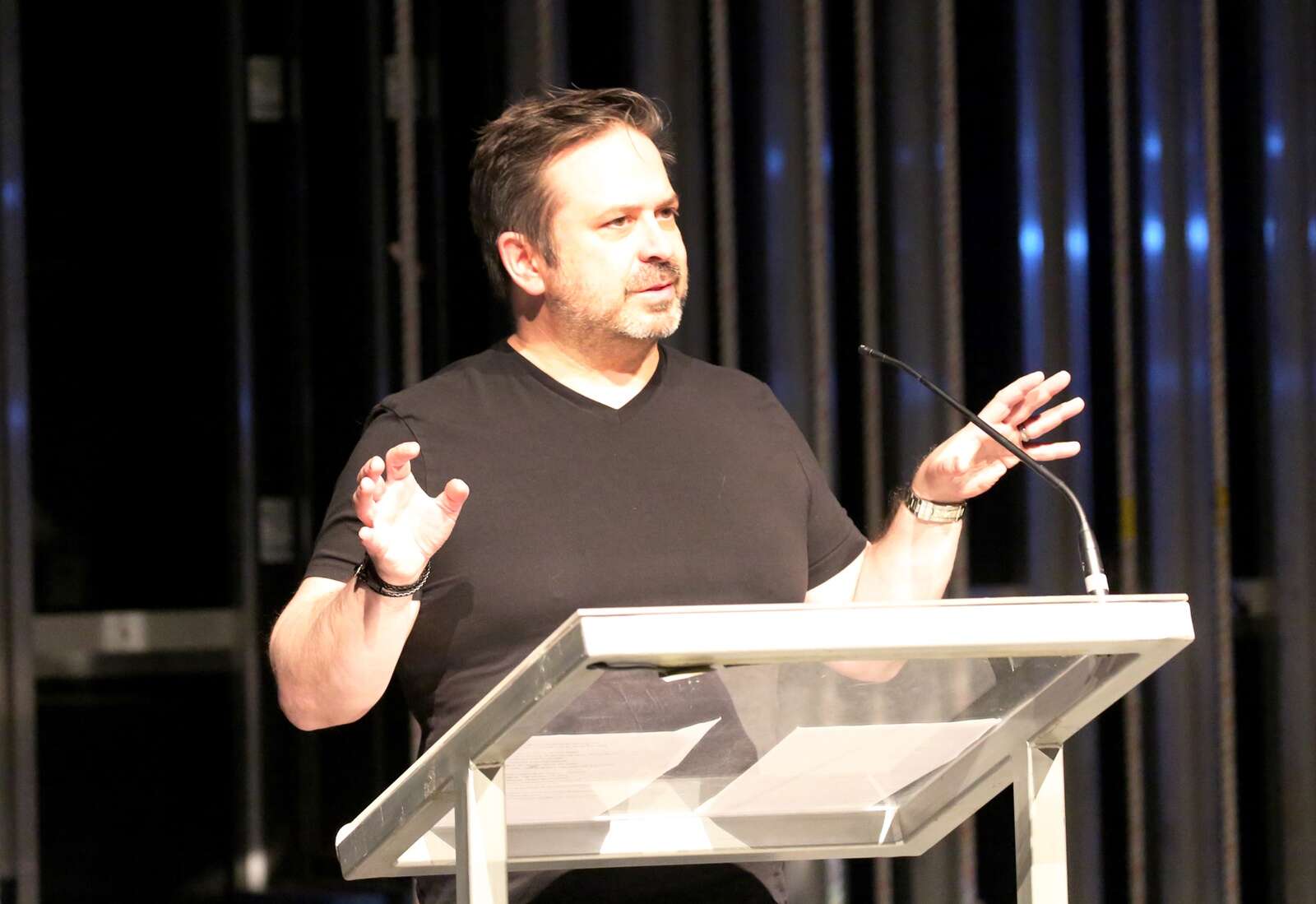 Prof to read from his novel "Who Holds the Devil" in Northern Appalachia Reading Series event
A Butler County Community College English professor inspired to write his first horror-thriller novel by watching a neighbor's oak tree being felled near Halloween. He will read from "Who Holds the Devil" during a Northern Appalachia Reading Series event Oct. 26 on BC3's main campus in Butler Township.
The reading by Mike Dittman is free and open to the public and will be held in Succop Theater. Guests will be seated at tables on a stage decorated to resemble a coffeehouse, Dittman said.
An open-mic session sponsored by BC3's writers club will begin at 6 p.m. Dittman will read from "Who Holds the Devil" at about 6:50 p.m. and sign copies of the horror-thriller novel at 7:30 p.m. Light refreshments will be served.
The 260-page paperback horror-thriller novel, published June 27 by Manta Press, will be available for purchase for $14.
Students in the BC3's writers club will read from works titled "A Touch of Autumn," "Children of Blood" and "Age of the Moon" during the open-mic session.
"Who Holds the Devil" took Dittman 14 months to write and is his fourth book to be published.
The member of the Writers Association of Northern Appalachia is the author of "Small Brutal Incidents," "Masterpieces of Beat Literature" and "Jack Kerouac: A Biography." His books have been published by Contemporary Press and by Greenwood.
Writing a horror-thriller novel differs from writing a biography in that "There's more freedom," Dittman said. "Which also can make it more difficult. Writing biographies is enjoyable, and I do like it, but it can also sometimes seem a little like schoolwork. With fiction writing, I can go anywhere I want to go. I can follow any thread I want to follow."
That thread led to the location of the 100-year-old oak tree Dittman watched being felled in downtown Butler, which may be near the gravesite of the historical Sam Mohawk, Dittman said. Mohawk pleaded guilty to murdering a family of six in Butler County in 1843 and was hanged.
"The tree was taken down ignominiously and shredded," Dittman said. "Wood-chipped and thrown away. And the time of year, the day before Halloween, to take down the tree that may have marked the grave of a killer, a guy who had murdered an entire family, seemed sort of odd timing."
It has been written that no cemetery would take Mohawk's body.
"Who Holds the Devil," according to Dittman, "begins with a tragic accident in which an ancient oak tree topples onto the wall in front of Aaron Moody's house. Moody wants the city to fix the damage. Instead, Moody finds that beneath his small town is an underground world of spells, secrets, and, released from within that oak tree, a newly arrived and murderous demon who last walked the Earth in human form in the years following the Civil War.
"As Moody researches Sam Mohawk, the demon's last host, he finds Evanora La Costa, a witch who's attempting to visit some payback upon the demon; a secret municipal department in the basement of city hall that insists on being bribed with meat; and Mr. B, a neighborhood cat that may or may not be providing advice to Moody on mourning the aftermath of his wrecked marriage, facing a job gone south, and fighting an entity intent on taking Moody, Evanora, and few other thousand souls straight to hell."
The character Aaron Moody is "the bad guy," Dittman said. "I wanted him to feel unappreciated. I wanted him to be an accomplished man. I wanted to build that character slowly where you see all the mistakes he makes on the way to being involved in summoning this entity."
The Northern Appalachia Reading Series event on BC3's main campus will be the college's third in one year.
Dr. Damian Dressick, of Slippery Rock, read from his historical novel "40 Patchtown" and collection "Fables of the Deconstruction" in November and Angel Rosen, a 2014 BC3 graduate from Worthington, Armstrong County, read from her books "Aurelia" and "Blake" in April.
Bill Foley is coordinator of news and media content at Butler County Community College.