Knoch grad Jack BC3 volleyball assists record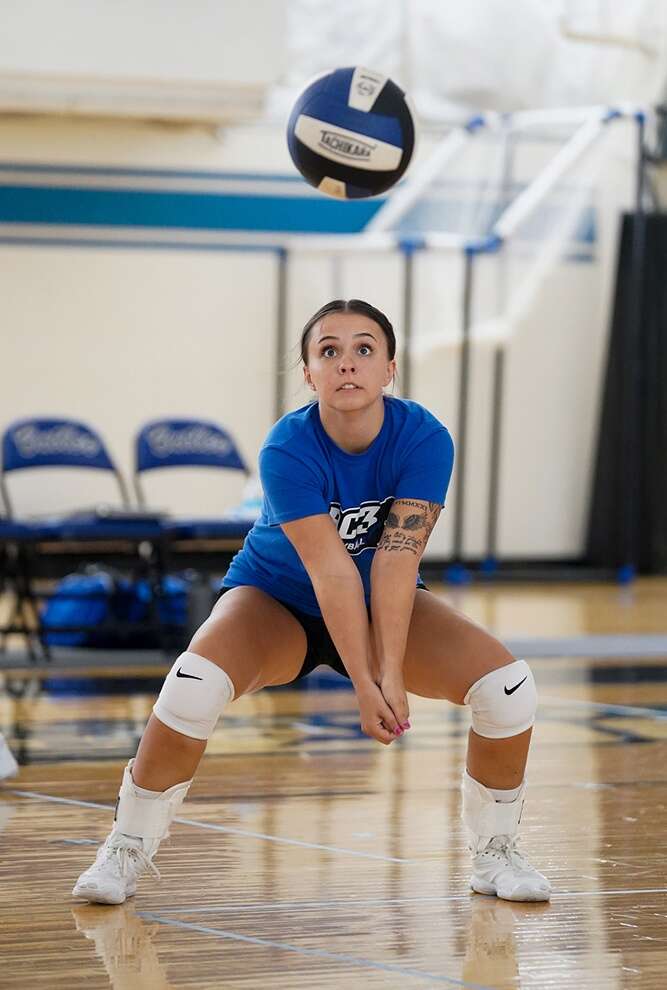 BUTLER TWP — The Butler County Community College volleyball team, ranked No. 1 this season for the first time in program history, chases a fourth consecutive region title Saturday behind an All-American setter who is chasing a nearly two-decades-old college record in career assists.
The National Junior College Athletic Association Division III Region 20 championship tournament in BC3's Field House will be the final appearance at home in 2022 for the Pioneers, and in her BC3 career for setter Morgan Jack, a Knoch graduate.
BC3 has won 10 matches in a row and is 17-2. With two victories Saturday, the Pioneers would win Region 20 and advance in the postseason to a Mid-Atlantic District A-B championship tournament in North Carolina.
The Pioneers have been ranked No. 1 among 96 NJCAA Division III programs in five consecutive weekly polls.
BC3 faces Anne Arundel Community College, Arnold, Md., at 11 a.m. in a Region 20 semifinal. The winner advances to play either Howard Community College, Columbia, Md., or Westmoreland County Community College at 4 p.m. in the final.
Jack, a 2021 NJCAA Division III All-American, is 68 assists shy of breaking a 19-year-old record set in more matches played by Nicole (Sebastian) Bajuszik, a 2022 inductee into the college's Charles W. Dunaway Pioneer Hall of Fame.
Jack in 40 matches in the 2021 and 2022 seasons has 1,293 assists.
Bajuszik in 57 matches in the 2002 and 2003 seasons had 1,360.
"We've had really good setters here," BC3 coach Rob Snyder said of a program with four All-Americans at the position since 2010. "(Setters are) something that we put a lot of priority on. For (Jack) to rise to the top is obviously a huge accomplishment. More important to me than assists is how the setter helps the team to win."
BC3 with Jack is 35-5 and has won two Western Pennsylvania Conference titles, and NJCAA region and district crowns. Jack also helped to lead the Pioneers to a sixth-place finish in the 2021 national championship tournament in Minnesota.
"I think that is the best indication of the success of the setter," Snyder said. "She's got team accomplishments going for her. She's been great."
Bajuszik played in 57 games during the Pioneers' combined 48-12 record in 2002-2003.
Bajuszik was a member of BC3 teams that won two WPCC titles, two region titles and two Pennsylvania Collegiate Athletic Association state championships. Bajuszik also helped to lead the Pioneers to a fifth-place finish in the 2002 national championship tournament in Minnesota.
Jack on Oct. 15 had 65 assists in BC3 victories over Westmoreland County Community College and the Community College of Beaver County in the WPCC championship tournament. She moved into second place on BC3's career list in assists and ahead of setter Brittney Bianco, who in 48 matches in 2016 and 2017 had 1,254. BC3's record was 39-9 with Bianco.
Jack has averaged 32.3 assists per match in her BC3 career. Bianco averaged 26.1 and Bajuszik 23.9.
"I am excited," Jack said, "but my team has helped me to get here."
Jack has helped them by sacrificing her body to set kills, BC3 hitters Aslyn Pry, Breanna Reisinger and Claire Kile say.
"She's always on the ground," Pry said. "In any game you will see her sprinting, stretching, diving, even toward the bleachers, anywhere to get a ball."
"Always hustling, no matter what," said Reisinger, also a 2021 BC3 All-American in volleyball. "She is going to give it her all every single game. That is why I love her. We can always rely on her."
"I don't know how she does it," Kile said. "She makes an effort to get to every ball because she knows that ball is hers. She's dove. She's rolled. There are multiple times where she will get up and say, 'I'm not sure how I just did that.'"
"Sometimes," Snyder said "we have to calm her down. I tell her, 'We can't afford to break you over one play.' She definitely sacrifices her body."
"I feel physically dead after every game," Jack said. "And I am always sore. But the drive to get to nationals again keeps me going."
Two winners in the NJCAA Division III Mid-Atlantic District A-B championship tournament in North Carolina advance to the national tournament in Rochester, Minn.
BC3's volleyball program has won 11 Region 20 titles in Snyder's 23 seasons.
Jack was a setter on Knoch High School teams that in her sophomore and junior seasons won the WPIAL Class AAA championships and advanced to the PIAA Class AAA semifinals.
Pry is a graduate of Moniteau; Reisinger, of Lincoln in Ellwood City; and Kile, of Harvest Baptist.
Bajuszik is a graduate of Seneca Valley who in 2002 became BC3's first full-time setter under Snyder.
Four BC3 setters have been named All-Americans. Sarah Beals, a Seneca Valley graduate, received the postseason honor in 2010; Bianco, Freeport, in 2017; Mackenzie Craig, Karns City, 2018; and Jack.