Legion Riders rev up for veterans' causes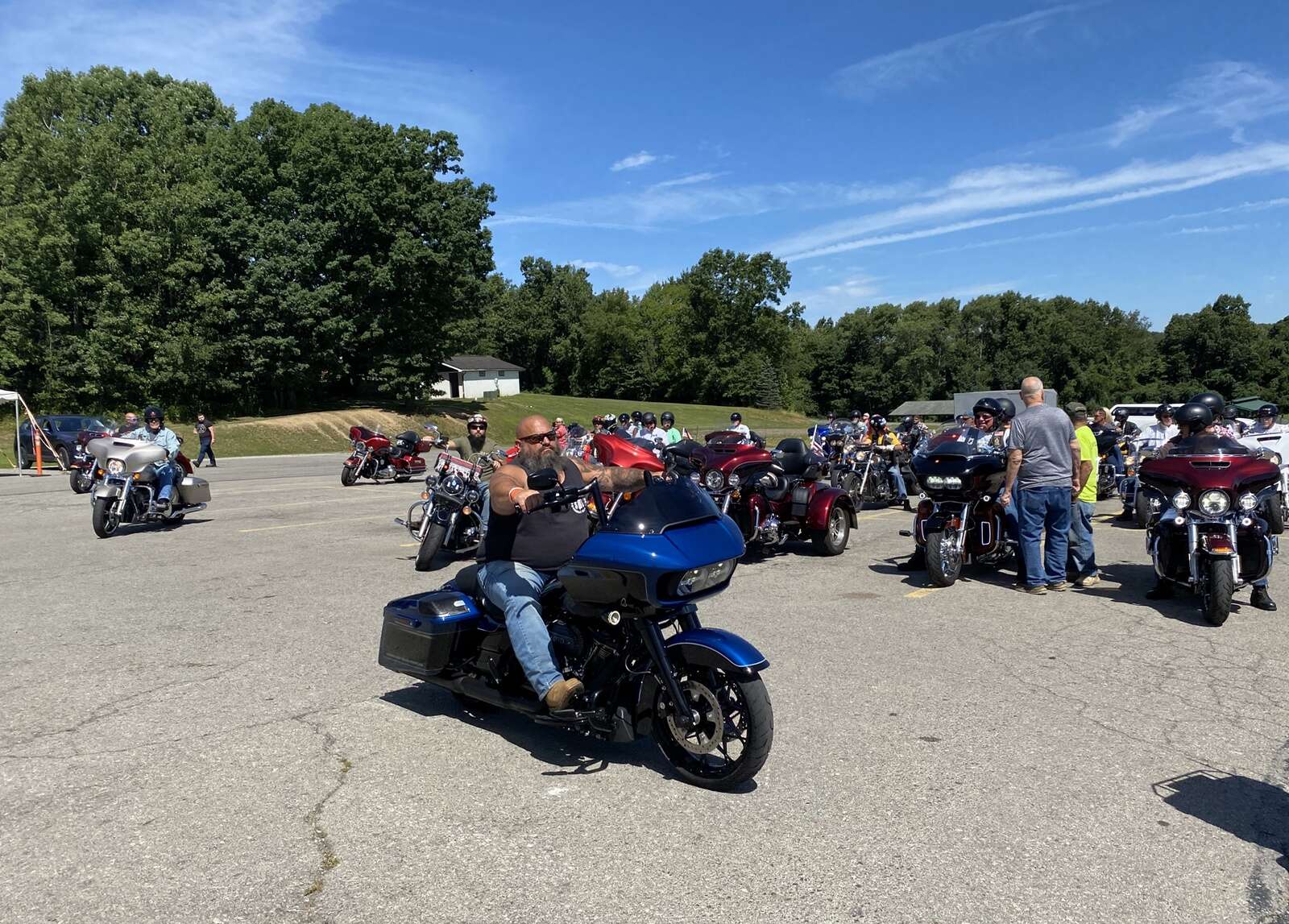 LYNDORA — The parking lot of American Legion Post 778 was filled with motorcycles Saturday morning, and the air was filled with classic rock. Leather vests and bandannas were the dress code as motorcyclists registered, bought raffle tickets and sipped coffee and ate doughnuts and breakfast sandwiches.
American Legion Riders Lyndora Post 778 was preparing for its first Vets Ride, with 74 riders and 18 passengers heading out at 11:30 a.m. for a 110-mile run that would see the motorcyclists travel to the Grove City and Brady's Bend American Legion posts before returning to the Lyndora post in the afternoon for a dinner.
The money raised by riders' and passengers' fees and raffles would go to support veterans in the community, said Riders President Jim Miller of Chicora.
"The Vets Ride is to raise money for veterans. We support the veterans and the community," Miller said. All the money raised Saturday, he said, goes to support veterans and three organizations: Camp Star in Zelienople, a camp for children with prosthetic limbs; It's About the Warrior Foundation of Wexford; and Hero's Angels of Chicora, which sends care packages to troops and veterans.
At a ceremony before the start of the ride, the Legion Riders presented a $5,000 check to It's About the Warrior Foundation and a $2,400 check to Hero's Angels.
Helping veterans
Steve Monteleone, the founder of It's About the Warrior Foundation, said the group assists all post-9/11 veterans, whether wounded or deployed, in the Ohio/Pennsylvania/West Virginia area with medical and physical aid and emergency outreach programs.
Monteleone said his group helps nearly 150 veterans a year.
Miller said American Legion Riders Lyndora Post 778 has come far since its founding in July 2021. Its 60 members, he said, "have gotten great support from the Legion, its Auxiliary and Legion sons. We've been appreciative of all they've done for us."
The Riders take part in flag lines and escorting returning veterans home. It's open to anyone who is a Legion or Auxiliary member or Legion son with a motorcycle license, insurance and 35cc or bigger motorcycle.
"Western Pennsylvania gives great support for the veterans. We keep busy," Miller said.
Dave Zanicky of Butler Township, a Rider member, took part in Saturday's ride.
"It's any way we can to help the veterans out. I come out for events like this. Any type of veterans' event, I try to be at," he said.
Bob Dunn, of Hooker, brought his Harley-Davidson Street Glide on Saturday. "I'm riding to support the veterans. It's a beautiful day to get out on my motorcycle."
Raffle tickets, gift baskets popular
Sharon Swartzlander, a Legion Auxiliary member and vice president of the Legion Riders, said she wasn't riding Saturday but was there to man the raffle ticket table.
Sales were brisk, she said, with the 21-day raffle tickets completely sold out and sales for the 39 gift baskets going really well.
Sam and Karen Douthett, who will be celebrating 50 years of marriage next month, turned out with their Harley-Davidson Ultra Limited.
"We've been in 15 rides. I go on every one with my husband," she said. Today's ride will be a short one, they added, compared to the 21-day jaunt they took to Canada and back.
Amy Toland, of Butler, hoped to ride in Saturday's event but couldn't get her Yamaha V Star started. She was going to ride as a passenger behind her friend, Mark Schuler.
"I've been riding for three years," Toland said. "I've always wanted a motorcycle. At 60, I decided to do it. It was now or never."
"It's not as much fun being a passenger unless you like looking at the back of a helmet, which I don't," she said.