Mark Massella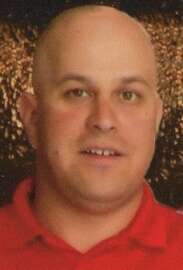 Mark Andrew Massella, 42, of Mercer Township, Slippery Rock, loving husband and father, went home to the Lord after a 12-year journey with brain cancer. He passed away peacefully on Wednesday, May 25, 2022, surrounded by his family.
Mark was born on Sept. 21, 1979, in Grove City, to Leslie (Dennis) Colosimo of Slippery Rock, and Larry Massella of Butler.
He graduated from Slippery Rock Area High School in 1998 and earned an associate degree in computer-aided drafting in 2001 from Pittsburgh Technical Institute.
He worked at Trant Corporation, and Herbert, Rowland & Grubic Inc. (HRG) as a surveyor.
On May 18, 2002, he married Jennifer Aszkiniewicz. Together, they were raising three sons, Andrew, Daniel and Jonathan of Slippery Rock.
Mark had a passion for details and took great pride in his work. During his career, he laid out numerous roads, bridges, buildings and North Shore connectors. He was known for his kind, quiet and compassionate spirit with a quick wit if the opportunity arose.
Mark was a dedicated father, who supported his sons in their athletic pursuits. He attended countless games and helped coach them and their friends on the football field. In honor of his years of service, the practice field at Slippery Rock Parks and Recreation as well as ABC youth football trophy recently was named for him. He enjoyed running the scoreboard for the Slippery Rock Area High School football games. Mark expressed his love for family and friends through spending quality time with them. Mark loved to host holiday parties at Christmas, New Year's and Independence Day. He was an excellent cook, which means no one ever left his home hungry.
Mark was a humble, faithful man, who never questioned God's plan for him. He served as a Eucharistic minister for St. Faustina Parish and was a Knights of Columbus member. He had a special fondness for his home church, St. Anthony's in Forestville. In fact, he visited there twice over Easter to pray and reflect, leaving hospice care to do so.
Mark is survived by his wife, Jennifer of Slippery Rock; three sons, Andrew, Daniel and Jonathan Massella, all of Slippery Rock; his maternal grandmother, June Davis; his mother, Leslie (Dennis) Colosimo; his father, Larry Massella; his brother, Robert (Lynise) Massella; his sister, Renee (Jim) Stein; his half-brothers, Nicholas and Philip Massella; his stepbrother, Greg Colosimo; four nieces, Erin Stein, Maggie and Mollie Massella and Kaelyn Lewetag; and four nephews, Alexander and Tyler Stein, Nolan Lewetag and Eric Colosimo.
He was preceded in death by his grandfathers, William Davis and Richard Massella; his grandmother, Jean Massella; and his uncle, Richard (Rick) Massella.
The family would like to thank his doctors, hospice team and the community, for their care and support.
MASSELLA — The family of Mark Andrew Massella, who died Wednesday, May 25, 2022, will receive friends from 1 to 4 and 6 to 9 p.m. Friday and from 10 a.m. until noon Saturday at SMITH FUNERAL HOME, 421 New Castle St., Slippery Rock.
A Mass will be celebrated at at 1 p.m. Saturday at St. Anthony Catholic Church, 232 Boyers Road, Forestville.
Interment will be in St. Anthony Cemetery, Harrisville.
Please sign the guest book at www.butlereagle.com.