Sgt. Carl J. Morgain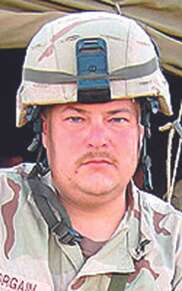 In loving memory of Sgt. Carl J. Morgain
KIA MAY 22, 2005
KHADASIA, IRAQ
Carl,
You had a heart of gold.
One of the best to behold.
You were generous, loving and kind.
These are the memories you left behind.
If we had all the world to give,
We'd give it, yes, and more...
To hear your voice, see your smile,
And greet you at the door.
But all we can do, Carl,
Is go and tend your grave,
And leave behind tokens of love
To the best man God made.
There's a face that is always with us.
There's a voice that we long to hear.
There's a smile we always remember,
of the one we love so dear.
May your love, guidance and standards
touch our hearts forever.
We love and miss you so much.
Forever Proud,
Until we meet again American Soldier…
Jan, Zack and Madison