Butler VA Health Care adds art to its doctor bag
It's not just the body, but the spirit and soul of veterans that need tending, according to Karen Dunn, the health promotion & disease prevention program manager, as well as the patient-centered care coordinator at the Butler VA Health Care System, 353 N. Duffy Road.
Accordingly, Dunn said the center created a whole health program, which combines physical health and wellness with personal development and a chance to be creative.
Dunn said avenues available for veterans to be creative could include music, storytelling, gardening and even cooking.
There is even a monthly wellness option called DrumFIT, a customizable music, motion and memory program suitable to veterans with a wide range of ability levels. By varying the intensity, DrumFIT allows everyone access to the benefits of its unique cardio program.
"We have drumming for veterans, guitars for veterans," said Dunn. "It's well known that music can change moods." Music has proven beneficial in relieving PTSD, anxiety and the grief arising from war injuries.
"We're trying to offer opportunities. It's part of pain management. This is a way of getting the focus onto something else," she said. "We don't want to add another pill."
"We had one veteran who was in a guitar workshop,'" Dunn said. "He said, 'I was in a very hard place last night. It was either my guitar or my gun.'"
Thirty years ago, the whole health concept and art and music workshops would have been alien to the VA's concept of healthcare, she said.
"But I think it's become more acceptable. The military is incorporating things like yoga into its training. Younger vets are used to a lot of these things," Dunn said.
A beneficial side effect, Dunn added, is that attending a music or arts workshop often creates a feeling of camaraderie among the participants. Too often, veterans feel estranged from a society whose members haven't shared their experiences.
"It's a nice way to get to veterans who aren't participating, to come to the VA," she said.
Art classes started in 2021, including a series of free workshops featuring local artists offering instruction in their chosen mediums.
For example, this spring the center has hosted workshops on ceramics, pottery, acrylic painting and pour painting.
Local artist Tom Panei shared his talents using chalk pastels at a workshop last month.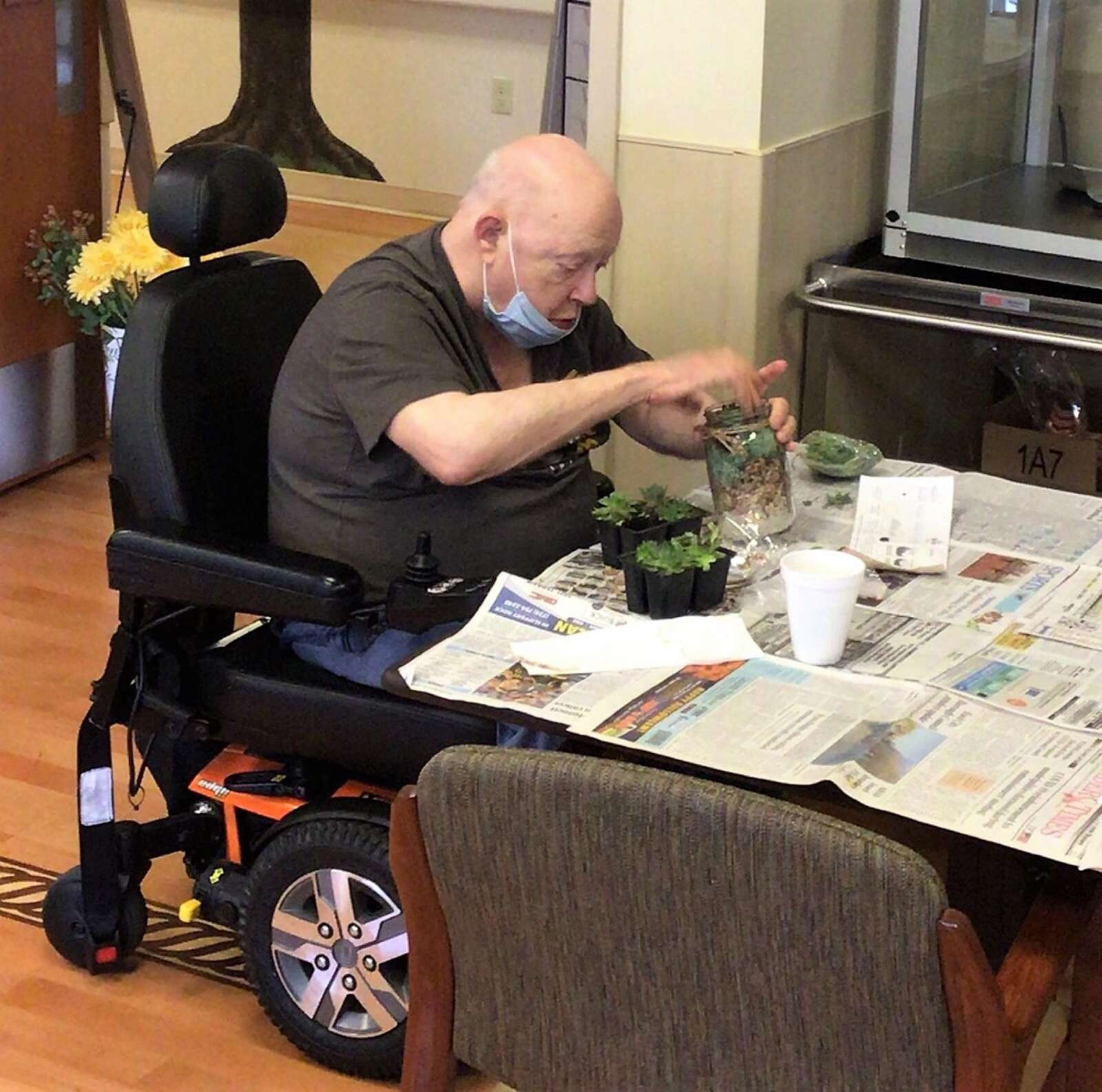 Future sessions will cover media as diverse as porch boards, terracotta pots and string art.
Almost 40 pieces of art created by local veterans were entered into the first Butler VA Creative Arts Festival. Twenty-three of those pieces advanced to the national judging process.
One, a quilt created by local veteran Sherrill Williams of Butler took first place in the National Creative Arts Competition in St. Petersburg, Fla., in April.
Cheryl Schaefer and her husband, Jeffrey Schaefer, of Butler, are both veterans. Cheryl spent 10 and a half years in the Army, while her spouse served a year in the Air Force.
They've attended several of the workshops together.
"We have done pastels. We have done creative writing. We've done ceramics, pottery, fluid art," she said.
"With fluid art, you take three or four colors of acrylic paint and then you put it all in one cup. After you turn it upside down on the canvas, wiggle the canvas in different directions, and it comes out really interesting," she said.
"They teach you something, plus they get you around the veterans. It can get you a new hobby and a chance to do it. It's fun and quite interesting," Cheryl said of the art classes.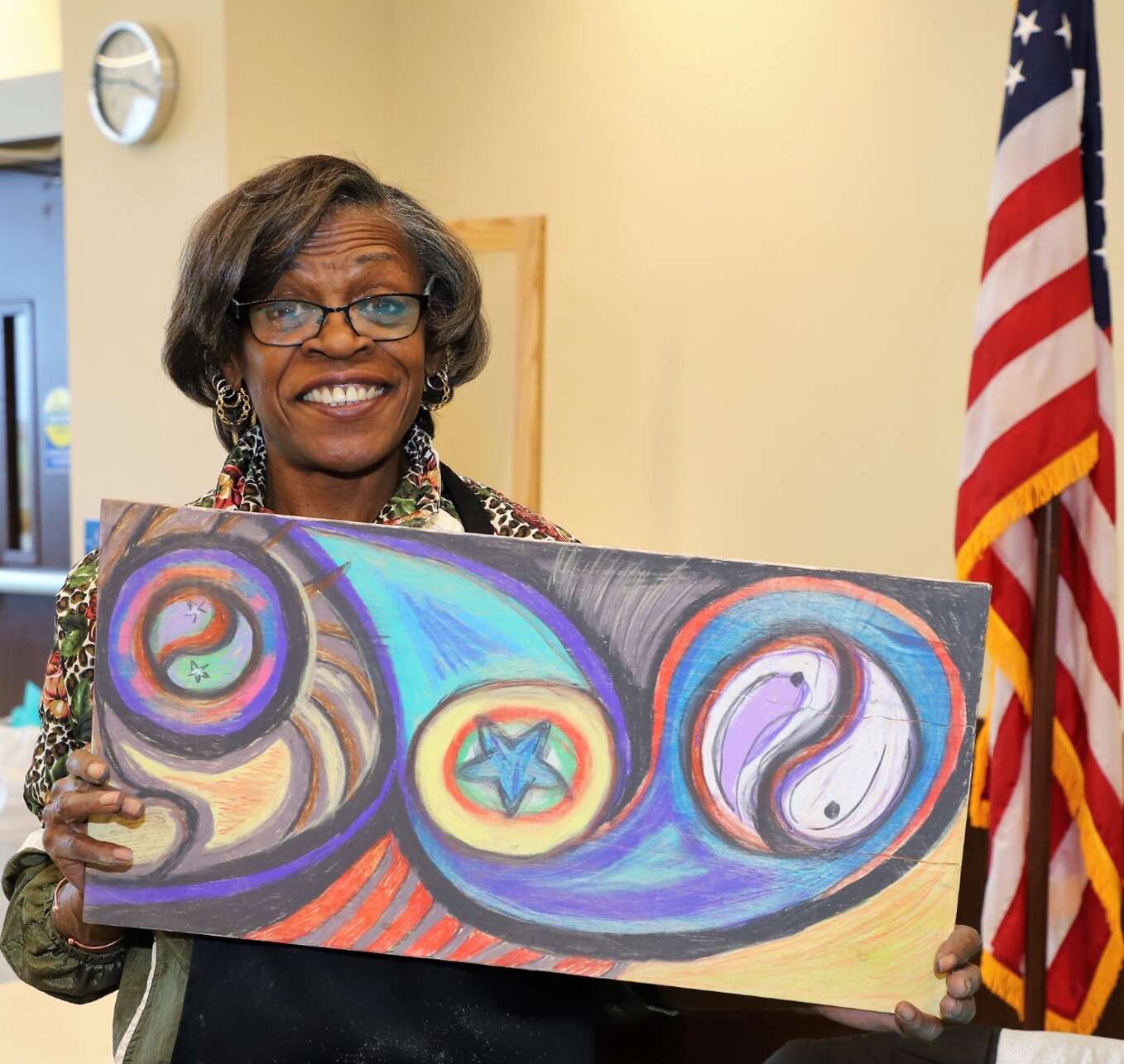 Artists of a different sort were represented when Butler VA chefs Cliff McClure and Rachelle Lyons partnered with Dunn's program to present a five-week cooking workshop series. Each week represented a different artistic culinary creation ranging from charcuterie boards to chicken pot pie.
By offering art workshops, as well as workshops in music such as drumming and harmonica, Dunn said the center is not only offering tangible health benefits but "veterans are finding skills they can use as therapeutic. It's not secret that drugs and alcohol aren't helping."
Local businesses such as Steele's Brushes and Ceramics, 1631 N. Main St. Ext., and Appalachian Outpost, 168 New Castle Road, were tapped to conduct workshops.
Future plans include a creative writing class. Butler VA Health Care System is looking to work with local businesses and is accepting ideas from veterans and veterans' organizations such as the American Legion for ideas for future workshops.