Seneca Valley graduate ready to learn the ropes of pro wrestling
Devlin chasing WWE dream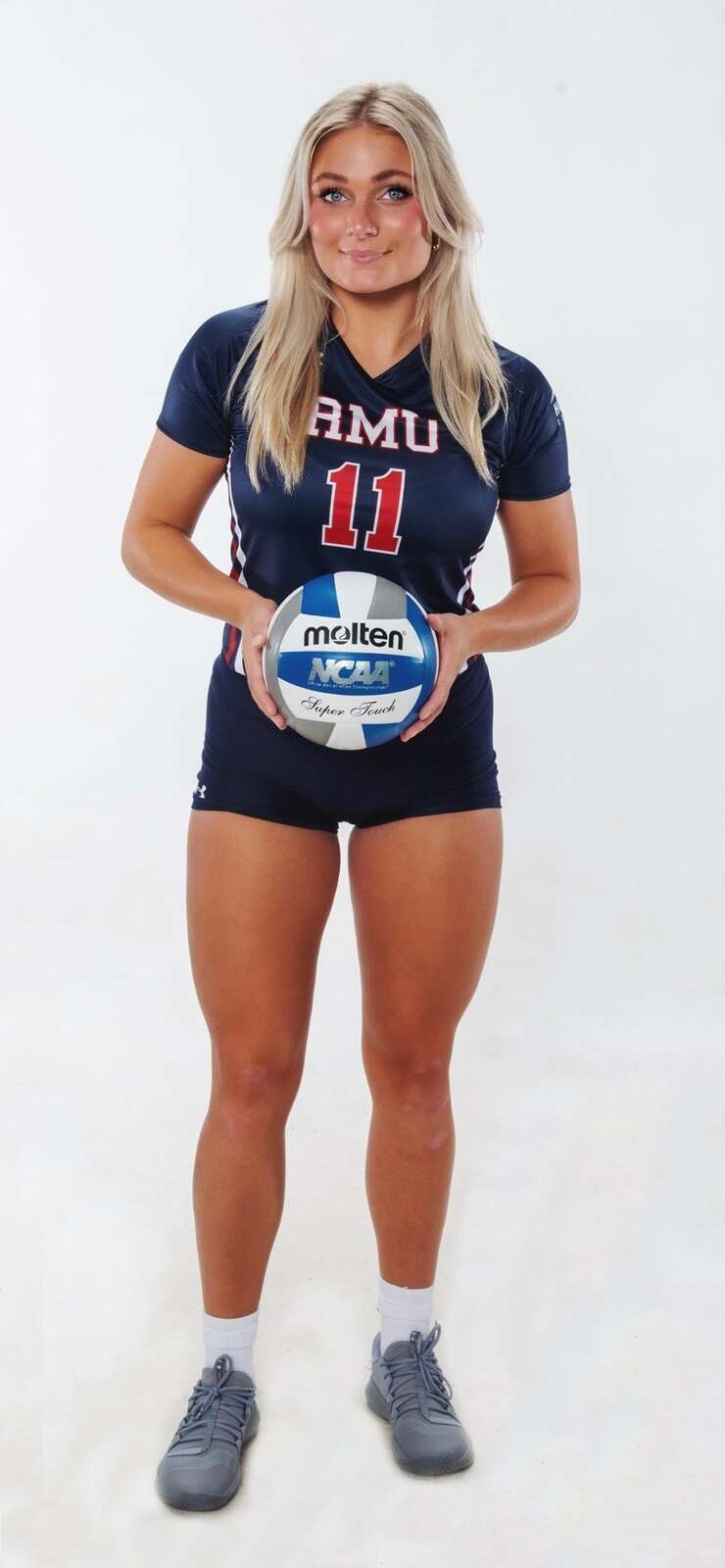 ZELIENOPLE — The visit was one thing. The phone call was the thing.
Now Seneca Valley graduate and graduating Robert Morris University volleyball player Emily Devlin is working on making WWE her thing.
Devlin has been invited to a World Wrestling Entertainment tryout next month at the WWE Performance Center in Orlando, Fla.
"We first connected through social media," Devlin said. "I kinda did an on-the-spot interview. They ask about your hobbies, your interests, your background. They want to know what you're about.
"You sell yourself, really."
Devlin, a 5-foot-10 right-side hitter for RMU, sold herself well enough to earn an invitation to Dallas for WrestleMania weekend in early April. She met WWE officials, did more interviews and a workout. Upon returning home, the Zelienople resident awaited the phone call offering her a tryout.
"They (WWE) said I would get a call from them if they were still interested," Devlin said. "That call came on a Saturday. I was so pumped. Now it's up to me.This is something I really want to do."
She's using every available resource she has to do it.
Devlin got in touch with John Locke, Director of Student Life at Robert Morris, who teaches a course on the business of WWE at the university. Dr. Chris Howard, RMU president from 2016 until earlier this year, is friends with Stephanie McMahon, daughter of WWE CEO Vince McMahon.
"Dr. Howard helped us establish this course," Locke said. "I work in the sport management department and WWE is a highly successful entertainment industry. Emily reached out to me. I did not know her previously. Now we're good friends."
Locke had guest speakers from WWE and learned the ins and outs of the performance center and what it takes to become a WWE wrestler through his preparation for the course.
"John has been a tremendous resource for me," Devlin said. "He's helped me prepare, told me what to expect. I've been working out every day. This chance feels surreal right now. I can't wait."
Devlin is the second Butler County athlete heading to Orlando in pursuit of a WWE contract. Mars graduate Gina DeLucia is going through the process as well.
"I got to know her through CrossFit training with her," Devlin said of DeLucia. "We bumped into each other in Dallas. It was like, 'Hey, how ya doing?' It's awesome we're going after the same thing."
Devlin majored in psychology at RMU. She made the Horizon League All-Academic team last fall and in the spring of 2021. She tallied 38 kills, 12 digs and scored 57.5 points for the Colonials last season as RMU struggled to a 9-21 overall record, 2-16 in Horizon League play.
During her sophomore year, RMU finished 25-5 overall, 15-1 in North East Conference play, and Devlin was third on the team in blocks.
"Volleyball will definitely help me in this quest for WWE," Devlin said. "I'm, used to throwing my body around, hitting the floor, taking bumps. My athleticism should be an asset here."
So should her attitude.
"Emily is an intelligent, gifted athlete," Locke said. "She wants this so bad. She's coachable and she'll soak up everything they teach her during that tryout.
"I believe, one day, we will see Emily on TV. I also know that if they don't offer her a contract after this tryout, she'll go back. She's not going to give up on this."
The travel schedule of WWE wrestlers — putting them on the road nearly 320 days a year — does not intimidate Devlin at all.
"I have no issues with going on the road and I want to stay busy. This is the type of job I want," she said.
"Microphone skills, acting abilities ... I have things to learn. But I want this. I'm going to be extremely intense in going after it."