Walking in Carter's Shoes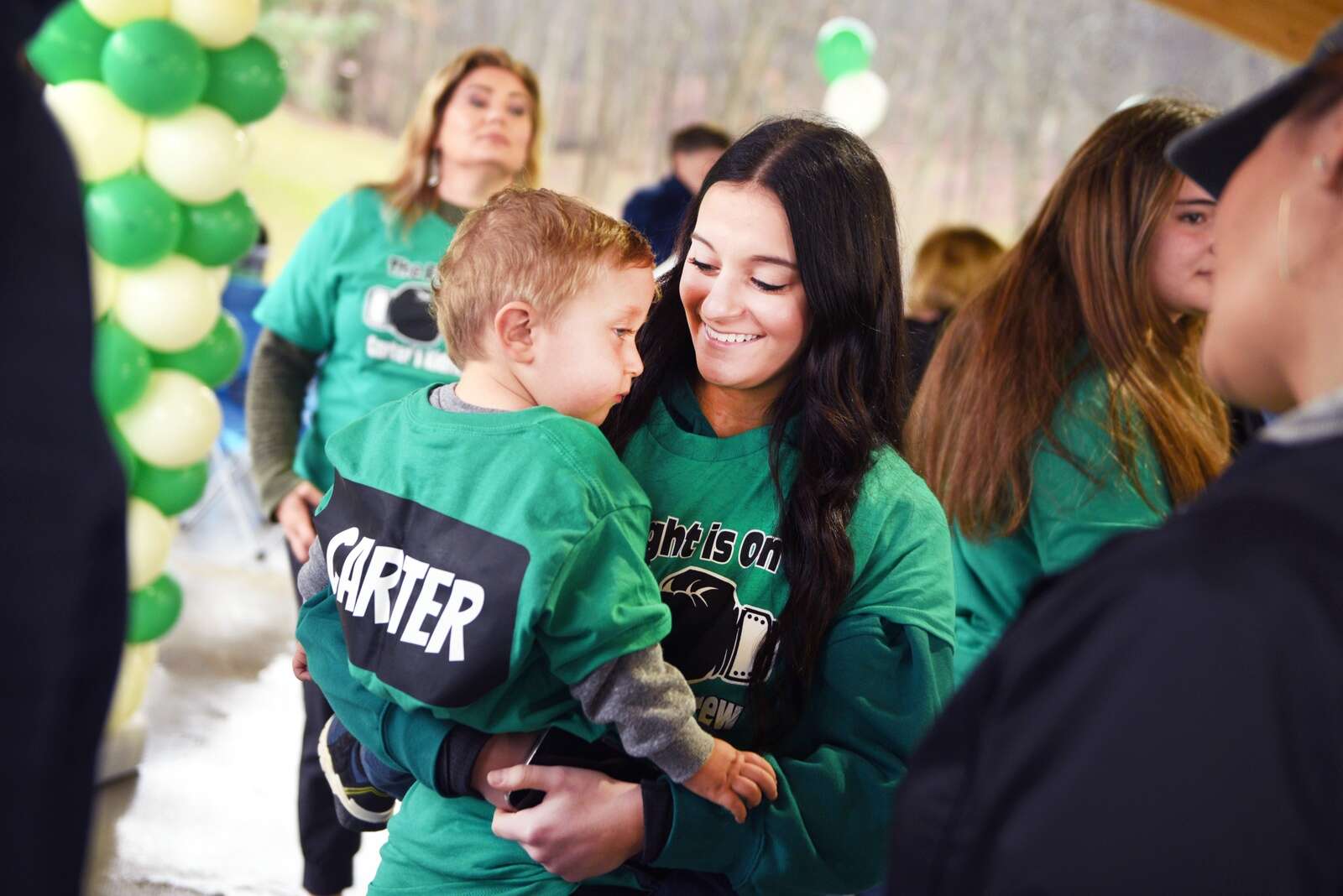 Community supports kidney disease awareness with walk
CRANBERRY — The phrase "walk a mile in someone's shoes" took on new meaning during Seneca Valley School District student Alexa Lombardo's senior project Saturday morning.
With the help of over 100 family, friends and classmates, Alexa raised over $4,000 for the National Kidney Foundation with a walk in North Boundary Park in support of her 2-year-old cousin, Carter Bish.
Inspired by Carter's journey with a kidney disease and in support of a transplant he could undergo this year, Alexa decided to host Carter's Kidney Krew Walk to raise awareness.
"People look at Carter and he doesn't look sick, but he's sick on the inside," she said. "This means a lot to me. I want to raise awareness and help others know about it."
According to Carter's mom, Pamela Bish, the toddler undergoes dialysis three times a week, and a transplant is only a treatment.
"He's doing wonderful ... I hope people see the value in what a beautiful life he has, but he can't continue life without a kidney transplant," she said. "That's just the treatment. It's not a cure. He will always have the disease."
Rob Lombardo, Alexa's father, and his sister, Bish, have been tested to see if either of them can donate a kidney to Carter.
"It will literally save his life," Bish said. "I hope (today) drives people to learn a little more about kidney disease. It's not easy — life hooked up to a machine."
"To have that opportunity to maybe share this with him so he doesn't have to go through (dialysis), I want to do it," Rob Lombardo said. "I can't express how proud we are of Alexa doing this for her senior project."
Rain and wind didn't stop supporters from showing up in droves. Friends and relatives who attended the 1-mile walk on North Boundary Trail could buy a shirt, take a bracelet or stop by the National Kidney Foundation table to make a donation and learn about the organization.
Erin Tuladzieck, executive director at the National Kidney Foundation's Pittsburgh office, said she was amazed at Alexa's efforts for the cause.
"It's super-inspiring. It's why I brought my daughter today, to show her that youth can be inspiring," she said.
Jim Hopper attends church with the Lombardos, and came to the walk to support the family.
"All the fun and camaraderie, everything is for Carter," he said. "The fun and awareness and supporting his kidney transplant. It's all for him."
Several speakers offered thanks to Alexa and commended her work on the event. Mike Manipole, township supervisor and Alexa's project mentor, said she's following in her parents' footsteps.
"The Lombardo family are always the ones to step up. (Alexa) has carried on the family tradition. She's generous and driven," he said. "Today, every one of you gets to touch someone's heart ... I hope (Alexa) continues the legacy her family started."
Alexa and Bish said it was amazing that so many participated and donated to support the cause.
"I hope people gain the knowledge that you can support the cause even if you don't know someone struggling," Alexa said.
"We're so touched and overwhelmed to see so many familiar faces, but even more to see the unfamiliar faces. It's all the faces I don't even know that are such a blessing," she said. "With the rain, it's even more special."