PT is for Pets too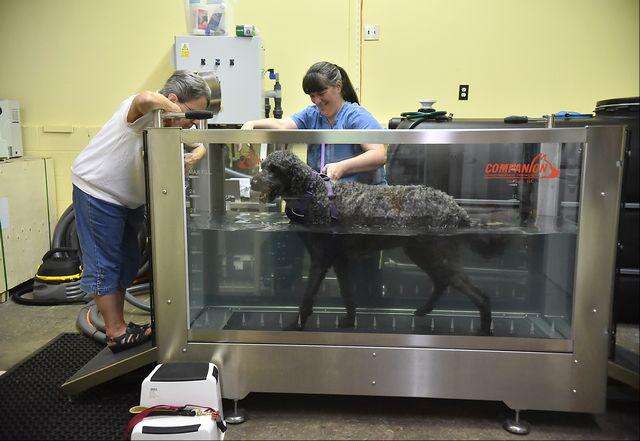 Animals can benefit from physical therapy
HARMONY — Pet rehabilitation centers, such as Pets in Harmony Veterinary Hospital, which is in Harmony, and Twinbrook Animal Clinic in Valencia, are starting a new trend in local animal care.
Laura Lefever, certified canine rehabilitation assistant, said there are many similarities between what physical therapy looks like for a person and what it looks like for the dogs she treats at Twinbrook.
"We use a lot of the equipment they use in human physical therapy," Lefever said.
Twinbrook serves about 15 to 20 dogs weekly.
Pets who receive treatment vary, including those who have had surgery, cannot have surgery, or will have surgery in the future.
Treatments at the clinics include therapeutic ultrasound, cold lasers, electro-stimulation, various exercises, land treadmills, at-home prescriptive exercises and underwater treadmills.Twinbrook, which performs other veterinary services, including surgeries, flea and tick medication, prevention and wellness, grooming, and cat boarding, is one of very few clinics that also offers underwater treadmill therapy."Not everybody has (this)," Lefever said. "It takes a pretty big commitment — not only a financial investment but for space and time."<i>Learn more about pet physical therapy in Sunday's Butler Eagle.</i>